The Checkout: Plant-Based Products Find New Partners for Success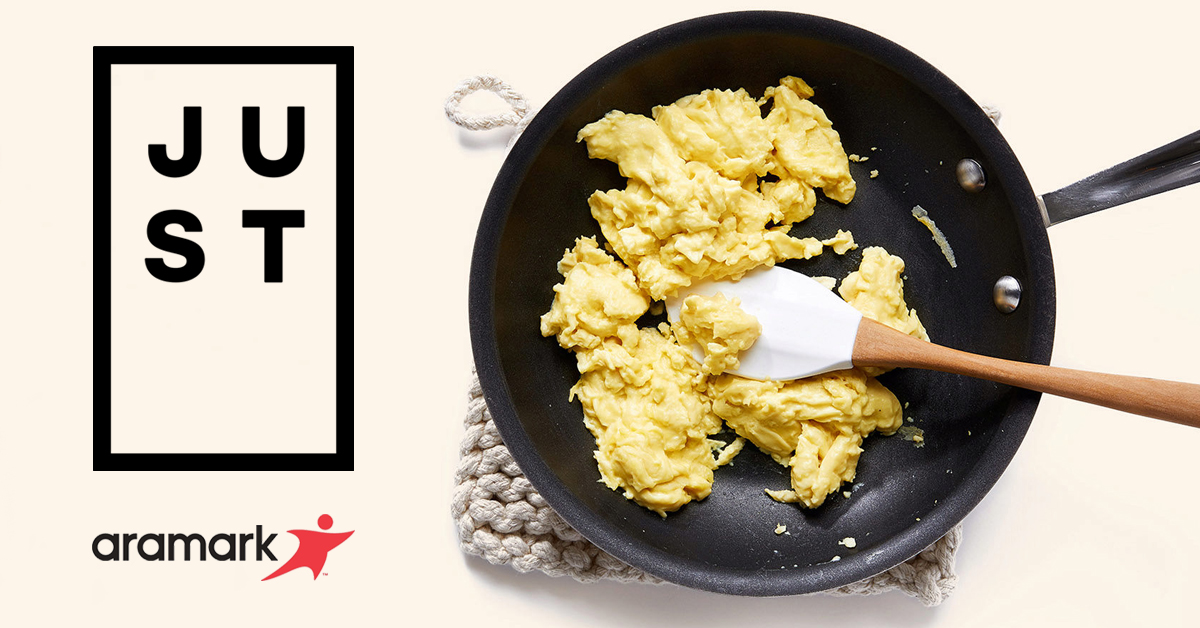 Welcome to The Checkout: an express lane for weekly news you need to know, always 10 items or less.
Things are hatching in the CPG space as one rising plant-based startup finds itself with a new partner for distribution while another considers going public. Here's the news you need to know from this week.
JUST Egg to Partner with Aramark
While the rollout of vegan egg substitute JUST Egg only occurred a few months ago after more then five years of development, the line is picking up steam with the addition of major food service provider Aramark this week.
Aramark, which serves sports stadiums, schools, hospitals and cafeterias in 19 countries, will debut JUST Egg as part of a breakfast patty sandwich available for a limited time starting October 22. The foodservice relationship follows last month's news that JUST Egg would be sold at select locations of retailers including Hy-Vee, Fresh Thyme, Gelson's, Wegmans, New Seasons, and Safeway East.
The news comes just a few weeks after Aramark competitor Sodexo announced that it would be rolling out 200 plant-based recipes — developed in partnership with the Humane Society of the United States and the World Resource Institute-Better Buying Lab — in its facilities in order to meet consumer demand.
"As part of our commitment to developing healthier and sustainable menus, we're continuously looking for new ways to bring-to-market innovative products," Heidi Hogan, VP of product development for Aramark, said in a release. "Expanding our menu offerings to include JUST Egg further speaks to our promise to deliver healthy recipes that not only feature quality ingredients, but taste good, too."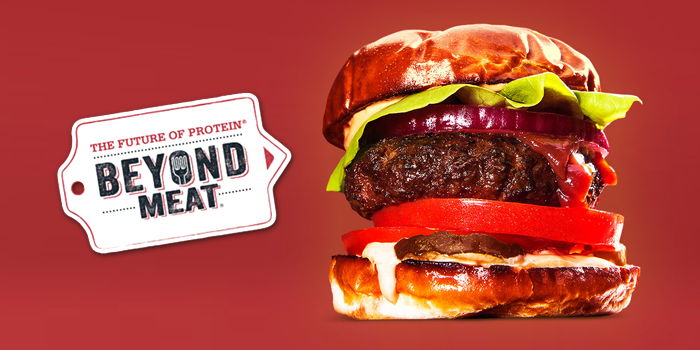 Could Beyond Meat go Public?
According to CNBC, plant-based meat brand Beyond Meat has hired J.P Morgan, Goldman Sachs and Credit Suisse to pursue an initial public offering (IPO). The IPO would be the first among the next-wave "meat" brands that have swept grocery shelves, or in the case of lab-grown meat, news headlines.
Most recently, Beyond Meat raised $55 million dollars from investors including, Tyson Foods, a publicly traded company.
Founded in 2009, Beyond Meat sells it's Beyond Burgers, Beyond Sausages and frozen meat-substitutes in over thousands of retailers, including Whole Foods Market and Target, as well as in fast casual chain TGI Fridays and in over 4,000 hotels, colleges and restaurants.
The company positions itself not as a product for vegans or vegetarians, but rather for everyday Americans who are simply looking to cut back on their meat consumption for health or environmental reasons.
"We're really trying to build a product portfolio and a company that meets the needs of everyday consumers and that really positions us as the center of the plate for the American consumer in a way that is on equal footing with animal protein," Beyond Meat CEO Ethan Brown told NOSH late last year.
Lucky's Supermarkets Makes It Easier for Consumers to Shop Plant-Based
With all the innovation in the plant-based space — and the media attention that accompanies these launches — the race to become the first retailer to land new plant-based items on shelves has become a competitive sport.
Supermarket Lucky's wants its shoppers to know that it has what they're looking for, announcing this week a partnership with the Plant Based Foods Association (PBFA) to both educate consumers about plant-based options as well as highlight them in stores and in marketing materials. The retailer will also invest in teaching its staff about plant-based options so that they can better assist customers looking for products.
Participating in the program are 16 PBFA brands including: Beyond Meat, Daiya Foods, Follow Your Heart, Forager, Good Karma, Lightlife Foods, Morningstar Foods, NadaMoo!, Quorn, Sweet Earth and Tofurky.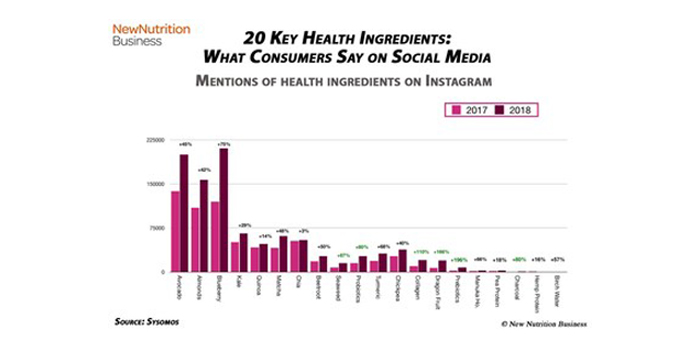 Researcher Finds Healthy Ingredients Rising on Social Media
Research firm New Nutrition Business examined the Instagram habits of North American shoppers and found rising interest in several food ingredients. The firm monitored the use of 20 terms including: avocado, blueberry, chia, seaweed, turmeric, chickpeas, manuka honey, pea protein and hemp protein.
In total, the 20 healthy ingredients garnered a total of 850,000 mentions on Instagram in July 2018 alone.
At the top of the list for mentions were avocado, almond, blueberries, quinoa, kale, matcha and chia while birth water, pea protein and charcoal were at the bottom. Among the top performers, Instagram mentions rose between 14 and 75 percent over the previous year.
The fastest growing term: collagen, which had 110 percent more mentions in 2018 then 2017.
"Mainstream America wants simple, natural, easy-to-understand ingredients. They are willing to try anything new as long as it passes that test," said Julian Mellentin, director and founder of New Nutrition Business. "And they are open to trying something new if the benefit is clear. Collagen, for example, a natural protein, has some robust benefits for skin and joint health so it's no surprise to see it surging on social media."