The Checkout: JUST Brings Long-Awaited Vegan Eggs to Retail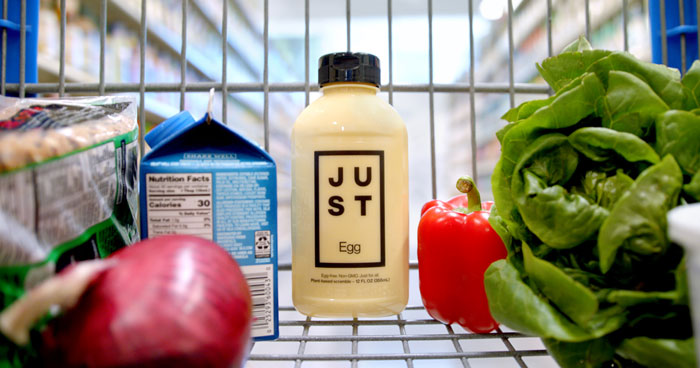 Welcome to The Checkout: an express lane for weekly news you need to know, always 10 items or less.
Progress is impossible without change. Many food industry leaders are taking that sentiment to heart in order to foster strategic growth. From expanded product lines and offerings, to leadership changes and regulation amendments, here are some of this week's top news stories that you should know.
JUST (Finally) Brings its Eggless Eggs to Retail
JUST's long-awaited vegan egg product is coming to grocery store shelves this fall.
To start, JUST Egg will be sold in select stores at retailers including Hy-Vee, Fresh Thyme, Gelson's, Wegmans, New Seasons, and Safeway East. The retail version — a mungbean based liquid sold in a 12 oz. bottle — is optimized for omelets and scrambling as well as frittatas, quiches, sauces, basting applications and as an ingredient for dense cakes, according to a spokesperson from the company. While this product is not yet ideal for lighter breads and cakes, the company is working on a second iteration with more applications.
Formerly known as Hampton Creek, the company has been working on this product for five years. Last year the vegan food solution company released the product in select restaurants and food service chains, but had yet to distribute a product that could be sold in grocery.
While JUST is best known for its vegan mayonnaise (and its somewhat dramatic past), the brand's offerings range from products like cookie dough to licensing capabilities for clean meat technology. The ultimate goal is to provide more environmentally friendly alternatives to food that will appeal to the average consumer rather than solely vegans and vegetarians.
"This company was founded with the belief that we could explore the vast plant kingdom and leverage modern technology and culinary expertise," said JUST CEO Joshua Tetrick, "to find ingredients to make the foods we enjoy every day better for us and better for the planet."
FreshDirect CEO Steps Down
Online grocer and delivery service FreshDirect announced today that the company's founder and CEO Jason Ackerman has stepped away from his roles effective immediately. Co-founder David McInerney, who previously served as the company's chief merchandising officer, will replace him as CEO.
This leadership change is a result of a "new chapter of continued growth, expansion, and innovation," according to the company. FreshDirect recently opened a 400,000-square-foot distribution and manufacturing facility in the South Bronx and is in the process of expanding its on-demand delivery through FoodKick, a service it started two years ago.
"Over the last 20 years, we have built and grown this business into an industry leader, one that truly makes a difference in the lives of our customers," Ackerman said in a statement. "Building FreshDirect and FoodKick alongside an incredible group of talented people has been a tremendous experience. I am confident the team will continue to drive the business forward and stay true to our unwavering commitment to deliver the best quality food with outstanding customer service."
Currently the company earns about $800 million in annual revenues, and has more than doubled its sales since 2012, according to Bloomberg.
FDA Amends Added Sugar Labeling Rules for Pure Honey and Maple Syrup
The Food and Drug Administration (FDA) announced on Thursday that, after industry feedback, it will not require added sugar callouts on pure, single-ingredient honey or maple syrup products. After reviewing over 3,000 comments on the FDA's guidance to added sugar labeling, which was released earlier this year, Commissioner Scott Gottlieb said the agency decided to make the change in order to avoid consumer confusion.
"We recognized that this new labeling information on 'packaged as such' products may inadvertently lead consumers to think their pure products, such as a jar of honey or maple syrup, may actually contain added table sugar or corn syrup because there are 'added sugars' listed on the label," Gottlieb said. "We believe that such a solution strikes the balance of addressing producer concerns that their products could be perceived as being economically adulterated while still informing consumers on how these products contribute to their daily added sugar intake."
Many natural food brands differentiate their products by sweetening them with natural sugars like honey and maple, which both have a lower glycemic index. But under the new label, there is no differentiation between natural sugar and table sugar. To help reconcile this, the FDA issued a guidance that said it would allow such manufacturers to include a symbol after the added sugars daily value on the new labels that will direct consumers to further information and context. Still many companies, especially pure, single ingredient products, felt that wasn't sufficient.
While single ingredient sweeteners are now exempt from the callout, the FDA said it is not considering changes to the required percent daily value for naturally-sweetened products, including pure honey and maple syrup. A final guidance on added sugar labeling is expected to come by early next year ahead of the January 2020 compliance date for the updated Nutrition Facts label.
PepsiCo Launches Nutrition Greenhouse Accelerator
PepsiCo is the latest big food player moving to partner with and invest in emerging natural food and beverage brands. Earlier this week, the snack and beverage giant announced it is bringing the Nutrition Greenhouse accelerator program it launched in Europe last year to North America.
Under the new program, 10 food and beverage startups in the U.S. and Canada will receive $20,000 in grant funding and participate in a six month business optimization program designed to accelerate growth. After completing the program — and receiving mentorship from leaders at companies including Quaker, Naked, KeVita, Stacy's, Red Rock Deli and Off the Eaten Path — one startup will be awarded an additional $100,000 to continue its expansion.
"Nutrition Greenhouse is part of our commitment to open innovation and collaborating with the changemakers of the future," Jim Andrew, PepsiCo executive vice president of corporate strategy and chief venturing officer, said in a statement. "We want to find and support entrepreneurs who are helping transform the food and beverage industry with nutritious, natural and sustainable products."
This is not PepsiCo's first effort to connect with emerging and innovative businesses. This year the company launched an innovation center called "The Hive" in partnership with Chicago incubator The Hatchery.
Incubators and accelerators have become a popular method for big food to connect with and nurture younger brands that may make for appealing acquisitions down the road. Companies including Nestlé, Chobani, Kraft Heinz, and Tyson Foods have all gone this route, partnering with existing incubators or starting their own programs.
Barilla Goes Grain-Free with Legume Line
Trying to tap into the grain-free eating trend, leading dry pasta maker Barilla has launched a new line of products made entirely of legumes.
The single ingredient line is made from either chickpeas or red lentils, and will be available in four varieties: Red Lentil Rotini, Red Lentil Penne, Chickpea Rotini and Chickpea Casarecce. To start, the products will be available in select retailers nationwide and on Amazon for $2.99 each.
"At Barilla, we only have one way of doing business: 'Good for You, Good for the Planet' (GYGP). This means constantly innovating and improving our products to provide people with high-quality foods that are healthy, sourced from responsible supply chains, and inspired by the Italian lifestyle and Mediterranean Diet," Jean-Pierre Comte, president of Barilla Americas, said in a statement. "We're very proud of this innovation because it was not only inspired by the needs and wants of our consumers, but also our greater GYGP mission."
Kroger Adds Apeel Avocados to Fight Food Waste
Grocery giant The Kroger Company and food-tech startup Apeel Sciences announced on Thursday that the The Horton Fruit Company will being supplying Apeel avocados to the grocer, starting in its Cincinnati market.
Apeel produces a plant-derived coating that can be placed on conventional or organic produce to help slow ripening, extend shelf life and improve produce quality. Costco and Harps Food Stores first started using the product on its avocados in June. The startup also closed a $70 million round of funding led by Viking Global Investors earlier this summer.
The partnership is part of the retailer's Zero Hunger Zero Waste initiative, which is working to eliminate food waste across the company by 2025. As a whole, the U.S. retail food industry, including distribution warehouses and stores, produces eight million tons of waste annually for a total value of $18 billion lost per year.
"Apeel is an innovative partner that will help Kroger reduce food waste and redefine the customer experience through first-to-market technology," Frank Romero, Kroger's vice president of produce, said in a statement. "Kroger's relationship with Apeel developed as a result of the exciting work we're doing with startups and enterprising companies to create the future of retail now."