Hampton Creek's New Strategy: Clean Meat, New Board Members, New Patents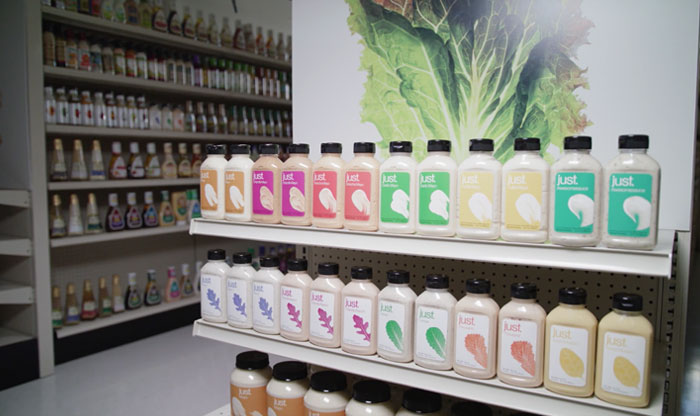 It's been a momentous six years for Hampton Creek, and this summer was no exception. The erstwhile plant-based food manufacturer with the $1 billion "unicorn" level valuation has faced some obstacles of late.
It started in June when Target pulled the brand's products off shelves nationwide after receiving an anonymous letter questioning the food's safety. Over a month later, the retailer announced that the products would not be returning to shelves, despite the claims being deemed unsubstantiated by the Food and Drug Administration (FDA). But Hampton Creek CEO Joshua Tetrick is not letting the distribution loss cloud what he regards as his company's positive news.
Yesterday, for example, Hampton Creek was officially issued a patent from the government covering its machine-learning enabled discovery platform and methods for discovering new plant-based ingredients — a major part of the company's R&D process, he said. The news comes only days after the company appointed two new board members.
Adding to the busy summer, the company also recently received a no questions generally recognized as safe (GRAS) letter for the use of mung bean protein isolate, and announced that it's entering a new category: clean meat.
Tetrick told NOSH that the recent developments are part of a larger strategy to evolve the way his team — longtime employees and new members alike — works toward the company's mission of building a better, more accessible food system for all.
Tetrick spoke with NOSH about these recent changes, including what he hopes his two newly named board members will bring to the table, why he's looking beyond plants to meat and how licensing will play a role in the company's future.
Licensing innovation, vegan and other
In an attempt to reach a wide array of consumers, Hampton Creek is looking to new product innovations on both ends of the food spectrum: plant proteins and clean meat.
In sticking to its plant-based roots, the company announced last week that the FDA has issued a "no questions" GRAS notice to Hampton Creek for the use of its mung bean protein isolate. This action is a milestone as it marks only the seventh time that the FDA has acknowledged a plant protein isolate as GRAS in the last 20 years. The ingredient is the base of the company's long-awaited Just Scramble egg substitute, which Tetrick has been talking about since 2013. Currently, the official launch date for the egg substitute in stores is scheduled for early next year.
Tetrick said that through Hampton Creek's patented process, the mung bean, which has historically been a staple in Southeast Asia culture, can be used to make healthier and tastier vegan substitutes ranging from eggs to ice cream and butter, all with no cholesterol.
The goal, Tetrick said, is to continue to discover new ingredients that have multiple functionalities, like the mung bean, through its newly patented food ingredient discovery platform. Known internally as "blackbird," the platform's patented technology involves a combination of robotics, proprietary plant databases and predictive modeling. According to Hampton Creek, it took tens of millions of dollars and several years to develop the technology at its 93,000 square-foot headquarters.
Still, while the company has previously produced vegan products, Tetrick said he also has realized that there will always be consumers who will not buy meat alternatives. Data supports his belief, according to Colorado State University research, with meat consumption expected to go up by 100 percent by 2050.
"The thing I know for sure is that we are not banking on conscious consumers; we are taking a bet that if we make the healthy and sustainable thing taste a whole lot better and more affordable, even people who don't give a damn will buy it."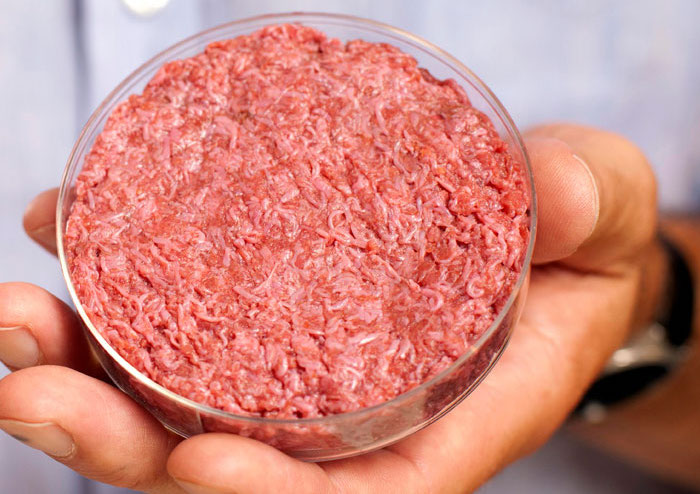 To meet these consumers with a more sustainable option, the company publicly announced this month that it has spent over a year developing clean meat technology, which will launch before the end of 2018. "Clean meat" — meat grown in a lab with a cell culture instead of inside animals — has seen some resistance from vegetarians and animal advocates for its use of expensive ingredients like fetal bovine syrup used by companies like Mosa Meat. However, Hampton Creek hopes to find plants that can be used in place of these ingredients.
"The way you systematically solve the meat issue is by enabling people to eat meat and seafood that doesn't degrade the environment and ocean," Tetrick said. "And the only way to do that, we believe, is through the umbrella field of cellular agriculture where you take cells, feed the cells and then grow them."
Hampton Creek is not the only brand in pursuit of clean meat. Memphis Meats is also working on production and development, and recently announced it raised $17 million from investors like Bill Gates and Richard Branson. Tetrick said he does not look at the addition as threatening, but rather a positive step for the industry, saying he's "humble enough to know we live in big world so the scale of this challenge requires more than just us."
Meanwhile, Tetrick has used both announcements as a platform to tout the company's plan to license its R&D. Under both meat and mung bean licensing agreements, Hampton Creek will not only receive royalties from any products using their technology, but will also play a role in product development and, for meat, jointly own a factory. Tetrick said the goal is for at least 50 percent of the company's future revenue to come from licensing.
"We believe we can't solve the world's food problem and build a world where everyone is eating well unless we enable with other companies too," he said. "If we don't get the world's biggest meat companies in here we won't solve the problem. If we don't get the world's biggest food manufacturers involved in this, then we won't solve the problem. It turns out it is a fairly effective monetization strategy, too, but that's not what is driving it."
Hampton Creek said it's in talks with numerous large meat corporations and has previously sold General Mills a proprietary mix to replace eggs. As the company looks to licensing, Tetrick does expect a new set of challenges, mainly regarding communication surrounding how both products' potential financial benefits will outweigh any short-term startup investments. For the mung bean alone, it could potentially cost a company hundreds of thousands of dollars for the time, manufacturing equipment and manpower needed to reformulate a product using this new ingredient.
Distribution, post Target trauma
Hampton Creek claims over 100,000 points of distribution from national retailers to company cafeterias, but the company lost one major retailer last month after Target pulled all its products nationwide from stores. The retailer received an anonymous, vague tip that the company's products were not safe, which later proved to be false after an investigation by the FDA. However, because Hampton Creek shared with the public the FDA's conclusion without the retailer's permission, Target said it violated the company's vendor communication guidelines.
"Although the FDA is not pursuing this further, we used the opportunity to review our portfolio, as we regularly do, and decided to reconsider our relationship with Hampton Creek," Target wrote in an emailed statement to NOSH. "We are not planning to bring Hampton Creek products back to Target and have openly communicated our decision with the Hampton Creek team."
While Target is a loss for the brand, Tetrick said the situation ended up helping him learn more about Hampton Creek's consumers and their wants.
"Sometimes you need things like this to happen to get in touch with your consumers a little bit more. I've probably received more emails from consumers because of this than anything else that has ever happened to us in the last six years," Tetrick said.
In those emails, consumers wanted to know two things, he said: what other retailers stock their products and where they could find them online. In recent weeks, Hampton Creek sales have risen dramatically outside of Target, the company reported. In the last four weeks, Just Mayo sales are up 11 percent and Just Dressings are up 31 percent in the grocery channel, according to Hampton Creek research based on IRI data.
According to Hampton Creek, Target represented a small fraction of the company's overall sales. Even still, Tetrick told NOSH he realizes that while every percent counts.
"I regret that they made that decision. I don't regret how we handled it," Tetrick said. "The most important relationship we have externally is with our customer, the real customer. The person that is buying our stuff every single day and is feeding it to their kids. That is the most important thing. And another critical relationship is obviously my team… I felt an obligation to communicate to them."

Drafting a team
Due to both resignations and layoffs, Hampton Creek's leadership and board have undergone shakeups over the last year. According to Tetrick, team members who aren't 100 percent aligned with the company's mission will never be a good fit, and with the turnover, he's certainly had the chance to hire for that kind of alignment.
The company added a slew of executives to fill its roster after a series of layoffs and resignations. These additions include Erez Simha, who will act as a joint CFO and COO, Beverley Chadwick, VP of Finance, Luis Espinoza, VP of Manufacturing, and Brian Irving, Chief Marketing and Revenue Officer. The hires reflect the company's newfound operations-forward focus.
Meanwhile, over the course of the past year, the entire board stepped down. This week, the company announced its first two replacements: Jim Borel, the former EVP of DuPont, and Cliff Coles, the current president at California Microbiological Consulting, both brought onboard via Tetrick.
While working for GMO leader DuPont, Borel led the oversight of Crop Protection, and Nutrition and Health businesses and the company's councils on Sustainability and Safety, Health & Environment.
Coles is a global food safety veteran who's previously worked at companies including Heinz, Del Monte, and R.J. Reynolds/Nabisco. He serves on an expert FDA panel investigating industry practices, which has become the blueprint for the current Food Safety Modernization Act (FSMA). With the addition of Coles in particular comes a food safety lens, which has played to Hampton Creek's strengths and reported weaknesses since its inception.
"Jim and Cliff both bring decades of food industry experience to Hampton Creek and their deep expertise in their given fields will help Hampton Creek meet its ambitious goals to fix the broken food system," executives said in a statement to NOSH. "Cliff has been a consultant to us for several years and has helped as we've established our robust food safety standards."
As for the remaining board seats, Tetrick said the company is in "numerous discussions" with potential members. Tetrick will remain on the board as a representative for the company's employees and ultimately have full autonomy in making all final decisions. It's a position he said is key to the overall success of the company's new — hopefully bump-free — roadmap.
"Even though we have been so lucky to raise so much capital from a handful of really prominent and thoughtful, great investors, we have that autonomy," Tetrick said. "[It] increases the probability of achieving the company's [long term mission]. For some folks, I think that works and it's exhilarating, and for others maybe it doesn't work out for them."
SaveSave
SaveSave