Hampton Creek CEO Talks Lessons Learned, 'New Chapters'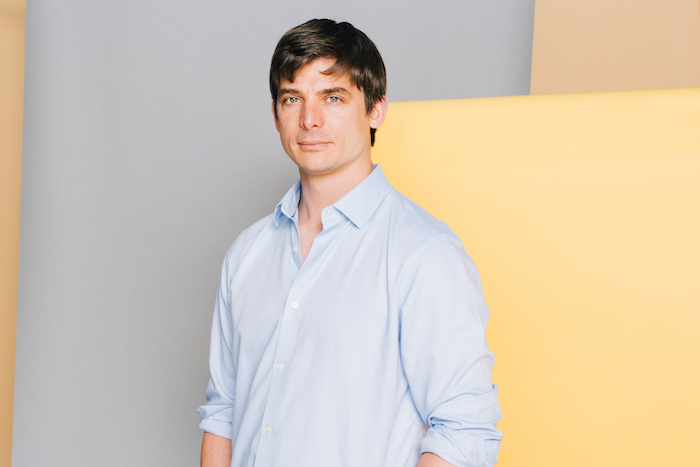 Josh Tetrick may have built a plant-based food company that has captured the attention and wallets of Silicon Valley, but the Hampton Creek CEO and founder also admits he still has a lot to learn.
After all, it hasn't always been an easy road for Hampton Creek. The San Francisco-based startup made headlines after a run-in with the FDA regarding the product's marketing and a buyback investigation by the SEC, of which the company was later cleared of wrongdoing. Most recently there were reported funding struggles and layoffs, which the company has denied. There also were critical investigative reports and a lawsuit — that was later dropped — to deal with.
Nevertheless, Tetrick told NOSH this week that the most recent changes at Hampton Creek do not signify turmoil for the Just Mayo maker, but rather "a new chapter."
With a revamped look, a new automation system for R&D, innovation in the pipeline, a focus on operations and a growing staff, the sometimes outspoken Tetrick said he's expanding the company with a newfound recognition of both his own business strengths (and weaknesses), and the importance of trusting others.
"It's a very uncertain path to get where we need to go," Tetrick said. "We know where we are going, but there's uncertainty to get there and we need [to work with] people who are obsessive about the details who get that and get our mission."
It's a mission that has been the same since day one, Tetrick said. Hampton Creek started in 2011 to create a more sustainable and equal food system by using plants to replace animal-based ingredients. The company launched with its line of egg-free mayonnaise, and has since expanded into dressings, cookies and cookie dough. The "Just" brand is sold in over 20,000 stores nationwide, from Whole Foods to Walmart, as well as in thousands of foodservice locations.
The startup's growth attracted cash and even put a scare into the American Egg Board. But over the past few years, there have been reports of product setbacks and staffing issues. Two weeks ago, Bloomberg reported that insiders told the publication that Tetrick had reportedly only been able to raise $7 million of a $150 million fundraising round. A spokesperson from the company told NOSH that Hampton Creek is "not struggling" in terms of investments or funds. Though Tetrick himself declined to confirm to NOSH whether the company currently has an investment round open, he did respond to the reports of potential difficulties.
"Fortunately for us, [our mission] has made it easy for us to accept capital from some extraordinary people in the past," Tetrick said. "We are lucky to continue to have their support today. So without going into the specifics, those are the core facts today. I think anything that is ever stated that doesn't reflect that the company… continues to do work to bring better food to more people as fast as we possibly can, does not convey our mission [accurately]."
Though the Hampton Creek's mission to create healthier, more accessible plant-based foods has not changed, Tetrick said the way the company is working to meet that mission has. It will start with a newfound focus on operations and increasing efficiency.
That efficiency focus extends to innovation: Tetrick said over the past two years, the company has invested millions in creating a new automated discovery platform to help them research the molecular properties and functionality of plant-based ingredients. Previously, the company researched each individual species "by hand."
Hampton Creek is still working on its long-waited eggless scramble liquid, Just Scramble. Its Just Scramble patties will roll out with foodservice partners by early next year. Though not formally in the pipeline, Tetrick added that within the next five years, the company hopes to expand to more product categories, including yogurt, butter and pasta.
To better communicate its mission to consumers, Hampton Creek has engaged in a rebrand to create a more cohesive look across the store. The design, created by well-known brand designer Sean Wolcott, will arrive on shelves this month, and emphasizes the word "Just."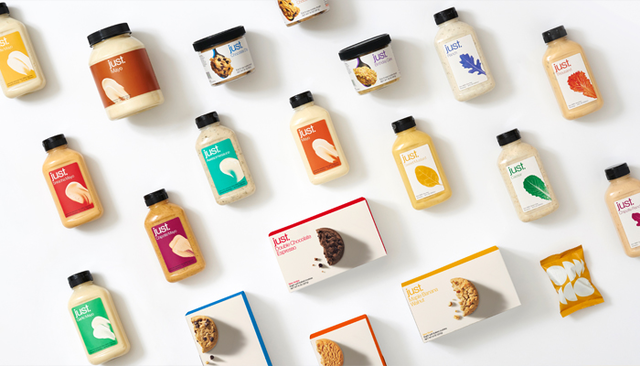 Tetrick said the change was initiated to distinguish it from private label brands — feedback the company has received from consumers — and to help consumers more easily differentiate between SKUs. The rebrand was also a response to FDA, which noted that Hampton Creek needed its use of the word "Just" to act as more than a modifier.
"Post Unilever lawsuit, we had the chance to really spend some quality time with the FDA and really understand their perspective," Tetrick said. "It continues to be an important point for us that people at the FDA get why we started this."
The operations-forward focus also extends to the company's recent hiring spree. The company has added a slew of executives to fill its roster after a series of layoffs and resignations. New employees include Erez Simha, who will act as a joint CFO and COO, Beverley Chadwick, VP of Finance, Luis Espinoza, VP of Manufacturing, and Brian Irving, Chief Marketing and Revenue Officer.
Hampton Creek would not comment on past executives' departures. Speaking generally about hiring, Tetrick told NOSH that he has found that successful employees at the company embody and embrace the brand's mission.
"What I've learned through the years is that if you don't at a base level feel connected to the mission of what we're doing, this is probably not the right place for you," he said. "Even if you're outlandishly skilled, even if you're the smartest person in the room, if you don't feel connected to our mission, it's not going to work."
Tetrick added that finding employees that are deeply connected to his mission has allowed him to step back and trust in their abilities.
"That has been an important learning for me right there," he said. "I don't know how to build an ops team. I don't know how to build a technology team. I don't know how to build a team of now seven-plus Michelin star chefs. I don't know how to build a communications team. I do know how to hire some great people who are now really good at hiring other great people."
Letting go has been one of Tetrick's biggest lessons as CEO. He said that up until a year and a half ago, he even felt the need to be involved in every buyer meeting. "I was in Hong Kong one time, and it was between one and seven in the morning. I had four buyer meetings where I had them Skype me in. And honestly, I didn't add a lot of value at all."
In addition to recognizing his strengths and weaknesses, Tetrick added that he's also learning to better listen to and trust in his staff — even if initially he doesn't agree.
"If I disagree with something someone is doing and I think it's the wrong choice, sometimes it's healthy for me to say, 'You're the person leading this, give it a try,'" Tetrick said. "I honestly still find that to be a little hard. I have to find the right balance between being in on everything, and stepping back and letting these leaders go."