Beyond Meat Founder: We Need Capacity and Shared Space.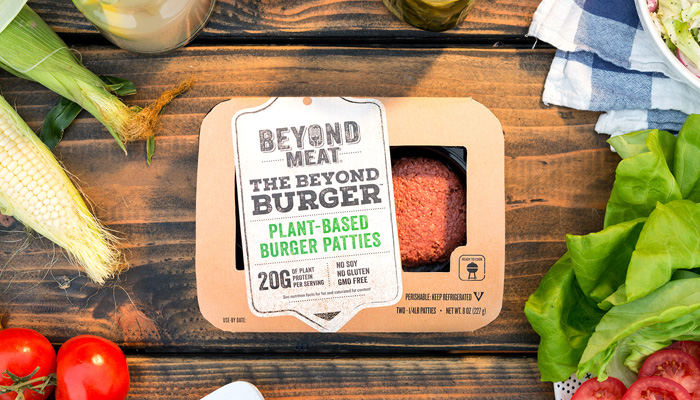 A Titanic Star. Murphy Brown. The face of Verizon's ubiquitous ad campaign — that's just the sizzle, not the bleeds-like-real steak, if you ask Beyond Meat CEO Ethan Brown.
Last week, the company announced the close of a $55 million investment in its plant-based meat substitute platform. The round was led by Cleveland Avenue, the venture group founded by former McDonald's Corporation CEO Don Thompson, along with Tyson Foods and a few celebrity investors like Candice Bergen, Thomas Middleditch, and Jack and Suzy Welch also taking part.
This wasn't an attention grab, however, Brown insists. He said the round was needed in order to set the company up for success in the upcoming year, with the investment focused primarily on operations and R&D.
The former was an issue for the brand's Beyond Burgers in 2017. The line of meat-like burger patties grew quickly and is now sold in over 5,000 retail locations as well as thousands of food service locations. Brown said that while the growth was positive, at times the demand was overwhelming.
"We're growing at a really rapid pace and we want to make sure that we can fill all orders even as we go into new markets and introduce new products," Brown said. "Last year we had some issues where we weren't able to do that during peak demand periods and we didn't want to repeat that… It's really positioning ourselves for a long period of growth."
As for R&D, that's a constant focus, according to Brown. To further this aspect of the business, the company will open a new laboratory facility in early 2018.
"If there's one thing about our company, it's that we're always innovating around food until it's indistinguishable from animal protein," Brown said. "[We will] continue to innovate and improve plant based meat better than anyone else. That's been our mantra and one that we want to stick to and continue to accelerate."
Beyond Meat is also working to get its meat substitutes into more mouths, approaching consumers to sample in retail, restaurants and other food service locations.
Since Memorial Day, the company has seen double digit growth in retail with the Beyond Burger, picking up major grocers Kroger and Albertsons and, within the past few weeks, Shaw's and Ahold, according to a Beyond Meat spokesperson.
While the Beyond Burger gets much of the attention, the company also produces three frozen lines — Beast Burgers, Beyond Chicken Strips and Beyond Beef Crumble — that are sold in over 15,000 retailers, accounting for a "reasonable and good amount of revenue" according to Brown. The difference is that these products are often sold in the meat-alternatives frozen door rather than alongside animal-based meats.
In addition to retail, foodservice is also a focus for the brand — fast casual chain TGI Fridays recently announced it would be rolling the Beyond Burger out nationwide in its restaurants. The brand is also in over 4,000 hotels, colleges and restaurants and has a partnership with food service provide Sysco.
It's this channel where the investment from Cleveland Avenue will particularly help the company, Brown said, noting that he values Thompson's understanding of the quick service industry.
"[Don] is obviously someone who knows his way around a burger," said Seth Goldman, Beyond Meat's executive chairman of the board. "To have this level of support and excitement from him is obviously very gratifying."
That's good, because Beyond Meat has more competition in food service. Impossible Foods has their own plant-based burger, which is sold in several hundred retailers. The two companies have taken different approaches in formulation. The Beyond Burger is non-GMO and contains no soy or wheat, while the Impossible Burger uses both ingredients as well as genetically modified soy leghemoglobin, or heme.
Tyson also has been a key player in the investment. While some plant-based companies have experienced backlash for partnering with meat-centric brands, for the most part, Brown said the feedback has been positive. He believes this comes from being authentic, open and honest with the company's consumers about why they are working with Tyson.
"If you think about people that are working on different things, you can always find points of disagreement, you can emphasize that. But you can also most likely find points of agreement and Tyson and I can agree on the need to provide sustainable protein to a growing global population," Brown said. "That's a very clear shared space. And from there, how do you create a relationship where you can serve that effectively from two different angles, and that's really what we have done. I will always mainstain that is more effective then throwing stones and they obviously feel the same way."
As for the newly added star power, Brown said that the investments by celebrities are a way to help spread the company's mission in a more authentic way then paying for a celebrity endorsement. It also results in a more engaged spokesperson.
The association of celebrities doesn't mean Beyond Meat only wants to sell their burgers to the one percent. A key focus, Brown said, is dropping the price point of the Beyond Burger which is still more expensive than some animal proteins. Brown said pricing will decrease with as the company scales and is able to purchase larger volumes of ingredients.
He added that he believes one day a Beyond Burger will be an easy decision and not an extra expense.
"We're really trying to build a product portfolio and a company that meets the needs of everyday consumers and that really positions us as the center of the plate for the American consumer in a way that is on equal footing with animal protein."
SaveSave