Seafood Brand Cheating Gourmet Hooks Investment from Former Snyder's CEO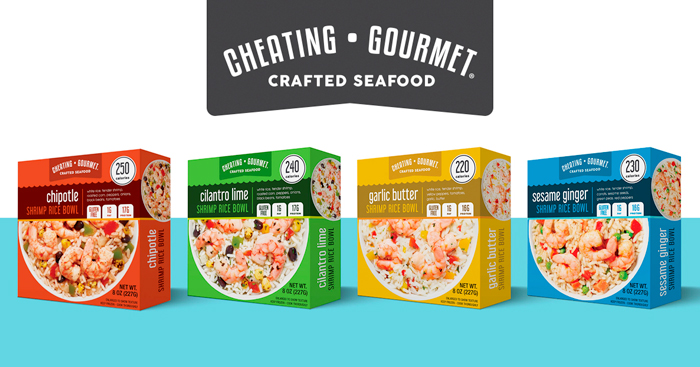 Frozen shrimp and rice bowl maker Cheating Gourmet has gained more than just capital with the close of its most recent raise.
The company announced last week it had raised $1.3 million from newly established equity firm Arbel Growth Partners, run by Carl Lee, the former president and CEO of Snyder's Lance, Inc. Other convertible notes within the round brought the Maine-based company's total raise to just over $2.1 million.
Maine-based brothers Scott and Jon Demers founded Cheating Gourmet in 2012 when they saw an opportunity to innovate within the retail freezer case by creating a higher quality, value-added seafood line. Though the company first started with seasonal, specialty appetizers like lobster crostini and "crabbies," last year the company pivoted to make value-added seafood an everyday occasion with the creation of a line of frozen shrimp and rice bowls.
The bowls — garlic butter, cilantro lime, chipotle and sesame ginger — which are now sold for $4.99 in more than 2,500 stores with retailers such as Kroger, Ahold, Shoprite, Shaws and, this spring, Harris Teeter.
Arbel Growth Partners was formed in February by co-founders Adam Peck, founder and chief investment officer at Milwaukee investment advisory firm Riverwater Partners LLC, Scott Lurie, founder and president of restaurant and catering business operator F Street Group, and Eric Lenzen, mergers and acquisitions attorney at the Milwaukee office of Husch Blackwell LLP.
Under the leadership of Arbel Growth Partners' CEO, Lee, who unexpectedly retired from Snyder's-Lance in April 2017, the new firm is looking to partner with emerging food brands in the better-for-you space. This is Arbel's first fund, which has a range of $10 million to $50 million. According to a February SEC filing, $1.85 million of the firm's fund has been raised thus far from six investors.
Arbel's portfolio currently includes Sky Valley Foods, which brought the group together in the fall when they invested $10 million to buy a 51 percent stake in the company, plant-based frozen burrito maker Alpha Foods, and most recently Cheating Gourmet.
The Demers brothers noted they still have majority ownership of the company.
"You look at the category and there was nothing in there that brought a new life or that was innovative or spoke to today's consumers," Scott Demers said. "[Cheating Gourmet is] resonating with consumers, and millennials especially, because there is a lack of knowledge of how to prepare seafood. It's just something that a lot of younger people don't know how to do. So the secret success here is a healthy item that is also super convenient. Bringing those two together has been a magic formula for us."
Lee told NOSH that he was interested in investing in the shrimp bowl company because of the strong leadership of the Demers brothers, as well as the value of their products for consumers and retailers alike.
"There's an opportunity here to build a national brand," Lee said. "The seafood category needed some high quality options and this is exactly what this is… I think we are bringing value to the consumers, value to the retailers, and will help grow an already established category."
Scott Demers said the company will use the capital to help fund the brand's "growth mode." This includes tripling their distribution by the third quarter, launching marketing campaigns within their current accounts and growing their sales team. Before the end of the year, the company will also be launching four new shrimp bowl flavors: risotto, parmesan, jambalaya and coconut.
Though the brand will still offer its specialty appetizer line, Scott Demers said the company will be focusing most of its efforts on its shrimp bowl business. The brothers are also putting their recently launched frozen burger business, Bravo!, on the backburner to focus on becoming leaders in the value-added seafood space.
With the investment, Lee will serve on the brand's board of advisors.
"For us to have someone as accomplished as Carl see the results we are generating and also understand our vision, that is a real honor for us," John Demers said.
The Demer brothers seem to have always found value in surrounding themselves with experienced industry vets. Art Drogue, a retired Unilever executive, and John Maggiore, category manager of natural foods at Stop & Shop, join Scott and Jon Demers on the board, and Stuart Klane, retired founder and president of SM Klane Food Brokerage, which represented hundreds of food lines including Chobani Greek Yogurt, is an advisor to the board. Robert Craig, of Centerman Capital in Needham, Mass., is also an advisor and was an early investor to the brand. Prior to this round, Cheating Gourmet had raised about $700,000 from private investors, including Craig.
But it's no surprise to Lee that the brand has been a magnet to other thought leaders and players in the natural food space.
"It's about amazing quality, it's about last innovation and it's about reinvigorating traditional categories. And it's all driven by very talented leaders so when you find that combination, you come on board," Lee said. "These new and emerging exciting brands like Cheating Gourmet are driving this and really working to bring consumers back in and let them enjoy [established categories] in a way that is better than what they had before."