Q&A: How Minute Rice Is Evolving to 'Become More Relevant'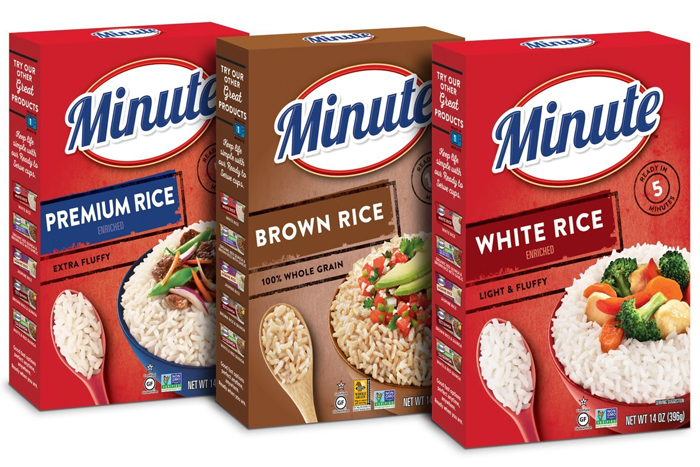 Minute Rice may be pushing 70, but the leading pre-cooked and ready-to-serve rice brand is trying not to look its age.
Earlier this month, the company announced a redesign across all of Minute's product portfolio and has begun rolling it out to retailers. This is the most comprehensive package redesign the brand has seen in more than a decade. While retaining its distinctive red background and brand mark, all product packages now feature a simpler design that incorporates a consistent cook-time call out, an updated logo and modern font.
And a more contemporary look isn't the only way the legacy brand is trying to stay relevant. In addition to its non-GMO Project-verified products, the company recently introduced several better-for-you options including ready-to-serve brown rice and quinoa, ready-to-serve white and red quinoa, a line of ready-to-serve organics and an instant multi-grain medley.
The NOSH team spoke with Sandra Kim, Minute Rice's senior VP of U.S. marketing, and Diane Patterson, senior brand manager, to learn more about the motivation behind these changes and the company's continuing evolution.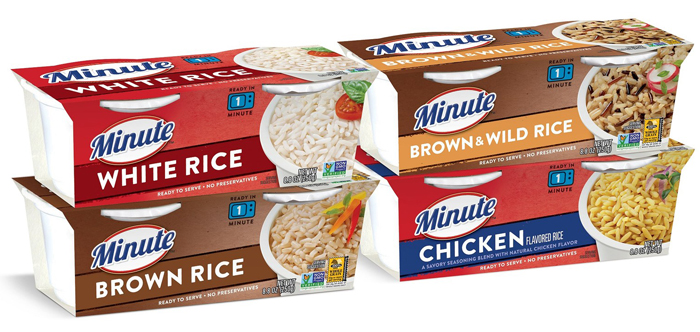 NOSH: What was the motivation for this redesign?
Patterson: So [Riviana Foods] bought the brand from Kraft over 10 years ago, and they had not updated the packaging design in quite a while. We really wanted to target the younger consumers and younger generation, but not alienate our existing users, so we felt it was time for a facelift. It was more evolutionary versus revolutionary, but our goal was to really simplify it. I think a lot of people felt that Minute brand had not changed over the years, and we wanted to convey that indeed the brand is changing and is becoming more relevant and contemporary to today's consumers.
Kim: The other part too is that we had a non-uniform or non-consistent appearance between our instant and ready-to-serve so this is a nice opportunity to have the same look across all our products and across the different product lines.
NOSH: In what other ways are you evolving to meet today's consumers needs?
Patterson: Convenience is definitely key. Consumers are looking for shortcuts to get quick meals on the table. Sometimes people feel instant or pre-cooked products mean those products are processed and may even have some that think they are bleached, but with all the Minute products we just do the cooking for you. So all consumers have to do is just rehydrate or warm it up, so we made it easier for them to get convenient meals on the table faster whether it is for one or a family. With the ready-to-serve line specifically, consumers are looking for different flavors and they want variety. So one of our goals is to provide more options for consumers with health aspects.
NOSH: Your product portfolio has been growing rapidly. How is this changing what are your best-selling SKUs?
Kim: Our best selling SKUs tend to be more simple, and they haven't changed that much. As much as we are launching new products and our competitors are launching new products, the top five SKUs have been pretty consistent over the years.
NOSH: Why use ancient grains like quinoa in your newest innovations?
Patterson: I think this is all about keeping on top of the trends. We do research with our consumers on what's most appealing from an offer standpoint, so we are trying to provide consumers a family of options, not just plain rice but different grains that have that healthier halo.
Kim: It brings the brand up to be more contemporary and that is really the benefit to consumers. I mean, going into the segment, they are not going to be so informed as to every grain that is out there, or whether this has protein or which has what vitamins or nutrients. At the end of the day they just want a nod to know that there is something good for them in this product. We don't like to go too deeply into the other side of what the source of the grain is and so forth because our consumers, they really don't have time to read that. They just want the nod.
NOSH: Who are you targeting with these changes?
Patterson: We are interested in targeting a younger generation, but at the same time, we know we don't want to alienate the existing users as well. But that's what I think the beauty of some of our products are. We have such a wide consumer base. But ultimately, yes, we do need to target younger consumers more so than we have in the past, which was a motivation for some of these changes.
NOSH: Your customer has typically been more of a conventional consumer. How do you innovate to attract this younger consumer without alienating them by straying too far?
Kim: I don't want to simplify this too much, but it is all about the key drivers. We don't want to not meet consumer needs because we got too far into a product benefit that may never be as meaningful when they are standing there in front of the shelf. That's how we keep ourselves honest. What drives consumers to purchase our products: taste and convenience. We make sure that is always front and center, and then we provide those added benefits and added values as we progress with our consumers. Their needs change and we need to change with them.