Rice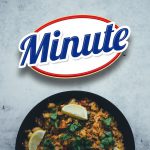 Earlier this month, the company announced a redesign across all of Minute's product portfolio and has begun rolling it out to retailers. This is the most comprehensive package redesign the brand has seen in more than a decade.
Riviana Foods Inc., America's leading rice company, is answering consumers' demand for "better-for-you" pantry staples with five new Minute® Ready to Serve products: Minute Ready to Serve Organics, White & Red Quinoa, and gluten-free Multi-Grain Medley.
Jasmine Rice and Basmati Rice are the most recognized and best-selling rice imported into the US, made popular by their intense fragrance and prevalence in Thai and Indian-inspired cooking. Lotus Foods, which specializes in prized rice varietals that are grown more sustainably on small family farms, is introducing their specialty Jasmine and Basmati Rice in new 30 oz. packaging.
As a leader in sustainable farming practices, Lundberg Family Farms is proud to work with Thai Organic & Fairtrade Agriculture Group and partner with hand-selected, small, remote farming communities in Thailand. This unique partnership allows for the preservation of farming methods while making the fragrant grain available to American consumers.
MOSHAV SHARONA, Israel and MEMPHIS, Tennessee— Kaiima Bio-Agritech Ltd., a genetics and breeding technology company, and Horizon Ag LLC, a leading technology provider for the U.S. rice industry, today announced their collaboration to develop new, high-performing rice varieties. The multi-year project, initiated in 2015, combines U.S. adapted germplasm sourced by Horizon Ag and Kaiima's proprietary EP™… Read more »
Lundberg Family Farms, a national leader in organic rice and whole grain products, today announced the availability of Organic Sprouted rice and seasoning mix. The new product line-up features sprouted whole grain brown rice and is available in five varieties: Thai Red Curry, Toasted Coconut, Chile Verde, Korean BBQ, and Vegetable Fried Rice.
Amira Nature Foods, a global provider of branded packaged Indian specialty rice, announced today that Amira branded products are now available in five new Western U.S. retailers.