New Formats Take Bite Out of Protein Bar Market
Protein has officially busted out of Gold's Gym and is free from its "do you even lift, bro" stigma. In doing so, it has broken free from the bar, as well.
That's the nutrition bar, until now the most popular format for protein-supplemented CPG outside of powders.
For many, a high protein diet is key to a healthy lifestyle; but as that need for protein has grown, so has the industry's recognition that protein's new consumers eat differently than its stereotypical, bicep curling consumers of the past. Cue the creation of protein snacking: bites, balls and formats in between.
"The ball/cluster innovation is interesting however because it is a new format, but they really fill the same need as the bars do: convenient, healthy snacking," said Richard Gilmore, director of center store category management at retailer Gelson's. "Every month there is something new and innovative [in bars, balls and clusters] and we continue to be surprised by how successful most of this innovation is."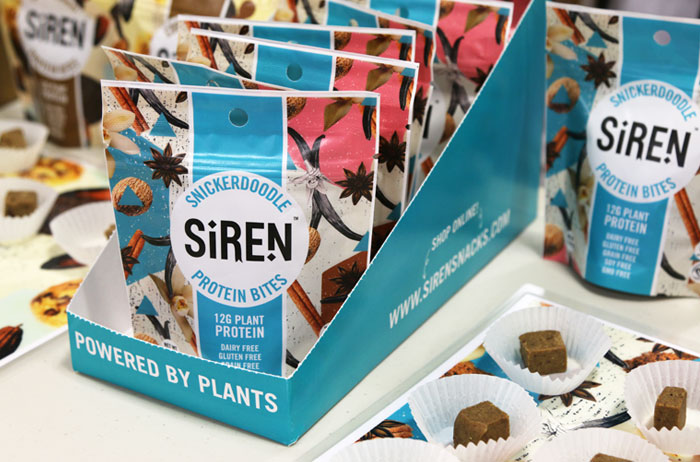 During this last month's Natural Products Expo West, brands like Hail Merry, Siren Snacks, Health Lab and Simply Fuel all showcased protein bites and balls. But while they were some of the few sampling these new formats, they weren't the only ones talking about them. At least four leading protein bar brands said they have plans to launch new protein snacking formats, with at least two expecting those products to hit shelves before the end of the year. For some, it's finally a chance to move into their true form — they noted they were originally hesitant to enter the snacking space because of some unspoken precedent that functional brands need to start with a bar in order to enter the protein market. A few also noted that before now, there was not enough data to prove an interest in these formats over tried-and-true bars.
That's not to say protein bars are unpopular: it's a market that's expected to record a robust compound annual growth rate (CAGR) of 7.8 percent from 2017-2022, according to market data from Persistence Market Research.
So why move into other formats? Well for starters, it's what consumers want. Mintel's 2017 Snack, Nutrition and Performance Bar report showed that while the bar category has grown at a steady pace for five years, only six in 10 adults reported having purchased any type of bar in the past three months. Meanwhile, about a quarter of consumers surveyed also wanted to see more innovation in varied formats: bites, balls or just mini bars.
Part of this desire stems from a shift in protein-based snack consumption. Once a niche product targeting athletes, protein bars are now marketed as "wellness" products targeting mainstream consumers. These shoppers don't necessarily need or want an entire bar's worth of product and want more control of exactly how much protein they're consuming.
"The ball/cluster innovation is interesting however because it is a new format, but they really fill the same need as the bars do: convenient, healthy snacking."
Siren Snacks, which recently raised a $1 million round of funding, based its entire business on this concept. Each of the plant-based protein snacking company's bites are measured to include exactly one gram of protein and can be incorporated into meals or eaten as a snack on their own.
"The trend of personalized nutrition is huge right now, with consumers focused on getting the right amount of protein based on their activity level, fitness goals, and individual characteristics," Siren Snacks co-founder and CEO Elizabeth Giannuzzi said.
The form factor also allows consumers to feel like they have more snacking choices, according to Eric Shen, CEO of Bite Fuel.
"I don't think there is anything wrong with the protein bar. It has been around for over 50 years, but was mainly used by bodybuilders who couldn't get a high protein meal ready at any time of the day," Shen said. "The only thing is that there are so many different protein bars in the grocery or nutrition stores that consumers have too many options."
At a time when the bar category is incredibly crowded, protein balls and bites also appeal to entrepreneurs for business reasons: less competition. Australian-based protein ball company Health Labs, which is sold in 5,000 retailers across Australia, used Expo West to officially announce its American launch. Founder Jessica Thomas told NOSH that she believes her products will benefit from the white space in the market as well as its unique packaging — each is individually wrapped within a larger multiserve container. Thomas said this gives consumers customization while keeping bar's easy portability.
"I was pretty surprised at the market here because it is definitely very saturated with bars and whey protein so I feel like there is a real gap for plant-based to come through and I think that is really the next functional snacking," Thomas said. "And there are really no balls here, which is really surprising because that's definitely the rage in Australia."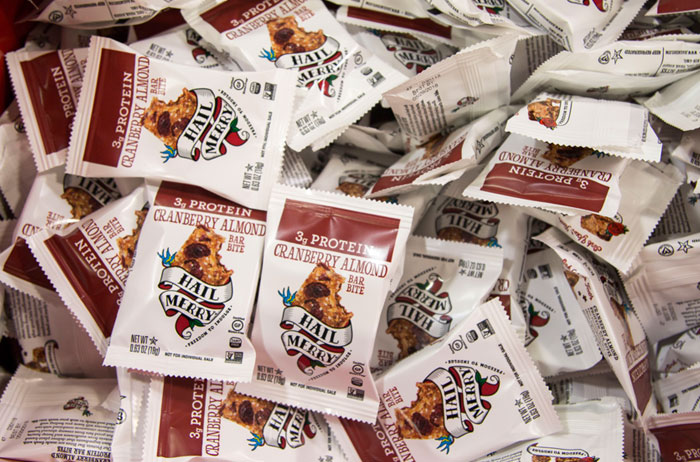 When it comes to the refrigerated set there are even fewer players — a major draw for refrigerated dessert producer Hail Merry. The company, which started with tarts and dessert bites, launched into the functional world with its protein bar bites at Expo West. Hail Merry Snacks founder Susan O'Brien said she felt entering the protein market with bites was a fit for the brand because of its roots in indulgent snacking — bites, she argues, originated in the bakery space. The new line gives them an opportunity to reach new consumers without cannibalizing the sales of their other products with their current consumers.
"I believe absolutely we will pick up new consumers that don't eat sweets at all, being an on-the-go occasion [for them] when they want something that is sustainable for a few hours," O'Brien said. "I think all of our current fan base are functional consumers, too, because they inherently appreciate the quality of our indulgence. They are also consuming kombuchas, functional foods, right? So this is just another day occasion for them to enjoy something with a hit of protein."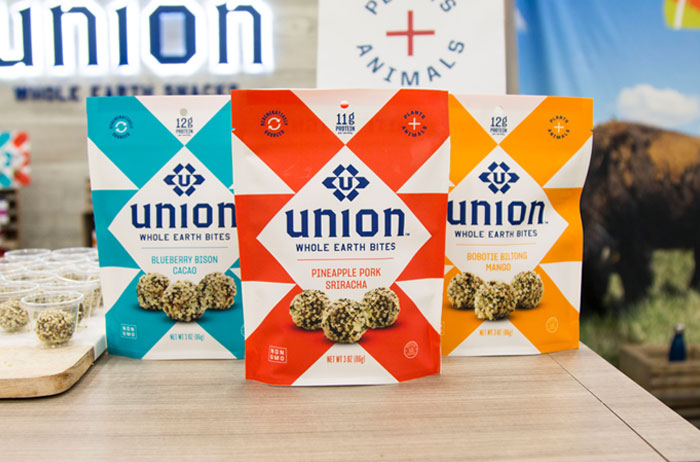 Bites also give brands and consumers the ability to experiment with unique flavors because they don't see the small format as a large commitment. That has led to unconventional protein bites like UNION, a new brand of meat and plant-based snacking bites.
Still the bite and ball space isn't without its challenges. These products are more technical to manufacture than bars, which are typically either extruded or formed and cut. To help alleviate this, a few manufacturing facilities have emerged to bridge this gap, but not many. One company, Snackwerks, launched in 2016 with a focus on snackable formats like granola and nut clusters, cookies, bites, bars and balls. Snackwerks partner Jeff Grogg — the former Kashi innovation chief — said at the time he wanted to invest in the equipment and specialize in this space because he thought it was "more friendly" and "more fun."
Bars and bites have a unique background in that, unlike bars, the categories have been fueled, in large part, via shared online recipes. Over the past five years, Google Trends shows a rising increase in searches for "protein balls recipe." As a result, consumers may come to the category with the mindset that it's not worth spending the cash on something they could easily make at home. Some brands, such as Creation Nation and SimplyFuel Protein Bites, have created DIY baking kits to cater to a consumer who wants a more hands-on experience, but don't want to track down individual ingredients themselves.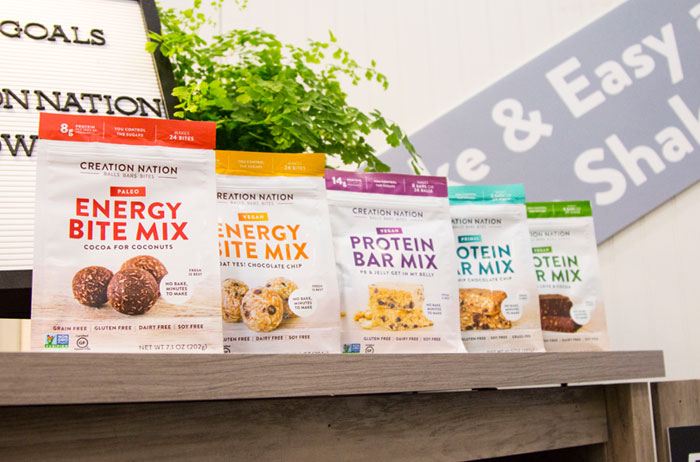 It's just another way to attract more consumers seeking clean ingredients to the bite and balls sector, SimplyFuel founder Mitzi Dulan said.
"I think people are looking for something new and tasty," she said. "Most protein bars are not delicious and in the past people have just accepted the fact that most protein bars taste nasty. Today, people want a clean ingredient list, quality nutrition, and great tasting snacks all in one and if you can make fun, even better."
But Gilmore cautioned brands not to lose site of the characteristics that made the bar category successful in the first place — namely convenience and portability. The risk, he told NOSH, is that given the premium on space in the protein category, if bites and bars don't see fast turns on shelf, they'll be moved to other less nutrition-centric categories of the store such as with granola bars or sweet snacks.
"Multi-serving pouches of balls/clusters do not match that convenience level [of bars] and will not have as much success unless they can find a packaging format that meets the single serve requirement," he said.