Little Secrets Launches New Line, Goes Nationwide with WFM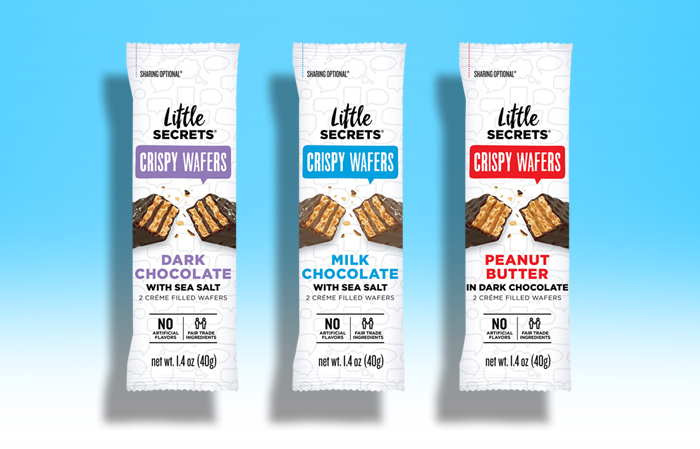 Today chocolate brand Little Secrets announced that it will launch a line of chocolate wafer cookies — think an all natural Kit Kat — and roll out both of its product lines nationwide in retailer Whole Foods Market in June. The chocolate wafers, which will be sold two fingers to a pack at $1.99, will launch in dark chocolate, milk chocolate and peanut butter in 500 retailers nationwide.
Founder Chris Mears told NOSH that the Revelry Brands backed company wanted to look beyond its current lineup of enrobed chocolate pieces and to other open white space in the category.
"We saw an opportunity [for a product] that hasn't been done in the natural channel," Mears said. "These three flavors are the base and this is the start, but it's something we can really build on and we see a lot of runway with."
The new product line comes soon after the rebrand of its dark chocolate pieces line, the third in the three years since the brand launched. Mears said the first rebrand in 2016 gave the packaging a cleaner look and better positioned the product for consumers of all ages, rather then just for children. However, Mears said an emphasis on taste and the product itself was missing, which the brand sought to rectify with it's most recent packaging change in January.
Helping unofficially advise Little Secrets throughout this most recent innovation process and rebrand was Jason Krolikowski, Whole Foods Market's global category manager for candy and functional snacks.
"If you get input from an important retailer, like Whole Foods, that's pretty incredible," Mears said. "Jason has been a huge help and support in terms of where we should go and where is the white space… He's got a really good vision for where the confectionery category can go."
Mears said that the Whole Foods distribution will also allow the brand to dial up its marketing as he believes it will be easier to push consumers toward a product that is sold in a major national retailer rather than an assortment of regional stores.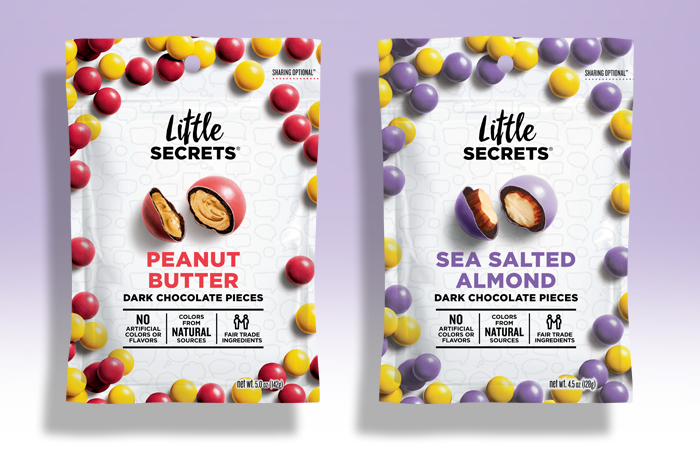 Although the brand's chocolate pieces are already sold in 4,000 retailers including Wegmans, Sprouts, HEB, Stop & Shop, Natural Grocers, Myers and Earth Fare, Mears said the road to growth hasn't always been easy.
One lesson was to focus on trial. Mears told NOSH that roughly 70 to 80 percent of purchases in the category are driven by impulse, so brands that lack a single serve product or register placement struggle.
"Justin's didn't launch a multiserve [of their peanut butter cups] for years," Mears said. "We launched multiserve and single serve simultaneously, but if I were going to go back and do it again, I probably would just launch single serve to start. It's a much more focused effort to get that trial."
Mears added that at launch the company focused on all retailer channels equally, a move that split its focus. While the brand won't be cutting back on retailers, in 2018, it will devote most of its sales efforts to the natural channel — where Little Secrets doesn't have competition from bigger, commodity brands such as Hershey's and Nestle.
Regardless of channel and consumer type, Mears added that he thinks there will always be a place for both treats.
"I still think that people want to indulge," Mears said. "We're not recommending that people replace their kale salad with Little Secrets but I think when you do indulge, you do want a little more permissibility,"