Is Impossible Foods' Mission 'Sustainable'?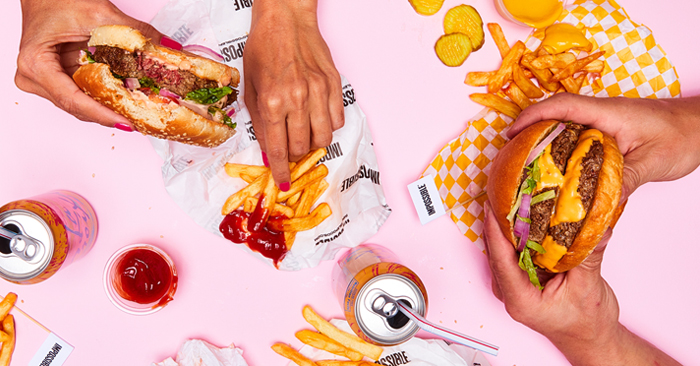 Impossible Foods is making 500,000 pounds of plant-based "meat" a month. But is it enough to make the company's goal of eliminating animals in food production a reality by 2035?
Impossible last week released its 2018 sustainability impact report — the company's first ever "progress report" of sorts. The document lays out the startup's progress and challenges during the continued pursuit of its 2035 vision. As of last year, Impossible Burger "beef" — the brand's bleeds-like-meat product made from a compound called heme found in soy leghemoglobin — was sold in only 40 locations last year, but it's now on the menu in over 3,000 restaurants. The company has been able to scale quickly because of the increased production capabilities of its Oakland manufacturing facility that opened last September.
According to the company, making an Impossible Burger uses about 75 percent less water, generates about 87 percent less greenhouse gases and requires around 95 percent less land than what's required to raise and feed cows for conventional ground beef.
While those are impressive metrics, the startup reported it still has some work to do before achieving its ultimate goal. The U.S. produces and consumes more than 9 billion pounds of ground beef from cows, the company wrote, but currently its Oakland manufacturing plant can produce only enough meat to satisfy .02 percent of that demand.
"We're planning for and investing in tomorrow," Impossible Foods CEO and Founder Patrick Brown wrote in the report. "As we grow, so does our commitment to sustainability at all levels of our business. From supply chain engagement to sustainable packaging, from empowering our employees and customers to zero waste in manufacturing — we're putting stakes in the ground and setting targets."

The report provides a window into the company's strategic sustainability plan. First, to meet growing demand, Impossible Foods is hiring a second shift of employees to join its 300-plus person team. With these new hires, the company will be able to double production at its first large-scale factory to 4 million pounds of meat per month, and plans to open a second factory in the near future.
Also detailed in the report is Impossible's new platform to advance environmental and social considerations within its supply chain. The company is in the process of developing a Supplier Code of Conduct, which "goes beyond regulatory compliance to focus on expectations of mutual continuous progress between business and suppliers." The plan is expected to roll out before the end of the year. Additionally, Impossible is on track to become U.S. Green Building Council Zero Waste certified by 2020, which means the company would divert more than 90 percent of its waste from landfills to recycling and compost. The brand is also working to build its offices and manufacturing facilities with sustainable engineering, and expanding its food access programs from Northern California to additional food banks nationwide.
"Our true impact will be in greenhouse-gas emissions prevented, in land and water spared, in ecosystems and wildlife protected and restored, in food security strengthened and in communities served through our success in replacing the world's least sustainable technology," the company wrote in the report.
Though the brand, historically, was quiet about its specific sustainability plans, that doesn't mean Impossible was absent from the headlines over the past two years. Since its 2011 founding, the company has raised more than $450 million. The burgers are sold in restaurants ranging from Michelin star establishments to fast casual burger joints like White Castle. Earlier this year, the burger was also brought outside of the U.S. for the first time with an expansion to Hong Kong and Macau. And, after some back-and-forth with the Food and Drug administration, the company finally received its GRAS certification last month.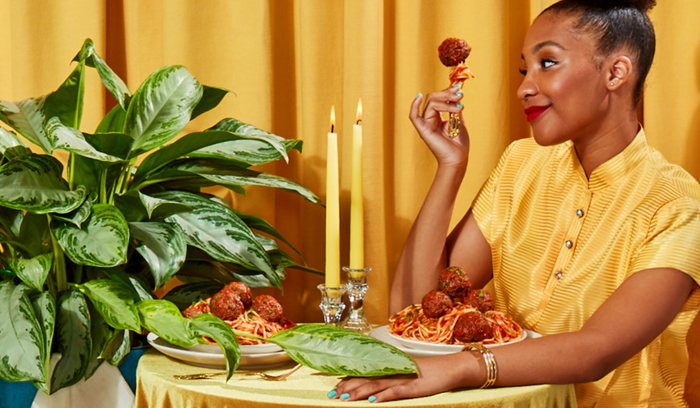 If the Bay Area startup does maintain its growth, the company has the potential to affect change on a national level, according to some researchers. The sustainability report highlights the results of a study from Denmark Technical University — a group that reportedly has no ties to the company — which studied the impacts of adoption of Impossible Foods' product at a national scale. Those researchers found that if Americans were to replace 50 percent of ground beef from cows with Impossible Foods' plant-based beef, it would reduce carbon emissions the equivalence of taking 11 million drivers in the U.S. off the road for a full year; save at least 3.2 trillion gallons of water; and reallocate land roughly the size of New England from livestock to wildlife.
In addition to the sustainability report, Impossible also released a new marketing campaign, entitled "Mission: Earth," that will be featured on sites including YouTube, Hulu, Vevo and Instagram as paid advertisements. The video features an astronaut walking the streets of a city, "discovering" the wonders of Earth. While the company was founded on its sustainable mission, this is the first consumer-facing, mission-focused marketing effort by the brand.
Plant-based meat alternatives is a $670 million sector, according to data from the Plant Based Foods Association. And data from Kantar Consulting shows that mission-driven brands perceived of having a positive impact by consumers grow at double the rate of other brands. Though Impossible Foods is one of two leading tastes-like-meat, plant-based alternatives (the other being Beyond Meat, which also has a sizeable food service and retail presence), it seems Impossible's plan is to focus on mission over product as the majority of its consumers are actually meat eaters. Only three percent of the brand's consumers reported that they never eat animal-derived foods.