Conagra Acquires Pinnacle for $10.9 B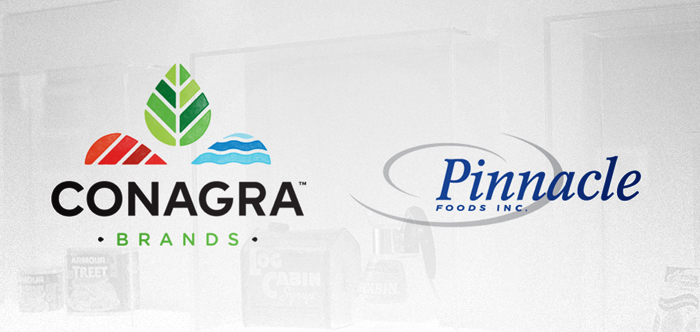 Conagra Brands announced today that it will acquire Pinnacle Foods for $10.9 billion in cash and stock. The deal is expected to close before the end of 2018.
The merger of Conagra and Pinnacle makes the duo the second-largest U.S. frozen food company behind Nestle. Pinnacle's portfolio — which includes brands such as EVOL, Udi's, Glutino and Birds Eye — also helps Conagra with the company's multi-year transformation plan. Combined, the new conglomerate's net sales are approximately $11 billion based on both Pinnacle and Conagra's latest fiscal year results.
Since 2015, Conagra has worked to adapt its portfolio, which includes classic brands such as Healthy Choice, Hunt's, Hebrew National, Reddi Whip and Orville Redenbacher, to better meet the needs of an increasingly health-aware consumer base. And to make this shift, the company has looked both internally and externally. Congra recently reformulated and rebranded several of its frozen products. It also acquired successful brands such as Angie's Artisan Treats, the producer of popcorn line Boomchickapop, and Thanasi Foods, the producer of Duke's meat snacks, as well as Sandwich Bros.
"After three years of transformative work to create a pure-play, branded food company, we are well-positioned to accelerate the next wave of change," Conagra CEO Sean Connolly said in a statement Wednesday.
During a call with investors this morning, Connolly added that Pinnacle's complementary culture, which is similarly focused on brand building and innovation while maintaining a lean cost structure, was also a major selling point for the company.
Pinnacle has undergone its own evolution in recent years in an attempt to win over a younger consumer. It acquired Boulder Brands, owner of gluten-free foods and snacks like Udi's and Glutino, for roughly $975 million in 2016 to better expand its presence in natural and in center store. With that transaction, it also gained Boulder Brands' incubation portfolio, of which juice brand Suja, cracker company Primizie, and turmeric shot and drink maker Temple Turmeric still remain as investments that will pass on to Conagra.
Still, Pinnacle's real strength remains in its assortment of frozen products, which saw sales grow at a rate of 7.5 percent last quarter thanks in large part to innovation under Green Giant's frozen line. More than half of Pinnacle's revenue comes from frozen brands including Birds Eye and vegetarian Gardein, and for Conagra, the company reportedly generates about one-third of its U.S. revenue from the category.
The deal as a whole is reflective of an overall renaissance within the frozen category. Nielsen estimates annual U.S. sales of frozen food at $53 billion.
"Combining ConAgra and Pinnacle would really create a sort of giant in the frozen food aisle," Dewey Warner, Research Analyst at Euromonitor International, told NOSH in a statement. "There has been an emphasis on the influence of fresh food and the growth in the outer perimeter of grocery stores, so a return to growth and interest in the center frozen aisles is notable."