The Checkout: Fired By Chloe Founder Sues to Stop Move into Retail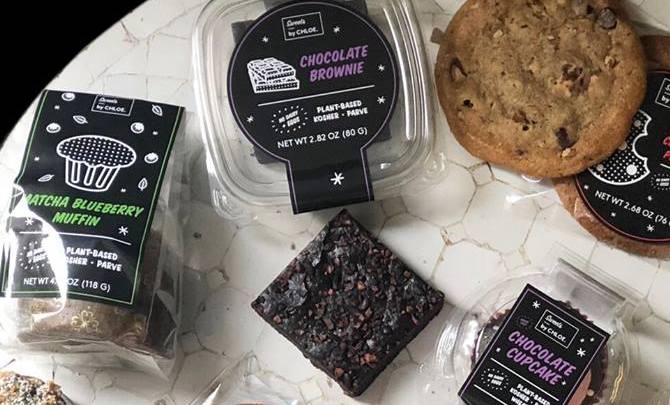 Welcome to The Checkout: an express lane for weekly news you need to know, always 10 items or less.
From legal difficulties surrounding a vegan fast casual chain's move into retail, to big food's fight to require refined ingredients included within GMO labeling, here is the natural food news you need to know this week.
Outed By Chloe Founder Sues to Block the Vegan Chain's Retail Expansion
By Chloe founding chef Chloe Coscarelli is suing the parent company of her fast-casual vegan restaurant over its efforts to sell items in Whole Foods Markets, according to Eater. This is the latest of a string of lawsuits and complaints filed by Coscarelli in what has been a contentious fight for the right to her name and brand.
By Chloe announced in May that it would start selling brownies, cookies, lemon bars, and other packaged sweets in two Whole Foods stores in New York City. The new suit against parent company ESquared Hospitality, which fired Coscarelli in 2017, demands an injunction prohibiting By Chloe from selling packaged retail products, as well as a declaration that affirms Coscarelli still owns half of the restaurant group. By Chloe currently has 10 locations around the U.S., and two in London, and also recently raised $31 million for another 20 locations globally, Eater reported.
In 2017, the celebrity chef was pushed out of By Chloe after an arbitrator determined that she was being "grossly negligent" of the vegan fast-casual chain she co-founded. Coscarelli later claimed she was fired after rejecting alleged advances from ESquared's CEO Jimmy Haber.
Big Food Advocates for GMO Labeling of Refined Ingredients
As consumers demand transparency about what is in their food, the industry appears to be listening. Major CPG leaders including Nestle, Hershey and the Grocery Manufacturers Association (GMA) filed comments on the proposed GMO labeling regulation this week, asking that items made with refined GMO ingredients, namely sugar, should feature the label. Farmers, however, want the labels to exclude those ingredients, arguing that they are processed to the point where they no longer contain any trace of GMOs.
About 90 percent of the nation's corn, soybean and sugar beet crops are genetically modified, according to GMA, meaning it's estimated that 78 percent fewer products made with GMO ingredients will be disclosed to consumers if products using refined versions of those crops do not have to be labeled.
"If consumers do not believe that they are getting the transparency and ingredient information they demand, the repercussions will be felt most directly by the companies that make their food and beverage products," GMA wrote in a statement. "Consumers will hold GMA member companies and their brands accountable for any lack of product transparency."
Conagra to Close Boomchickapop's HQ
Conagra Brands is closing Boomchickapop's Minneapolis headquarters, and relocating its operations to its Chicago and Omaha offices, according to The Star Tribune. The CPG giant bought Angie's Artisan Treats, the parent company of Boomchickapop, last September for $250 million.
According to the Tribune, prior to the deal Boomchickapop employed between 50 and 60 people, but as of Thursday, only a few workers were still working at the office. Conagra did report that it will continue to make popcorn at the company's North Mankato facility.
NadaMoo! Opens First Scoop Shop
Austin-based, dairy-free dessert brand NadaMoo! announced today the opening of its first brick-and-mortar location. The store, which will officially open on June 15, will sell its existing flavors that consumers have become familiar with, in addition to "unique housemade flavors" and "Nada-Mooshakes."
"We are excited to be bringing our brand to life through this physical experience," president and CEO Daniel Nicholson said. "This has been a dream for our company for several years, and we are excited to finally have a place where we can directly serve our customers and fans, whether they're local or just in town for an authentically Austin experience."
Salty Snacks Market Forecast at $29 Billion in 2022
Potato chips, popcorn and pretzels are hitting big with consumers seeking out convenient snacking options. Market research firm Packaged Facts estimates that the sales of U.S. salty snacks will hit $24 billion in 2017. So far, the category has already seen a compound annual growth rate (CAGR) of almost 4 percent between 2012 and 2017.
Part of the category's success can be credited to products' positioning within grocery and convenience stores in locations conducive to impulse purchases.
"In recent years, more consumers have moved away from the traditional three meals per day and shifted into a lifestyle involving increased snacking, or multiple smaller meals, throughout the day," David Sprinkle, research director for Packaged Facts, said via a release.
To continue to grow amid competition from sweet offerings or better-for-you products, Sprinkle advised brands to innovate with bold flavors and healthful ingredients such as proteins, grains, vegetables and superfoods.
Amazon Adds Whole Foods to Prime Day; Announces Second Amazon Go Store
Amazon announced earlier this week that its "holiday" for online shopping will break into brick-and-mortar with the inclusion of Whole Foods Market.
During this year's Prime Day, which is scheduled to start July 16 and last 36 hours (six hours longer than last year), Prime members will get an additional 10 percent off hundreds of sale items throughout Whole Foods stores, as well as discounts on select popular products, according to the company. This is in addition to the free two-hour delivery and member-only discounts Prime users already get when shopping at the natural retailer. Amazon was still in the early stages of its acquisition of Whole Foods last year, so the grocer wasn't included in Prime Day 2017.
Amazon also dropped this week that its "smart" grocery store, Amazon Go, which relies on AI to get rid of cashiers for checkout, will open a second location in Seattle. The store, which will have 70 percent more space than the original store location, is expected to open this fall.
Reigning Champ of Nathan's Hot Dog Eating Contest Launches Condiments Line
You can now eat a hot dog — or 74 — just like reigning Nathan's Hot Dog Eating Contest champion Joey Chestnut.
On July Fourth, Chestnut recorded his 11th victory in the annual contest hosted by the iconic Coney Island eatery, shattering his own record from the year before by consuming 74 hot dogs (with buns) in 10 minutes. This year's wincomes as Chestnut is making moves to not only competitively eat food but also create it. His first products, released under the Joey Chestnut Food brand, are a line of condiments, including Classic Boardwalk Coney Sauce, Spicy Firecracker Mustard and Deli-style Mustard.
"I have the greatest job in the world and my life revolves around my love for food – particularly devouring hot dogs," Chestnut said in a statement. "This love led me to develop a line of high-quality, American-made condiments created specifically for America's most beloved foods."
Chestnut holds more records than any other competitive eater in history. He holds titles in almost 50 "disciplines" such as gyoza, gumbo, pizza and chicken wings.