The Checkout: Easter Creates Hop in Chocolate Product Launches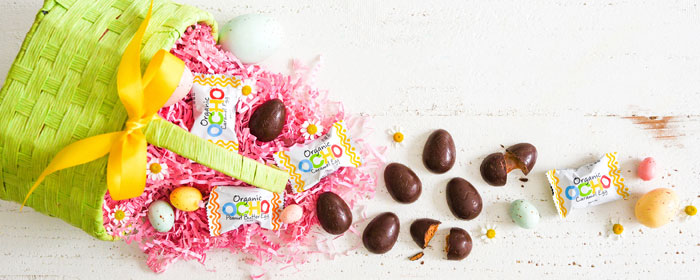 Welcome to The Checkout: an express lane for weekly news you need to know, always 10 items or less.
The natural food industry is having a pretty sweet week. From booming seasonal chocolate sales to synergies between retailers proving effective, here is this week's lineup of natural food news.
Global Easter Chocolate Launches Up 23 Percent
Chocolate, in shapes from bunnies to eggs, is still proving to be a major segment of seasonal candy sales this Easter.
According to a recent Mintel Global New Products Database (GNPD) report, there was a 23 percent rise in global Easter chocolate launches this year. Overall, the U.S. accounted for eight percent of new Easter product launches in 2017.
"Easter represents one of those 'permissible indulgence' moments where consumers enjoy giving and receiving chocolate treats," Marcia Mogelonsky, director of insight for Mintel Food and Drink, said in a statement. "The holiday also marks a time for increased innovation in confectionery as consumers seek new and novel products."
In the quest for new products, consumers aren't being calorie conscious, according to the report. Launches of Easter products described as "light" fell by 22 percent between 2013 and 2017, with only 35 percent of U.S. consumers considering calorie-controlled snacks as an effective weight management tool.
That drop comes at a time where American consumers have shifted to embrace a more balanced, better-for-you lifestyle that permits indulgences in moderation. However, what has risen is product formats that emphasize portion control and the ability to better understand calorie counts. Global launches of chocolate products described as "bites" have grown 50 percent over the past five years; with "thins" not far behind, according to the report.
Even as some consumers and brands wage war on sugar, the U.S. confectionary business still remains a $35 billion industry.
Whole Foods Sees Rise in "Micro" Visits
The addition of Amazon lockers into select Whole Foods Market locations is increasing foot traffic for the natural food retailer, according to research reported by Reuters on Monday.
The report found that "micro" visits — that is, short trips to the store lasting three to five minutes — were up 11 percent at stores with new lockers. Stores in the same city without the lockers only saw a seven percent increase in these short trips. Micro visits across all grocery retailers were nine percent of all visits this year.
What's even more important is how brands are able to capitalize on these quick trips by positioning themselves as on-the-go or impulse purchases.
"As good as delivery is getting – one-day delivery, sometimes one-hour delivery – that still can't compete with the one-second immediacy of being in store and picking up that avocado that I'm about to make guacamole out of because I thought about it in that moment," Todd Dipaola, chief executive and founder of inMarket, which analyzes anonymous location data from the mobile devices of 50 million U.S. consumers, told Reuters.
How Whole Foods and Amazon capitalize on these trips, and market to locker users, is yet to be seen. Last week the retailer reportedly laid off swaths of its regional and in-store marketing teams in favor of a more centralized marketing system.
FDA Commissioner Talks About "Healthy" Definition
The Food and Drug Administration (FDA) is looking to update the health claims manufacturers can make on their packages, all in the name of cutting the nation's obesity rate.
In a speech on Thursday at the National Food Policy Conference, FDA Commissioner Scott Gottlieb announced that the agency is considering the creation of an icon or symbol to label products as "healthy," CNBC reports. The goal is to make it easier for consumers to know what foods are good for them. The conversation around the definition of the term was, in part, sparked in 2015 when fruit and nut bar marker KIND was asked by the FDA to remove the term healthy from its packaging because it exceeded the designated fat content. After much controversy, the FDA reversed its ask.
But before these claims can be made, the FDA needs a definition for the term.
Gottlieb said the agency will consider what health claims food products can make, how manufacturers can list ingredients and if there is a place for flexibility, according to CNBC.
"Traditionally, we've focused primarily on the nutrients contained in food in considering what is healthy. But people eat foods, not nutrients," Gottlieb said.
The news comes after the FDA recently published a number of industry focused guidelines to help companies prepare for Obama-era updates to nutrition labels.
FoodLogiQ Secures $19.5M
FoodLogiQ, a food safety and supply chain transparency solutions provider, announced this week that it closed a $19.5 million round of growth financing. Investment group Renewal Funds led the round with its $4.25 million investment, which was announced last fall.
FoodLogiQ's primary offering allows retailers and food producers to track suppliers' audits, certificates and other legal documents and view them in real time. While other software providers offer similar solutions, FoodLogiQ aims to differentiate itself through dashboards and the ability for customers to create custom programs and tracking. With this new capital, Dean Wiltse, CEO of FoodLogiQ, said he hopes to accelerate product enhancements, research and development and expanded sales.
"The substantial amount of investment interest FoodLogiQ has received is indicative of the confidence in our amazing team and the value of our product to our customers and the food industry," Wiltse said in a statement. "It is great validation to know that we're moving in the right direction and fulfilling our mission of mapping the world's food chain."
Boyd's Coffee Co. to Close its Doors
One of the U.S.'s oldest coffee and tea suppliers will be closing its doors this year, according to The Portland Register-Guard. Boyd's sells its products in grocery stores, and to retailers and wholesalers.
Eugene, Portland-based Boyd's Coffee Co. will close by Oct. 1. The closure was announced to the company amid a mass layoff notification — more than 70 workers will be laid off — filed with the Ore­gon Office of Workforce Investments. The closing has been in the cards for the company since its sale to Texas coffee supplier and distributor Farmer Brothers in August.
"Due to the asset purchase acquisition of Boyd's by Farmer Bros. and the subsequent transition of all customers and business to them, Boyd's will be discontinuing operations beginning May 23 with all separations accomplished by Oct. 1," Nord­quist wrote.
Starbucks To Double Its Food Offerings
Since entering the food space in 2012 with the acquisition of La Boulange bakery, Starbucks has grown its food presence, taking on snacks from nutrition bars and cookies to jerky in addition to their own in-house creations. Now, Starbucks CEO Kevin Johnson said the company plans to double its food business by 2021, according to Forbes.
Two key areas that the company will continue to look to in its innovation process is protein and snacking. Johnson cited Starbucks' Sous Vide Egg Bites as an example of a successful launch targeting both categories. According to Starbucks, his item jumped more than 60 percent since its launch in 2017.