Brands Leverage Pumpkin Spice and Digital Data for Seasonal Plays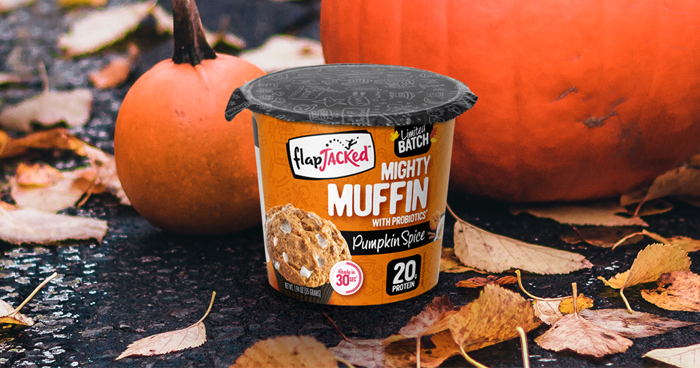 In the world of CPG, there's nothing basic about adding pumpkin spice to your product portfolio. In fact, the addition can actually help brands build a bridge between digital and brick-and-mortar retail, especially in terms of digital marketing and seasonal release strategies.
The velocity and interest behind this popular fall flavor — one that Starbucks started adding to lattes 10 years ago — speaks to the potential power of seasonal limited time offerings as a strategy to boost sales for many emerging brands. Limited availability is part of what creates demand for a product; research shows it has a positive effect on visit frequency and how much customers spend. And with digital data being more accessible than ever, brands are using pumpkin spice as a way of trying out short-term runs for the first time and to test out strategies in their digital marketing repertoire.
Peak Pumpkin
According to the latest Nielsen data, sales of pumpkin-flavored products reached sales of $488.7 million in the last year (ending in August), which is up more than 15 percent from the year prior. And though it's still technically summer, the group said pumpkin-flavored product sales already reached $5.6 million in sales as of the end of August. There are currently 446 food products found in the traditional grocery market that feature a "pumpkin spice" callout on their packaging, according to the latest data from Label Insight. Of those products, over a third of them tout a seasonal, limited edition claim.
Some retail buyers, including Richard Gillore, the director of center store category management at Gelson's, think the pumpkin trend has peaked. But for emerging natural food brands looking to enter the seasonal space, it's still a new opportunity. The issue, Gilmore added, is making suppliers seek the same level of quality in their seasonal offerings as they do in their core line of products.
"[Consumers] love their Pumpkin Spice Lattes from Starbucks, but the quality and nutritional panels on most of the fall seasonal products has been subpar," Gillmore said. "I am excited to see some new seasonal offerings from brands like RXBAR, which might be successful."
An Online Testing Ground
Another nutrition bar company, Perfect Bar launched its first, online-only seasonal flavor, Pumpkin Pie, last fall. This September, with the success of the offering already tested, the Pumpkin Pie Perfect Bar will be available in brick-and-mortar retailers such as Whole Foods Markets, Trader Joe's and Starbucks nationwide. With these additions Perfect Bar is producing 10 times the amount of Pumpkin Pie bars it did in 2017. The brand has also since used this seasonal model to launch multiple limited-batch flavors.
"The craze around pumpkin is undeniable, but we had no idea our fans would purchase a brand-new flavor, by the carton with shipping, without any prior sampling," Perfect Bar CEO and co-founder Bill Keith said. "We were able to use our e-commerce platform as an incubator for this limited-batch flavor and create a strong selling story for the Nation's most-desirable retailers."
Flapjacked, a protein muffin and baking mix brand, is also making its first entrance into the seasonal market this fall with the launch of its pumpkin spice Mighty Muffins, which it is selling on its website. Flapjacked CEO and co-founder Dave Bacon told NOSH that he thinks e-commerce has opened the door for emerging food manufacturers to do small batch seasonals because it's easier to predict consumer demand thanks to data collected via the brand's matured direct-to-consumer model.
"Everyone knows it takes forever to get on shelves at retailers and even then velocity is a little hard to predict and then there are bigger batches we have to run," Bacon said. "So with this, it is lower risk, more predictable and we are able to really drive excitement to our website where we can capture that customer data."
A New Marketing Tool Box
Over the last year, Flapjacked released seven new Mighty Muffin flavors, which has helped the company gain the expertise needed to formulate quickly and capture consumer attention. While Bacon said he has always been interested in innovating with seasonal flavors, he didn't believe the company was ready to take on that kind of risk until now. Over the past two years, Flapjacked, like many emerging brands, has worked to build strategies around social media campaigns, email marketing, and dynamic pricing. These marketing tools are widely considered superior to methods of the past, such as retailer's print circulars, which are not only an indirect communication channel to the consumer, but are also less flexible to real-time changes.
Using digital to have more control of the conversation also gives brands more control over the timing in which they release their seasonal products. Google Trends data from the past five years shows that searches for "pumpkin spice" see a dramatic increase starting in mid-August and waning by November. A report from research group Mintel, warned operators to be wary of releasing pumpkin flavored products earlier every year. With pumpkin season often lasting well into November, before holiday flavors take center stage, operators risk building up excitement too early for what is most powerful as a seasonal treat.
To capture some of the pumpkin spice excitement (and search traffic) numerous brands have announced new pumpkin spice items coming to market this fall. See the gallery below to learn more about some of the natural food brands embracing the pumpkin spice trend this year.