Limited Edition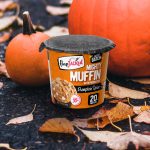 The velocity and interest behind this popular fall flavor speaks to the potential power of seasonal limited time offerings as a strategy to boost sales for many emerging brands. And with digital data being more accessible than ever, brands are using pumpkin spice as a way of trying out short-term runs for the first time and to test out strategies in their digital marketing repertoire.
Stacy's Pita Chips, founded in 1997 by female entrepreneur Stacy Madison, is celebrating the power and achievement of women by unveiling limited-edition bags. Created for Women's History Month, the designs feature artwork from over the years to honor the courageous women that have helped shape our nation's history.
Crio Bru today announced the company is bringing back Pumpkin Spice for the holiday season.
Tribe hummus, has launched its latest Limited Batch flavor, Ranch Hummus, available now at grocery stores nationwide. Tribe's new Hummus blends the popular taste of ranch with the creamy texture of traditional hummus to create a smooth, dairy-free dip.
Stonyfield, the country's leading organic yogurt maker, today introduces the latest offering in its Oh My Yog! lineup, limited edition New England Maple. Made from organic whole milk and featuring maple syrup sourced from New Englanders who have a passion for making organic syrup, Oh My Yog! New England Maple is an everyday indulgence consumers can feel good about choosing.
Sunbelt Bakery, maker of delicious granola snacks that have a bakery-fresh taste with no preservatives, announced today that the company has added a gingerbread seasonal flavor to its line of chewy granola bars. The new Gingerbread Chewy Granola Bars are available now for a limited time nationwide.
Just in time for the holiday season, Jeni's Splendid Ice Creams has released its 2015 fall flavor lineup. The limited-edition fall flavors can be shipped nationwide from jenis.com and are available by the pint in all 23 scoop shops as well as in grocery stores across the country.
Just in time for the festive Fall season, Talenti® Gelato & Sorbetto is bringing back its popular seasonal gelato flavor, Pumpkin Pie. This gelato blends brown sugar, cinnamon, nutmeg and pumpkin, and then adds real pie crust pieces. Talenti is also bringing back seasonal favorites: Old World Eggnog gelato, and Peppermint Bark.
Boulder Canyon Foods is bringing back it's potato chip Thanksgiving meal with two kettle-cooked potato chip varieties inspired by the flavors of the season – Turkey & Gravy and Pumpkin Pie.
CLIF Bar unwraps its holiday energy bar offerings with a scrumptious new Hot Chocolate flavor to join other seasonal favorites: Iced Gingerbread and Spiced Pumpkin Pie. All three seasonal flavors are available nationwide while supplies last (SRP $1.39).