5 Brands Break into New Categories at Expo East 2018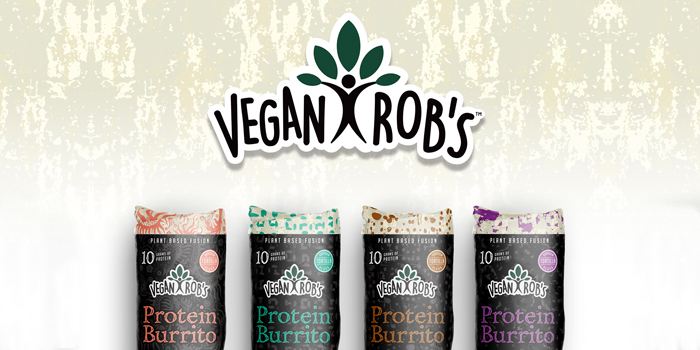 A slew of new innovation from brands looking to branch out from their original product lines is set to hit Natural Products Expo East 2018. From a vegan snack brand's entrance into frozen, to a side maker's move to center plate, here are five brands debuting in new categories and aisles at the trade show.
Vegan Rob's Goes From Center Store to Frozen with Burrito Line
Rob Ehrlich, the mastermind behind Pirate's Booty and Vegan Rob's, has always innovated within center store. But now the natural food vet is launching a product into an aisle he never thought he'd venture: frozen.
The vegan brand — which previously just produced shelf stable snacks — is launching a line of plant-based, frozen burritos in four atypical but globally-inspired flavors at Expo East. Available in pad thai, ramen noodle, shitake mushroom, and mashed cauliflower, each burrito is wrapped in a gluten-free tortilla made from the same ingredient — sorghum — as the company's successful puff line. Inside, consumers will find plant-based protein sourced from water lentils and algae.
"I really felt that this was a way for me to be creative and innovative, as well as disruptive in a category known for being boring and outdated if you will," Ehrlich told NOSH. "I've always been — whether beverages, snacks or cereals — one that likes to venture into that instant gratification market."
The products, which retail for $2.99 per burrito, will be available by early 2019, starting on the brand's e-commerce site and then eventually rolling out to its extensive retail network. Vegan Rob's puffs are sold across 20 countries in more than 20,000 stores and its bar line can be found in more than 5,000 of those locations.
Ehrlich also noted the company's multi-facet distribution strategy includes teaming up with an undisclosed "Uber style" company to create the "fastest fast food system in the world" by delivering the brand's burritos, already heated, to consumers wherever they are in major cities.
While Vegan Rob's is positioning the burrito line as a meal replacement, Ehrlich said he sees a natural connection to the brand's snacking roots.
"It's not far fetched for me to say that a burrito is no different than a small snack," he said. "I think the convenience of it is what people want… With so many new brands being put out there, it is crazy to see the combinations of things that people are doing. Because of this we are even considering a nut butter [burrito]."
To further build out its legacy snack offerings, Vegan Rob's also is debuting four new puff flavors and an apple cider bar to accompany its kombucha bar, which was released during Natural Products Expo West earlier this year.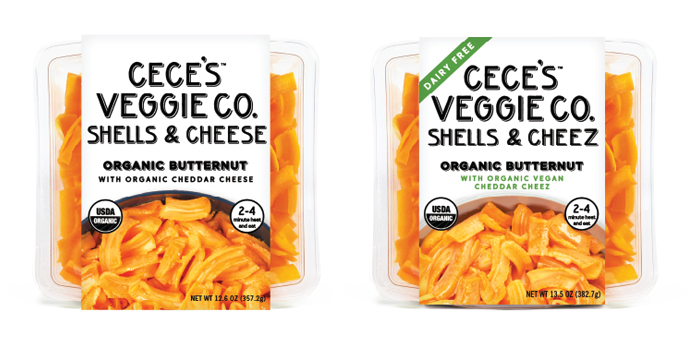 CeCe's Innovates in 'Heat-and-Eat' Space
CeCe's Veggie Company, the brand best known for its spiralized and riced veggie offerings, is innovating in the "heat-and-eat" space. The company is launching vegetable-forward takes on mac-and-cheese, spaghetti with marinara sauce and fried rice.
For the "mac-and-cheese" line, Cece's cut organic butternut squash into elbow-style shells and paired it with either a dairy-based cheddar cheese sauce and a vegan cheddar cheez option. Other new products include organic zucchini spirals with organic marinara sauce in a microwavable tray and a "fried rice" composed of organic riced cauliflower with broccoli, carrots and green onions.
"We always tout that Cece's is your own personal sous chef," said Cece's founder Mason Arnold, "because we're doing the time-consuming veggie prep and clean up for you with our spiralized and riced veggie options."
All three will continue to be sold in retailers' produce sections and retail for $5.99 in select Whole Foods, HEB, Central Market and Mariano's stores this month. Cece's Veggie Co. products are currently distributed in more than 3,000 stores with retailers including Whole Foods, Target, Kroger, and Sprouts.
Spiralized "noodles" and "rice" meal kits have increasingly gained interest from consumers and the food industry alike. Direct-to-consumer company Hungry Root launched in 2015 and raised over $20M to power its platform of veggie-based entrees.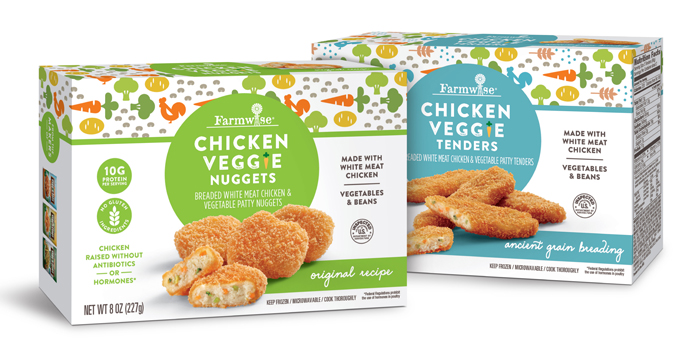 Farmwise Launches Veggie and Chicken Nuggets
Farmwise is innovating for center plate for the first time. The producer of better-for-you, veggie-based frozen sides announced this week the launch of its all-in-one chicken and veggie nuggets and tenders.
The brand, which debuted in 2014, is best known for creating healthier alternatives to traditional fries, tots and onion rings. It's products are now sold in over 8,000 supermarkets in the US, Canada and Mexico and the company closed a $4.5 million round of funding in April. With its most recent innovation, the company combined white meat chicken with finely chopped vegetables including broccoli, carrots, white beans and potatoes to deliver a gluten- and allergen-free dinner option with more than 10 grams of protein per serving. The new products are already available in Kroger and will hit Jewel and Hannaford locations in October.
"Time, taste and health are the three things that every busy family needs more of," co-founder Dave Peters said in a release. "Our new Chicken Veggie Nuggets and Tenders solve all three of these challenges by providing the same taste and texture of traditional chicken nuggets and tenders together with important veggie nutrition."
Lenny & Larry's Plays with Snackable Formats
The pioneer of the soft protein-packed cookie is pumping up its portfolio with snackable, crunchy cookies. The bite-sized, plant-based protein cookies — available in chocolate chip, double chocolate and cinnamon sugar — will be sold in both single-serve and resealable options that retail for $1.49 and $4.99, respectively. The latter offering is Lenny & Larry's first multi-serve product.
"At Lenny & Larry's, we believe in making healthy eating fun and delicious. We were the first to offer an irresistibly delicious alternative to boring protein bars and now we're bringing our nutrition credentials to bite-sized cookies," Lenny & Larry's CEO Apu Mody said in a release. "We've always believed everyone should still be able to enjoy their favorite childhood treats."
To start, the new line will be available on Lenny & Larry's website, as well as Vitamin Shoppe and 7-Eleven locations. Additional retailers will be added in early 2019, according to the company.
This move to snackable follows the success of Lenny & Larry's single serving cookies — half the size of its traditional 4 oz. Complete Cookie — that launched earlier this year. The company said its goal is to meet the increasing consumer demand for convenient, grab-and-go treats that can be eaten anytime rather than just as a meal replacement.
Lundberg Family Farms Forays Into Frozen Meal Space
Lundberg Family Farms, known for its sides, snacks and appetizers is going after the whole plate.
At Expo East the brand will launch rice and quinoa bowls under the Grainspiration brand — which previously was solely dedicated to its arancini SKUs. The new product line-up, which will retail for $5.99, is made with organic ingredients and is available in five globally-inspired flavors: Beans & Greens, Veggie Chorizo, Korean Style Chili, Spicy Southwestern Style and Vegetable Biryani Style.
"Our new Organic Grainspirations frozen bowls offer consumers the ultimate in taste and convenience," Grant Lundberg, CEO of Lundberg Family Farms, said in a release. "They're already prepared, so it's easy to warm in your microwave or oven."