34 Degrees Tries to Find Sweet Spot With Packaging Redesign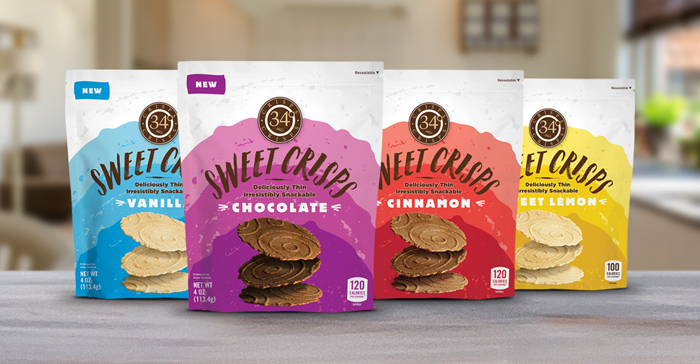 Specialty cracker brand 34 Degrees is seeking to broaden its use occasions beyond charcuterie boards and cheese trays. After over a decade and a half in business, the brand is exploring changes to packaging and branding in order to position itself in the sweet center of the snacking movement.
During last week's Summer Fancy Food Show in New York City, 34 Degrees announced the launch of its Sweet Crisps line in resealable pouches to promote the product's snackability. The Sweet Crisps, which are sweet like a cookie but crisp like a cracker, launched a year and a half ago in the same tall, narrow boxes as its savory cracker line. However, Craig Lieberman, the founder and president of 34 Degrees, told NOSH that the company felt that the cracker-cookie hybrid sometimes "got lost" on the shelf among the traditional savory SKUs it was surrounded by.
"I think the bag product is a great way to introduce this [Sweet Crisps] to a lot of consumers who either haven't discovered the product or haven't figured out quite what it is or how to use it," Lieberman said. "If you look at a bag consumers get that it's a snack product. With a box it is not as intuitive."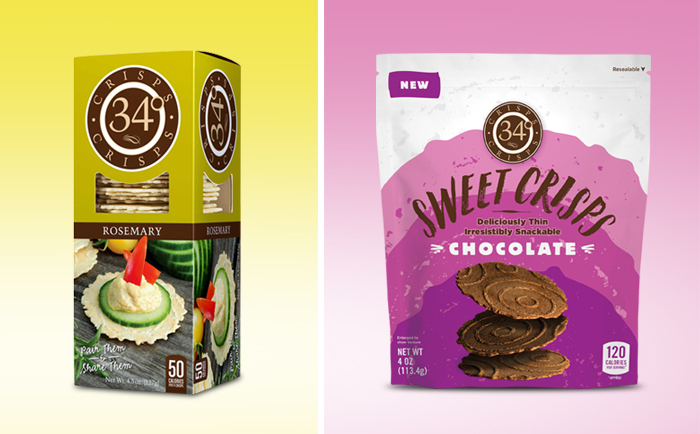 For 34 Degrees, the new pouch also represents a shift from a minimalist aesthetic to a stronger brand voice and a more modern look. The packaging, designed by Boulder-based firm Vermilion Design and Digital, now showcases bright, vibrant colors aimed at younger consumers.
"I call it 34 Degrees '2.0,'" Lieberman said. "Snacks in a bag is a first step — and it is something we are very excited about — but we have a lot to prove still. We are really looking at where else we can go with snacking."
The first destination for the brand is into new aisles of the grocery store. While the boxed crisps have long been a staple of specialty departments, the pouches — which will retail for a dollar less than the boxes — now allow the brand to be sold with other thin, crispy brownies and cookies in center store. Lieberman added that this placement, in turn, opens up "new opportunities" in mass and conventional retailers for the brand, which is currently available in more than 7,000 stores.
The company hopes the new format will change public perception of the crackers as a special occasion product that needs to be paired with a cheese or spread. Instead, the pouched crisps are positioned to appeal to consumers as a sweet, everyday snack.
"Thin" or "crispy" takes on classic desserts have given consumers better-for-you choices positioned for anytime eating. As a result of this shift, sweet snacks have gained popularity, with cookies in particular as one of four top snacking categories that delivered dollar and unit sales growth in 2017. Of that sector, the number of bakery launches using the product descriptor "thin" alone doubled from 2012 to 2017, according to market insight firm Innova, which predicted earlier this year that "thin" and snackable dessert options would be one of the top food trends in 2018.
A $3.4 million investment from 34 Degrees' copacker, Fresca Brands Innovation Group, last October has helped to fund the redesign and accelerate some of consumer insights work needed before adjusting the packaging, according to Lieberman. Though the company noted that Fresca Foods' portfolio brands strategize and operate independently of each other, another one of the group's brands, Sejoyia, also recently launched a new line of crispy and thin cookies in a pouch to better position itself in the growing snack space.
"We recognized [34 Degrees'] energy, passion and commitment to building a successful business that delivered a strongly-differentiated product," Todd Dutkin, CEO of Fresca Foods, told NOSH. "We are excited to see and support the brand's accelerated growth through thoughtful innovations, including taking the successful Sweet Crisps that launched in 2017 and putting them into a pouch format that makes them easier to enjoy as a snack."
For 34 Degrees to continue to build out its snacking platform, Lieberman said he's focusing on introducing new formats that utilize the company's current product offerings. An area of particular interest, he said, is snack packs, which could play to the brand's charcuterie and cheese roots.
"The industry is changing," he said. "Savory and sweet are blending together, cookie and cracker are blending together, so it's all about us being true and authentic to who we are while developing our products in different ways so that people can enjoy them in different occasions."