Wilde Hatches New Chicken Chips & Relaunches Bars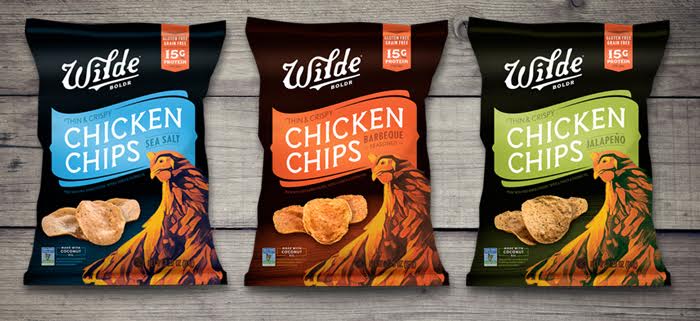 Walk down the aisle of any retailer and the you'll find many a meat snack brand that has made the jump (in some order) from jerky, to bar to meat stick. But when it came time for meat snack company Wilde Brand to make the leap from its first product (a line of roasted, lean meat bars) co-founder and CEO Jason Wright wanted to take a different, crunchier path. At this year's Expo West the brand will launch a unique chicken-based chip.
Wright says Wilde's chicken chips are a first-to-market salty snack that has all the taste and texture of your favorite potato based chip, but with clean ingredients and protein instead of carbohydrates. The roughly 2 oz. bags will retail for $4.99 and roll out in select natural retailers by the summer. It's a portion size and price point that's Wilde says is comparable to the natural pork rinds that have recently entered retailers.
The chip is actually made of chicken and not just flavored to taste like poultry. The line has limited ingredients that can be counted on one hand — chicken, tapioca starch, spices and coconut oil. Farms that raise the chickens all adhere to strict animal care standards.
Wright, who co-founded FEED granola, among other brands, was inspired to develop the product after his own struggles trying to find a healthier snack option.
"I formulate things that I want to put into my body. If they don't meet my requirements, I don't want to put my name behind it," Wright told NOSH. "That's how we get to what we're going to launch under Wilde, what would our team eat. What would we want to consume and not what the market's calling for."
To fulfill this goal, Wilde spent seven months developing the chips. The company has hired John Hochuli, former VP of Operations for Woodstock Farms, to consult on product development and supply chain for the chips.
Wright noted that he felt in order to get industry and consumer buy-in, the brand had to steer away from the predictable step of launching a jerky or meat stick, and instead think creatively.
"You see other meat snack brands coming out with other products very similar to their competitor, and I did not want to go that route. I felt like the meat snack category is a little full right now," Wright said. "I wanted to disrupt the category. I wanted Wilde to be known for something first to market."
The launch of the chips comes hot on the heels of a complete brand redesign and new packaging for the brand's line of bars. In January it debuted what Wright has dubbed "Wilde 2.0." The bar still is made with lean cuts and through a proprietary roasting method, but it's packaging now emphasizes the animals they are derived from and had a brighter look.
The biggest change to the bars comes from switching to a new vacuum packing process which allows consumers to now see the bar within the package. Secondary benefits from the new method, Wright noted, include an enhanced flavor, moisture reduction and a denser bar.
Wilde's bars are currently in 800 stores but Wright expects the number to be closer to 2,000 by the end of 2017. The company, he said, has purposely held back on getting the bars into stores until the newly reformulated and rebranded bars were ready.
Wright told NOSH that the response to Wilde 2.0 from both retailers and consumers has been extremely positive.
"I've heard from Wilde 1.0 users that were loyal to the brand and who were afraid of change and have come back and said 'guys you nailed it,'" Wright said. "And I've heard folks who would say 'this is something I'd eat in a bind' about Wilde 1.0, coming back with Wilde 2.0 and saying 'I'd snack on this every day no matter what my other options were.'"