With Summit, Kroger Looks to Natural Brands for Innovation
While some retailers are scaling back on stocking local brands, Kroger is going full force in the opposite direction, looking to up-and-coming, natural innovators for inspiration. Last week the grocer, which has 2,778 locations, held its first natural innovation summit, bringing natural food and beverage brands to the company's headquarters in Cincinnati, Ohio. Although the summit may seem unique in today's retail climate, for Kroger it's just one more step in a larger plan to attract and retain consumers.
"I thought of the idea because I wanted to bring a Natural Foods show to our Kroger category managers and invite some new and innovative brands to Cincinnati," Jill McIntosh, VP of Merchandising for Natural Foods at Kroger, told NOSH. "Bringing the mountain to Mohammed, I guess."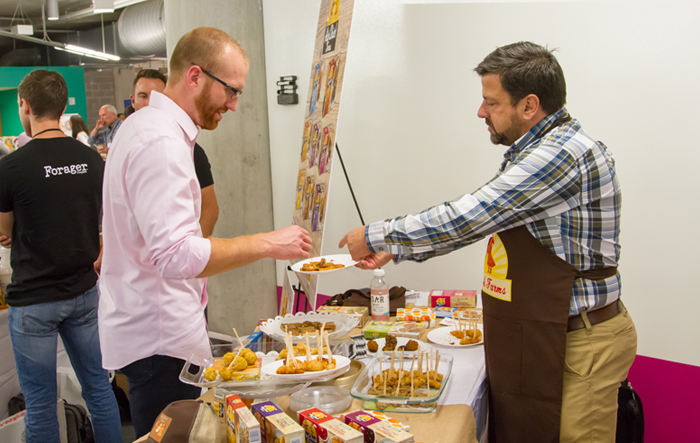 Kicking off the day was a presentation by McIntosh with an update on the natural division, as well as a discussion with Today Show nutrition expert and Nourish Snacks founder, Joy Bauer. Following the presentations, category managers and brands got the chance to meet in a mini trade show format.
The summit featured roughly 50 natural brands that were hand selected by Kroger, investment group VMG Partners, Harlow-HRK Sales and Marketing and Kroger's consumer insights company, 84.51⁰. For the initial summit, Kroger focused on brands within the packaged snack, water, fitness and yogurt categories in order to best support upcoming planogram resets in those areas. Future summit categories will also be tied to category resets.
"The brand selection committee prioritized high growth emerging wellness brands that have a proven sales velocity track record outside of Kroger, that were under-indexing in sales at Kroger. The event wasn't focused on brands that don't yet have a track record of sales velocity success elsewhere," Wayne Wu, managing director for VMG Partners, told NOSH. "The goal is help Kroger maximize their batting average as it relates to wellness emerging brands."
The summit concept is expected to benefit both brands and category managers. While Kroger tries to expose buyers to a wide range of brands, McIntosh said that not every buyer is able to attend every trade show. Bringing the brands to one place allowed for all buyers to meet some of what she termed the most exciting brands in the industry with no travel required. For brands, the event served as a unique opportunity to connect with buyers outside of the chaos of a trade show floor or formal category review.
Danny Stepper, CEO and co-founder of brand incubator L.A. Libations, attended the event and told NOSH that he believes the summit could have major ramifications for a brand's success.
"I meet with 250 entrepreneurs a year and they do it because they want me to bring them to Kroger and other retailers," Stepper said. "To get this opportunity is huge. I see this becoming something that's lottery-winning like for these brands. You have a captive audience with a buyer and you get to talk about your brand… and it's a different vibe than walking in with a Powerpoint and sitting across the desk. It's way more interactive."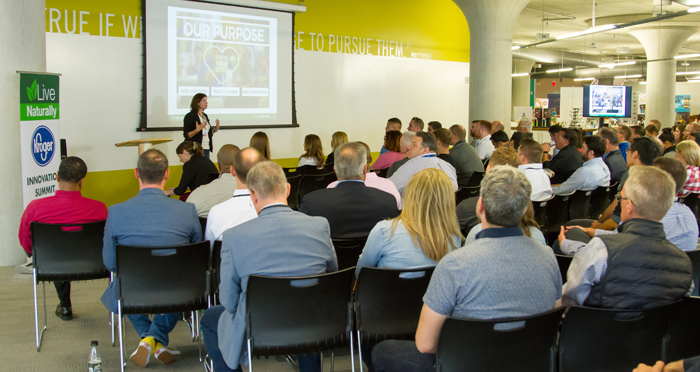 In addition to the summit, last week Kroger also held its annual investor conference, where it announced its "Restock Kroger" initiative. The plan has four main pillars: "redefine the food and grocery customer experience, expand partnerships to create customer value, develop talent, and live Kroger's purpose."
Working with local, natural and innovative brands fits within many of these goals, said McIntosh. Within the first pillar, the company hopes to use customer science to make space-planning choices and optimize assortment. Kroger has previously announced that natural products were a $16 billion business for the company in 2016, and is only expected to grow more. Which means putting the right natural products on shelf to retain the customer is even more important.
"Part of the [Restock Kroger plan] was the thought of expanding our natural and organic assortment so [the summit] directly fits into that," McIntosh said. "We know where the customer is going and we know where our sales growth is coming from."
Over the past few years Kroger has also reevaluated how it merchandises and purchases natural foods, like the brands at the summit. While many of its locations previously had store-within-a-store formats with separate natural aisles, newer locations have natural products next to conventional in what McIntosh calls "integrated-segregated" formats. Additionally, Kroger has moved from dual natural products buyers and conventional buyers, to a single buyer role.
"We have basically combined our natural with our conventional category management. Which makes sense as we want our category managers, when it comes to looking at a category, to know everything about it, not just the natural side or the conventional side but to be the subject matter expert over the total category," McIntosh told NOSH. "The customers are shopping that way more and more and we want to make it easy for our customer. So we're mixing it up… As we integrate teams we're able to integrate sales planning, ad, display and store formats."
Kroger also recently announced the launch of its "we are local" initiative, which encourages local brands to submit their products for review via a newly launched website portal. At the summit, several local brands were also asked to attend and were found through a local incubator.
"[Smaller brands are] where a lot of the innovation starts. You can't just rely on big CPG partners for your innovation. A lot of these exciting brands out there started on a local level," McIntosh said. "We see ourselves as the local grocery store."