Simple Mills Expands Line to Take On Center Store
Grain-free baking and snack brand Simple Mills has expanded its gluten-free, clean-ingredient line to include sprouted seed crackers and grain-free, low-sugar cookies.
With the two new products, as well as the recent close of a $3 million cash raise, the brand is moving into 2017 after a year of strong growth, cementing its place as part of the next generation of brands shaking up center-store. Founder and CEO Katlin Smith told NOSH that in 2016 the brand grew from being in 1600 stores to 6500 doors and saw 3.6x growth in sales. Retailers including Target, Whole Foods, Sprouts, Safeway and Albertsons now carry the brand's almond flour crackers, grain-free baking mixes and low-sugar icings.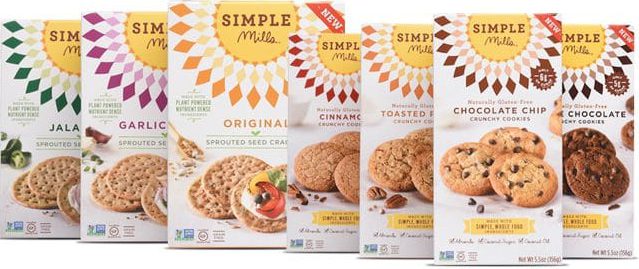 A former consultant, Smith said she was motivated to start the company, and now expand its offerings, in order to disrupt the sleepy staples at the center of the store.
"Thinking about the grocery store as it stands today there's a good amount of information out there about how people have been migrating to the perimeter of the store, and the center store has been in decline, especially in a number of traditional categories," Smith told NOSH. "What we've done as a brand is look at the root causes and the dissatisfiers in those categories and in the center of the store to determine exactly what is causing people to opt out of those categories or decrease the frequency of which they purchase in those categories."
A main point of contention, says Smith, are the long lists of complicated ingredients with gums and stabilizers, as well as too much sugar, particularly in the categories the brand targets, like baking, crackers and cookies.
The new products further iterate on two areas Simple Mills has already seen success. The crackers take the brand's nutrition value proposition a step further with sprouted grains to provide better nutrient bioavailability, Smith said.The cookies will offer cleaned-up ingredients that are similar to the baking mixes, but with none of the fuss. Both will ring in at an MSRP of $4.99 and launch in Whole Foods and Sprouts.
Across all of its products, Simple Mills offers a price point that is towards the more premium end of the category. Smith said that she hasn't encountered much resistance from consumers as she feels they understand they are paying for quality. As the company scales, Smith doesn't plan to dramatically drop the price but rather reinvest in using higher quality or organic ingredients.
Smith plans to launch more new products but hasn't yet decided what they'll be.
"We haven't committed to any particular direction for the future," Smith said, "but I will say that in general it will always be places where people are looking for simpler ingredient lists, less sugar, less carbs and more nutrient value."
But she said she's bullish on 2017. "Momentum builds more momentum," Smith said. "Each additional thing builds on itself and it attracts more partners, it attracts better employees, it attracts more attention, it attracts more retailers."