Post Acquisition, Field Roast Responds to Concerns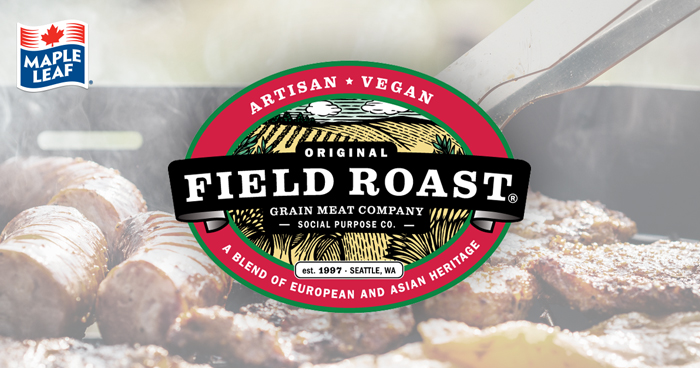 Last week, Field Roast Grain Meat Co., a maker of premium grain-based "meat" and "cheese," was acquired for $120 million — not including related costs — by protein producer Maple Leaf Foods. With sales of roughly $38 million, the 20-year-old vegan company has approximately 200 employees based at its Seattle, Washington, headquarters.
While the deal is expected to help the company continue to scale and grow its presence in retail, not all are pleased with this news. Since the announcement, the response from employees and consumers has been mixed, resulting in a promise from Field Roast to remain committed to the vegan diet.
The company's current portfolio includes fresh and frozen roasts, loaves, sausages, burgers and deli slices under its classic Field Roast brand. It also sells a new line of cheese, butter and frozen cheese-based entrees — such as frozen mac and cheese– under its most recently launched brand, Chao. Field Roast did not immediately respond to a request for comment, but founder David Lee did address the deal in a post on the company's Instagram account last week.
"We began with a big vision, we move forward with a big vision," Lee wrote. The post continued on to state that the brand was proud to join Maple Leaf's quest to become the most sustainable protein company on Earth.
The acquisition follows Maple Leaf's purchase of Lightlife foods in February for $140 million. Now with this second acquisition, the company is continuing to shift its focus away from solely animal-based protein products in order to incorporate other plant-based sources of protein into its portfolio as well.
"The acquisition of Field Roast complements and expands our portfolio in the fast-growing North American market for alternative proteins," Michael McCain, president and CEO of Maple Leaf, said in a statement. "Field Roast has built brand leadership through focusing on quality, craftsmanship and taste, and its acquisition will allow Maple Leaf to fuel growth in the category through investment, brand building and innovation."
At its annual investor day in November, the company released its six strategic growth platforms to deliver margin expansion. Two of those strategies included "grow its position in the rapidly growing market for sustainable meat" and "[build] market leadership in the rapidly growing plant-based proteins segment." While on Maple Leaf's third quarter earnings call in October, the company expressed that it was still very focused on M&A opportunities involving sustainable meat and alternative protein sources, but that it was focused on finding the right company.
Yet despite Maple Leaf's previous acquisition of Lightlife and proclaimed commitment to plant-based protein, it seems that Field Roast's consumers and employees were not convinced. In the days since the deal, Field Roast issued a "Vegan Policy Affirmation." According to the company, the policy was also "approved" by Maple Leaf Foods. Lee also noted online that the policy was in response to employees concerns about joining a larger animal meat company.
Included in the list are promises that all Field Roast products will remain vegan and never contain animal ingredients, that no animal products will be processed at Field Roast facilities, and that sampling of Field Roast products at trade shows will only involve 100 percent vegan products.
Also in the list are guidelines that are specifically for the employees of the company. They include that all office furniture will be vegan, no animal products will be cooked from a raw state in the employee break room and that company sponsored food functions will serve vegan food.
Not all responses have been negative though. The Good Food Institute, which works to create a healthier and more sustainable food system and works with many leading plant-based brands, noted on their website that the deal may bring about bigger changes to the industry.
"At the Good Food Institute, we believe that transformation of the food industry can happen from the inside out, with market forces and food innovation driving the development and adoption of healthy, humane, and sustainable plant-based meats that will make factory farming obsolete," Senior Communications Specialist Emily Byrd wrote. "By adding Field Roast to its portfolio, Maple Leaf has become a leader in U.S. market share for refrigerated plant-based proteins – a market currently delivering double-digit annual growth.
Field Roast is just one of several plant-based food companies that have either accepted investment from or been acquired by large strategics. Two months ago, Nestle Foods finalized its agreement to acquire plant-based food brand Sweet Earth. At the time, Sweet Earth founder Kelly Swette told NOSH that she believed the acquisition was a means to allow the company to become more mainstream and help give more consumers the ability to consume plant-based options.
Given a recent post on Field Roast's blog, it seems the company saw the potential for concern before the deal was even announced but also believed it too may lead to growth. In November 2017, founder David Lee noted that the only difference between his company and an animal-based processor was that Field Roast uses grain meat instead of animal based meats. He added that he has always seen Field Roast as a "meat making company."
However, he also noted that the company had no plans to slow down its innovative spirit.
"I guess at some point in the distant future we may finally settle down, but I don't see that happening in the next 20 years," Lee wrote. "One thing is for sure, we have always been evolving in a natural and loose ad hoc manner. This has allowed us to 'go with the flow' and be kind to ourselves at the same time. We will continue to dance with Field Roast and see where it takes us. There are lots of exciting possibilities."