Ocean's Halo to Make Waves in the Broth Category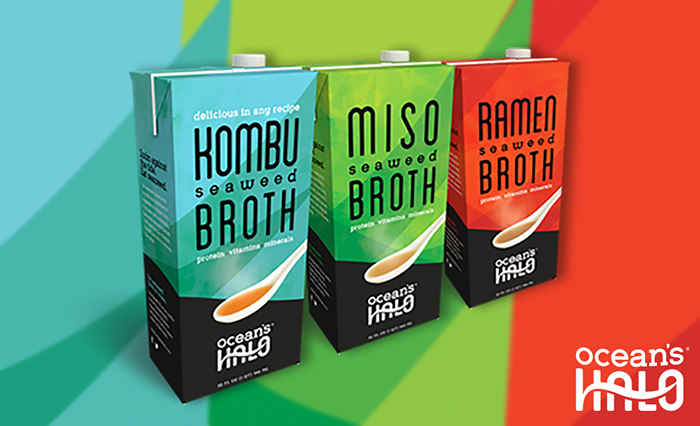 Look what the tide brought in: seaweed broth. While the past year has seen grocery aisles awash in a wave of chicken, beef and vegetable broths, Robert Mock, co-founder of Ocean's Halo Seaweed Snacks, sees an opening to launch a new line of seaweed-based broths.
The kombu (kelp), miso, and ramen flavored broths all have a base of seaweed and are shelf stable. They will retail for between $3.99-$4.49 for a 32 oz. Tetra-Pak "brick" and launch nationwide this summer in major retailers. At Expo West, the brand will offer attendees a sneak peek at the soups, which will go into production in the next two months.
Kombu contains over 30 vitamins and minerals in its natural state, leading many to view the ingredient as a "superfood," Mock said.
Mock, a former banker turned seaweed entrepreneur and roaster, believes the broths offer a strong alternative to bone broths. "[The broth set] is a growing category of products that people use every day, so it's an incredibly large category, but it's not an innovative category," Mock told NOSH. "Bone broth has come in and delivered some protein levels that haven't been seen before, which is great, but it's a more expensive broth and it doesn't have a superfood mentality."
While exact retail partners aren't yet public, Mock has had support along the development process. "We have had an advocate at a major retailer that has been pushing us to get across the finish line because of telling us of the size of the category," Mock told NOSH.
Having a shelf stable product was important to the team. "We wanted to deliver it in a way that we can get to the most consumers and make the most impact," Mock said. "A lot of our competition…you'll often find them in the refrigerated section. I think it's great but they have very short shelf lives."
Along with this goal of accessibility, Mock hopes the product will be stocked in the standard broth set rather than the "Asian" or International" category. While seaweed may be unique to some American consumers, the taste of the new broths should be familiar. It closely resembles a vegetable broth and can be used as a substitute for chicken or vegetable broths in recipes or drank alone.
Ocean's Halo began dabbling with more Americanized seaweed products with the release of their seaweed strips — which layer almonds, coconut and even chocolate with crunchy seaweed. The broths will be the brand's first big play out of the snack set (it does have a line of nori sheets).
Mock, for one, is excited to debut the line and introduce kombu to the world. "It's going to deliver something to the category that's really unique."