Nona Lim Soups Up Ready-To-Sip Line with $3M Raise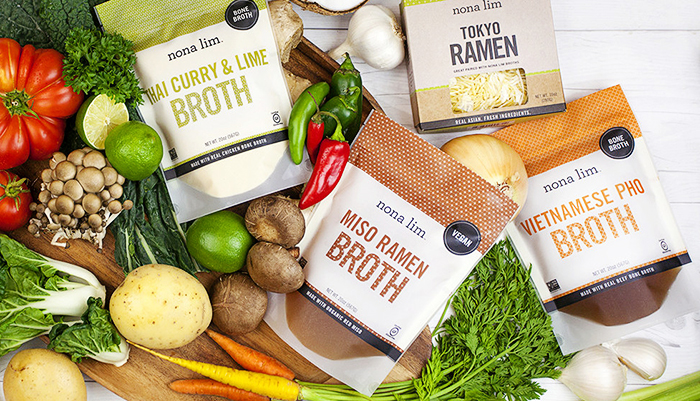 Asian-inspired food brand Nona Lim announced Monday the closing of a $3 million round of funding. Led by female-entrepreneur focused investment group Harbinger Ventures, the round also included Echo Capital Group, Navama & Kouffman LCC, CircleUp and Cambridge Companies SPG as investors.
The round follows a $1.5 million convertible note backed by angel investors in 2016.
"We've very excited about the investors we've gotten because they each bring different things to the table," Nona Lim, founder of her namesake brand, told NOSH. "It was huge for us to find investors that I resonated with; that I felt like I could learn from and have a great working relationship with."
The investment will be used to support rapid distribution expansion, including marketing support, working capital and growing the company's headcount, according to Lim. Lim began the company in 2006 as a meal kit company before shifting to asian-inspired noodles and multi-serve fresh soups. Now those lines are sold in over 1,000 stores.
"We are finally seeing a lot of the macro trends converging at the same time, and with that, we're seeing a huge acceleration in our growth and the demand," Lim said. "So what we want to do is be able to be sure we can support that increase in demand, that interest and that growth."
The investment comes as the brand is ramping up its innovation pipeline. This past year, Nona Lim launched its "ready-to-sip" broth cups in a variety of regional chains and in July, the line will roll out nationwide in Whole Foods Markets. The cups retail for $4.99 on average.
Lim said the cups– her first foray into a more convenient, on-the-go product offering– are already seeing impressive velocities, averaging 24 to 48 cups per SKU per week in some stores. Retailers, Lim added, are currently testing the product not only in prepared food sets, but also in beverage coolers alongside kombucha and other functional beverages.
"We're positioning [the cups] as a healthy beverage. If you think about it, these days beverage are really crossing the line and moving into being a meal… they are becoming more substantial, Lim said. "We see ourselves as a hot, functional beverage."
At this year's National Restaurant Association Conference in Chicago, Illinois, the brand also highlighted its two new foodservice options: noodle bowls and broth bars. The bowls can be sold pre-made for grab-and-go or assembled on site. The bars, which play to a current trend toward bone broth, will be positioned as an easy addition hotels or food service providers to offer at a coffee and tea service station.
"The company as a whole is about building a platform for really fresh, healthy, convenient, Asian-[inspired] products," Lim said. "We aspire to [be] a healthier, cleaner version of Annie Chuns."