Asian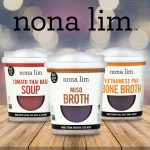 Asian-inspired food brand Nona Lim announced Monday the closing of a $3 million round of funding. Led by Harbinger Ventures, the round also included Echo Capital Group, Navama & Kouffman LCC, CircleUp and Cambridge Companies SPG as investors
With the nationwide launch of Lemon Grass Kitchen, shoppers can now find flavorful, better-for-you Southeast Asian cuisine in the frozen aisle. The line uses authentic recipes and premium ingredients to deliver the bold flavors of Thailand, Vietnam and Korea to kitchens everywhere.
Bibigo, the leading maker of Korean pantry staples, today announced the launch of two new hot sauces inspired by gochujang, a spicy Korean condiment and fermented hot pepper paste that topped this year's flavor forecast for both chefs and consumers.
Annie Chun's, leading maker of convenient, Pan-Asian foods, recently expanded its popular line of Seaweed Snacks with new crunchworthy Seaweed Crisps. The crisps will launch nationwide in original, cinnamon and gochujang flavors.