Annie Chun's New Sweet and Savory Seaweed Crisps Tackle Game Day Cravings
LA PALMA, Calif., Oct. 7, 2015 /PRNewswire/ – With football season in full swing, a winning snack roster goes hand-in-hand with game day celebrations. Just in time for the sporting season of the year, Annie Chun's, leading maker of convenient, Pan-Asian foods, recently expanded its popular line of Seaweed Snacks with new crunchworthy Seaweed Crisps, oven-baked to perfection to satisfy any savory snack craving. From seaweed snack lovers to crunch connoisseurs alike, Seaweed Crisps are a delicious, better-for-you alternative to traditional chips and crackers fit to tackle any game day craving.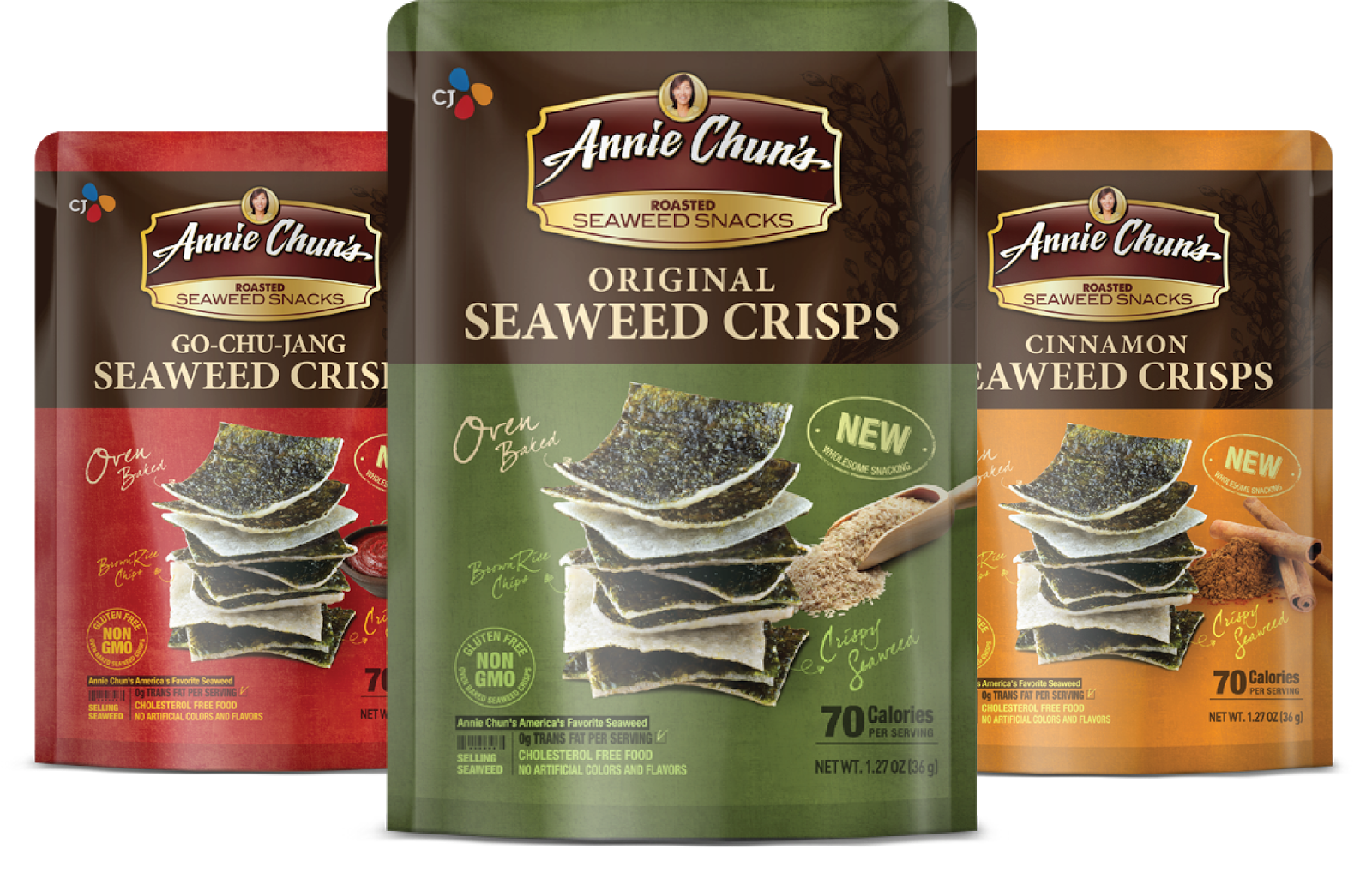 "When developing the new Seaweed Crisps, we wanted to create a snack option which still embodies our great-tasting and nutritious Seaweed Snacks, while appealing to a variety of consumers and tastes," said Nayoung Shin, CJ Foods head of marketing. "Made with our best-selling Seaweed Snacks, Annie Chun's Seaweed Crisps are baked and feature a layer of hearty and crispy brown rice, for a healthy and crunchy snack on game day."
A savory bite like no other, Annie Chun's Seaweed Crisps ($3.49) are bursting with flavor at 80 calories and as little as 1.5 grams of fat per serving. Made with wholesome ingredients, this gluten-free snack is available in three unique flavors:
Original—simply seasoned with a dash of salt
Cinnamon—sprinkled with cinnamon and sugar for a touch of sweet
Gochujang—flavored with Gochujang, a traditional Korean hot sauce, for the perfect blend of sweet and spicy
Annie Chun's Seaweed Crisps are available at Target and Ralphs stores nationwide (MSRP: $3.49). For more information, visit www.AnnieChun.com.
About Annie Chun's: Annie Chun's is the leading producer of gourmet Pan-Asian foods dedicated to providing consumers with simple, convenient meal solutions that help take the mystery out of Asian cooking and inspire consumers to become confident in the kitchen. In 2005, Annie Chun's forged a strategic partnership with CJ, a world-class food company with expertise in Asian foods, bringing authentic flavors and the finest ingredients together so that at-home cooks can give their families the best. The complete line of innovative, premium goods provide a variety of vegan, vegetarian, organic and gluten-free options, offering choices for consumers with dietary restrictions or preferences. Annie Chun's noodles, sauces, soups, seaweed snacks, potstickers, wontons and rice are available nationwide in gourmet, natural and mass market grocers such as Kroger, Safeway, Whole Foods, Giant Foods, King Soopers, Fred Meyer, Kroger, Meijer, Publix, SuperTarget, Mollie Stone's, Gelson's, Fairway Market and many others coast to coast. Visit www.AnnieChun.com for more information.