With New Plant, Impossible Foods Gets Closer to Retail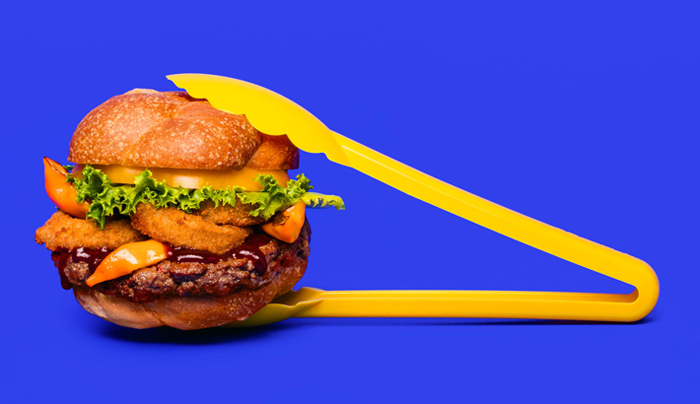 Just months after beefing up its bank accounts, Impossible Foods today announced that it has officially begun production of its plant-based patties in its new 68,000 square-foot Oakland, California-based facility. The company said the plant, which was announced earlier this year, will have the capacity to produce 1 million pounds of plant-based meat per month — roughly 1 million quarter-pound Impossible Burgers per week.
Previously, the company was producing the patties in its Redwood City, California, headquarters, as well as in a "small facility" in New Jersey. To assist with the buildout and transition, Impossible hired Christopher Gregg as senior VP of supply chain and manufacturing. Gregg, a veteran manufacturing and supply chain executive, was considered key in the conversion of the plant from a former brownfield factory owned by Just Desserts to a fully customized, modern facility.
Impossible was founded in 2011 by Stanford biochemist Patrick Brown and is a key player in the "food tech" movement that has emerged from Silicon Valley. By using a compound called heme found in soy leghemoglobin, Impossible is able to produce a plant-based burger patty that not only tastes like meat, but also bleeds like meat.
Until now, the startup has focused on food service, first launching last summer in chef David Chang's New York restaurant, Momofuku Nishi, and since getting on menus at restaurants including Bareburger and Umami Burger. But with the ability to make a great deal more product, the company has plans to expand into retail.
Once the new facility is fully online, Impossible said, the brand plans to introduce its burgers into retail as well as continue development of additional plant-based meat and dairy products.
"Our mission to transform the global food system is urgent, and the opportunity is huge — so we are embarking on one of the most ambitious scale-ups of any startup in the food industry," Impossible CEO and founder Patrick Brown, said in a release. "Our goal is to make delicious, sustainable, nutritious and affordable meat for everyone, as soon as possible."
Impossible did not immediately return NOSH's requests to comment for this story.
The move comes as consumers are increasingly looking to fill their grocery carts with plant-based foods. From 2012 to 2016, plant-based product claims in the U.S. as a whole have grown at a compound annual growth rate (CAGR) of 35.8 percent, with 220 related product launches in 2016 and 320 in 2015, HealthFocus reported. The meat category holds particular interest for the industry. Reuters reported the sector is expected to reach $5 billion by 2020.
It's this potential for return that has investors hungry to back the burgers. To date, the company has raised $255 million — including its most recent round of $75 million earlier this summer — and is backed by high profile investors like Khosla Ventures, Bill Gates, GV (formerly Google Ventures) and Horizon Ventures.
However, though it now has the capacity to scale, regulatory issues may slow Impossible's growth. The company recently received questions from the U.S. Food and Drug Administration (FDA) in the past regarding the safety of one of its main ingredients.
There's also strong competition in the category of new-wave meat substitutes trying to take on the mushy veggie patties and rubbery "chicken" strips of yesterday. Beyond Meat — whose own meat-like Beyond Burger is made from pea protein — has been on an expansion tare. After launching with Whole Foods Market, the brand has turned its focus to conventional retailers, most recently, rolling out in the meat cases of 600 Kroger-owned stores.
Even major food corporations are looking to compete in the plant-based meat market. Today, Nestle announced its acquisition of frozen vegan and vegetarian meat maker Sweet Earth. And in May, Tyson CEO Tom Hayes noted that the meat processor are examining how they can further embrace meatless options to feed consumers' growing appetite for plant-based products. Tyson already has a minor stake in the business, having bought a five percent stake in Beyond Meat in 2016.