Nestle Acquires Atrium Innovations for $2.3 B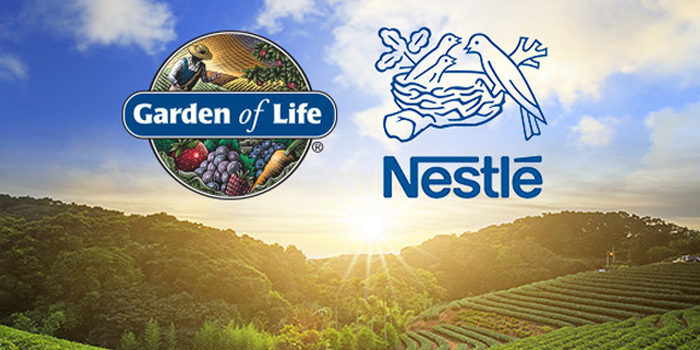 Global confection leader Nestle announced this week that it has agreed to acquire Canadian vitamin maker Atrium Innovations, the parent company of functional food and supplement brand Garden of Life, for $2.3 billion in cash. The transaction is expected to close early next year.
Following the closing, Atrium's corporate offices in Quebec, Canada, will become part of Nestlé Health Science division. Its existing management team will remain with the company, led by Atrium Innovations' president and CEO, Peter Luther.
In a statement posted to the company's website, Garden of Life president Brian Ray wrote that the company will remain committed to its values and traceability practices — including remaining certified USDA Organic and Non-GMO Project Verified — and will continue to operate as a B Corporation.
"This combination signals that USDA Organic and Non-GMO Project Verified nutrition, based on real, whole and plant-based foods, has a seat at the world's largest tables," Ray wrote. "I spent time getting to know the people at Nestlé, their vision and their values. I saw first-hand how much we have in common. They have no plans to change us — what we do, what we stand for or what we believe… Nestlé sees our value and wants to help us as we pursue our mission."
Atrium Innovations, which expects its 2017 sales to reach almost $700 million, has a brand portfolio that includes Garden of Life, Pure Encapsulations, Wobenzym, Douglas Laboratories and Genestra Brands. Garden of Life manufactures certified organic, non-GMO functional foods and supplements sold in more than 14,000 U.S. retailers. In addition to a wide offering of supplements, the company produces bars, goat milk protein powder, raw extra-virgin coconut oil, and packaged raw seeds.
Greg Behar, Nestlé Health Science Chief Executive Officer, said the company was interested in adding Atrium to its consumer care group because of its "natural complement."
"Atrium's portfolio will extend our product range with value-added solutions such as probiotics, plant-based protein nutrition, meal replacements and an extensive multivitamin line, enabling consumers to address their health and wellness goals," Behar said via a statement. "Atrium's established brands are in attractive categories and have the potential for continued strong growth as part of Nestlé through category, channel and geographic expansion."
In the past year, Nestle has worked to incorporate health and wellness not only into its consumer care portfolio, but also across it's food and beverage division. Garden of Life, like other recent acquisitions, gives the company further reach into the natural channel.
Over the last few months, Nestle chairman and CEO Pal Grimwood made it clear that he wants the conglomerate's M&A strategy to reflect that of its overall mission to improve health. Earlier this year, the company acquired a minority stake in direct-to-consumer healthy meals provider Freshley. In September, Nestle acquired plant-based meat provider Sweet Earth and high-end specialty coffee roaster and retailer Blue Bottle. Then last month, the company announced the addition of Chameleon Cold Brew to its growing brand portfolio.
"You can learn a lot about Nestlé by seeing where we put our money," Grimwood wrote in an October LinkedIn post. "Our new partners will give us fresh eyes and new ways of thinking about the way we go about the business of enhancing quality of life and contributing to a healthier future. Each new investment Nestlé makes in the years ahead will indeed say something about us."
The news is part of a larger recognition from big CPG companies that they must reinvent and reinvigorate their offerings to meet consumers' need for nutrient-dense and functional options. As consumers see food as medicine, functional offerings are coming to traditional categories and continuing to blur the line between supplements and food and beverage.