My/Mo Mochi Ice Cream to Help Millennial Consumers Find Love at First Bite
Last month, Whole Foods Market sparked an online frenzy.
The retailer announced it would be launching self-serve freezer stations containing bulk mochi ice cream in 10 regions, including its three millennial-focused 365 stores and flagship outlet in Austin, Texas. Now with a new CEO, My/Mo Mochi Ice Cream, the brand behind the Whole Foods' mochi ice cream freezers, is ready to step into the limelight with its own line of products.
The company, which produces the Japanese bite-sized dessert of ice cream wrapped in sweet rice dough, has been ramping up to this launch for over a year. My/Mo's line of mochi ice cream quietly entered stores at the tail end of 2016, but, by the end of Q1 of 2017, is slated to be on shelves in over 4,000 retailers including Safeway, Whole Foods Market and Kroger. A box of six mochi ice cream will retail for roughly $5.50 to $6.00.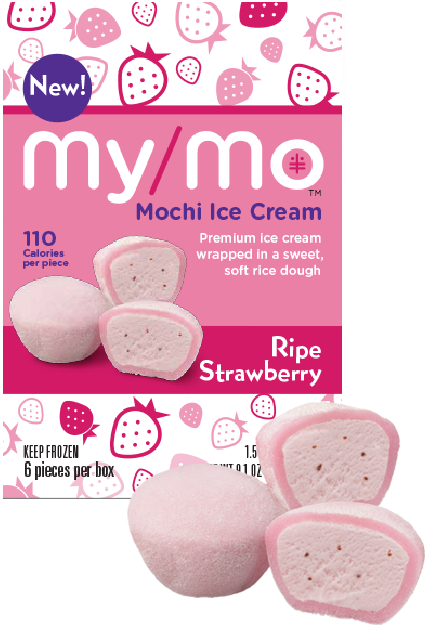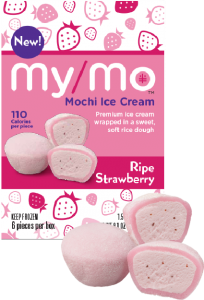 The Los Angeles-based company has a long history making mochi ice cream. In 2015, private equity group Century Park Capital purchased Mikawaya, an over 100-year-old company that had been producing the Japanese frozen treat since the early 1990's. Century Park has kept the more traditional Mikawaya brand alive in retailers such as Trader Joe's, but also recognized a bigger future for mochi as part of the snack revolution. Thus My/Mo was born to take mochi ice cream to a wider audience.
"The masses were absolutely missing something great that was hand held, really delicious and portioned controlled," My/Mo VP of Marketing Russell Barnett told NOSH. "There was a belief that there was a higher calling for mochi ice cream."
It seem's the company's belief was spot on. Based on a Google trends search traffic report, the frozen dessert has been gaining popularity since 2015, but has doubled in search traffic from November of last year to now.
My/Mo has been working to make the most of this rise in interest by repositioning mochi ice cream as a more familiar treat by using classic American flavors such as double chocolate, mint chocolate and cookies and cream. The innovation for consumers, says Barnett, is the portability factor and the unique mochi wrap.
"The traditional ice cream flavors that people love and gravitate towards, are the inspiration for trial…They are heritage flavors that [millennials] grew up on," Barnett said. "[In] products that don't have that difference, flavor becomes that difference. For us, flavor is really an attribute of what we're doing that makes it so unique."
Barnett also believes using premium ice cream is a point of differentiation for the company. All ice cream is made in-house (along with the mochi). To manage all operations and production, the company brought on Michael Dunteman, an ice cream veteran from Yasso and So Delicious.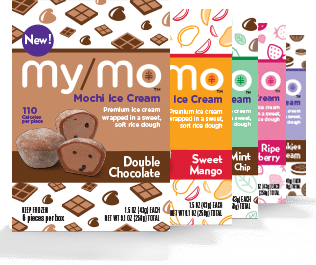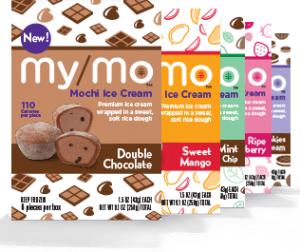 This week My/Mo announced that Ralph Denisco, former CEO of Nestle Ice Cream Company, Norse Dairy Systems and Columbus Foods, will be joining the brand as its new CEO. Denisco has experience with the company as he previously was the brand's board of directors. He succeeds Jerry Bucan, who also was part of the 2015 acquisition and investment in the company.
The Whole Foods mochi ice cream freezers are not branded as selling My/Mo mochi ice cream, but Barnett says that the excitement around the self-serve stations have helped build enthusiasm for the mochi category as a whole.
"We're so excited that mochi ice cream is having it's time, that the mochi ice cream bars are bringing people to mochi ice cream," he said. "The brand component will work itself out."
The lively response on social media, has also helped the brand connect with their target consumer: millennials. In particular, Barnett said, the target is fashion-forward foodies who are social and have an interest in travel and trying new experiences.
While there may be other frozen desserts in the future for My/Mo, for now the company is focusing on mochi ice cream and how it can introduce more and more consumers to the new snack.
"That moment of joy and that sense of discovery is phenomenal," Barnett noted. "And it happens at the first bite."