LifeAID Enters the World of On-The-Go Fuel Packs
Best known for its mission of powering consumers lives through its line of enhanced beverages, LifeAID is now expanding its product offerings with the launch of FitAID "fuel" pouches.
The inspiration to diverge from familiar territory and create the pouch came from consumer demand for an alternative athletic performance snack, LifeAID President Aaron Hinde told NOSH.
"It was really our audience that was the reason we even created the fuel pouch and really deviated from what we knew, which was obviously beverages," Hinde recounted.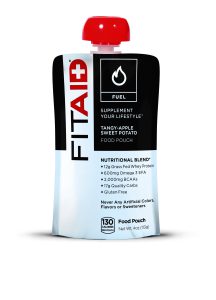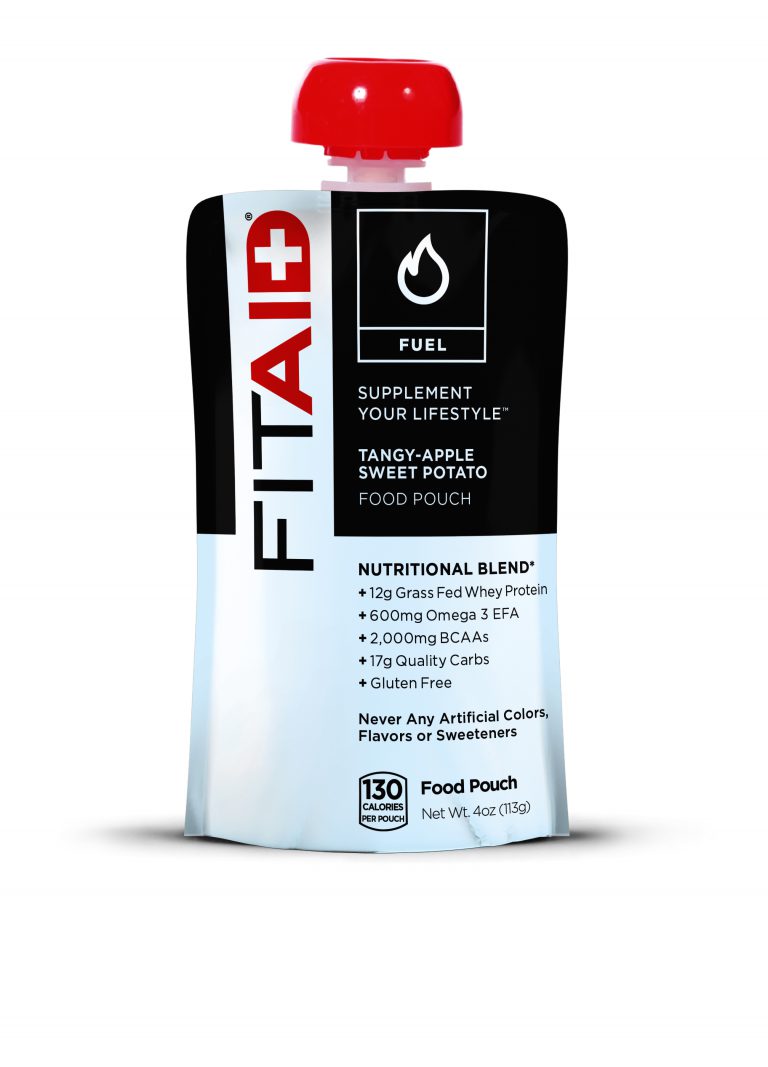 The paleo-friendly pouches, which combine 12 grams of grass-fed whey, BCAAs, Omega 3 and organic carbs, are designed to complement LifeAID's workout beverages that are "designed to enhance performance," but not necessarily provide the calorie boost athletes need to complete intense or longer workouts.
"All the current gels and goos that are used in endurance races… are composed of 100 percent sugar," Hinde said. "We know that jacking your insulin levels up and letting them crash multiple times during a race, if you want longevity in your sport, does not go over well. So we wanted to create a product that was super clean and really congruent with the LifeAID line and vision."
LifeAID's excursion into the food world is part of an ongoing trend of adult purees packaged in resealable soft packs. On the adult side of the business, FitAID will compete with brands including Homemade Harvey, Munk Pack, Fuel for Fire and Smashpack.
Investment from private equity firm KarpReilly this year allowed LifeAID to take FitAID fuel pouches from a concept to shelves, Hinde said. LifeAID soft launched the pouches online over the summer. After a positive response, Hinde and his team began selling the pouches to the company's more than 5,000 direct-sell gyms, which include Gold's Gyms, Fit Body Bootcamps and CrossFit boxes.
Hinde plans to submit pouch to retailers that already sell LifeAID beverages, such as Whole Foods Markets, Sprouts and Safeways, and believes it will be widely picked up.
As with their beverage line, LifeAID currently sees roughly 65 percent FitAID pouch sales through online orders or direct sales to gyms. Moving forward, Hinde said he expects to see retail sales play a larger role.
The company will focus on the single pouch SKU before expanding into other flavors. Even then, Hinde said, they will stick to the company's standby "function not flavor-driven" mission. Hinde added that there are currently no plans to enter any other snack categories, including bars.
"Part of our core tenet is to create convenient products so people ask if we package up bars," he said. "But talk about crowded spaces. And there are so many good ones in that space like our friends at RX Bar, Perfect Bar, so we are always looking for categories where there is a void of quality products, but we aren't seeing that in the bar category."