Growing Problems: The Soylent/TerraVia Divorce
Initially, it seemed like a perfect romance: the venture-backed producer of a protein-heavy flour made from renewable microscopic plants and an up-and-coming "meal disruptor" food and beverage brand meeting to create what could potentially be a monumentally hip "step toward sustainable food production." The offer? No more meals of unsustainable meat and exotic ingredients; instead, just consume a shake or a bar made with environmentally-friendly ingredients and you can go on your way.
But the breakup is real: the past month has found the two Bay Area "food tech" companies, food and beverage producer/replacer Soylent and ingredient supplier TerraVia, engaged in finger-pointing over product problems that plagued Soylent and some of its consumers late last year.
New developments involving both brands over the past week seemed to indicate that the two companies are moving on. But what lessons are in the breakup? What has changed, and what has been resolved?
Roughly two months ago Soylent, which produces bars, drink powders and ready-to-drink beverages designed to replace traditional meals, announced via a blog post that it would pull its line of bars due to the "gastrointestinal distress" they were causing some consumers, who reported cramping, diarrhea, and other nasty stuff.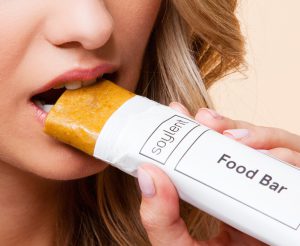 But the symptoms were confusing at the time: not every customer was getting sick, and the company claimed that all tests for food pathogens, toxins or outside contamination had come back negative. Then it realized that the set of its consumers who were having the problems were using its then-state-of-the-art set of powdered mixes, called version 1.6.
"Interestingly, we didn't see similar complaints during the 1.5 formulation," said Soylent in a blog post on their website. "This possible connection allows us to narrow the field considerably given there are only a few ingredients that are specific to only our bars and Powder 1.6."
Soon, Soylent said they had their answer: the gastrointestinal distress was due to the use of whole algal flour supplied by TerraVia, a company that had been attractive as a supplier because it was also a tech and food crossover company based in the Bay Area. Soylent believes consumers may have intolerance issues with the TerraVia flour. Ironically, algal flour is often used as a protein and fat source in order to avoid possible allergen issues with other sources of protein including soy, eggs, and nuts.
So Soylent announced that future iterations of the powder and bars would be formulated without algal flour, even if that meant taking a step backward from an ingredient Soylent had heralded as one of the defining elements of its line because of the sustainability of the microscopic plants that make up the flour — a product characteristic that had long fascinated some of the company's fans and founders. The company has since released a new version of its Powder (version 1.7).
TerraVia, in turn, wasn't happy being turned into industry tabloid fodder. The company, which decided to shift focus from producing biofuels to food ingredients just last year, took out a press release to reaffirm the safety of its line and state that, effectively immediately, Soylent would be cut off from using any TerraVia products, including some algae-based oils that were still being used as an ingredient in the brand's beverage line.
In the past two weeks, each company has stepped forward and reaffirmed its lack of commitment to the other.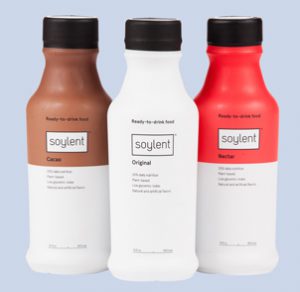 Last Tuesday, Soylent released two new flavors, Cacao & Nectar, in its beverage line. While the news itself was proof that Soylent was betting on its consumer being willing to try a new product from the brand, a look at the nutrition information reveals it is being made without the algal oil. Also removed, however, are other key ingredients that might cause their own set of gastrointestinal side effects, such as oat fiber. Meanwhile, algal oil is still listed as an ingredient in the original flavor of its Drink line, Coffiest beverage and reformulated Powder 1.7.
On Monday, TerraVia announced that, since Health Canada had issued an approval for its Whole Algal Protein for use in food, its ingredients had now been approved for food use across North America.
TerraVia maintains that its hands are clean when it comes to Soylent, and that it still doesn't quite know why the breakup occurred: In an email interview with NOSH, Mark Brooks, TerraVia's SVP of Food Ingredients, noted that "To TerraVia's knowledge, there has not been a rigorous investigation of the root causes of the GI problems before releasing a new version with Powder 1.7, and, to date, Soylent has made no data available that would substantiate its decision to remove algal flour from its products."
While each brand has started to move on, the overall question still seems to remain as to what caused the consumers' tummy troubles. And beyond that, the breakup and lack of clarity seems to point to a wider debate: whether Silicon Valley's "fail fast" mentality has a place in the food industry.
"I'll be a little careful not to stereotype too much here, but I do think there are plenty of examples where 'ignorance + arrogance' gets brands in trouble. That is often exacerbated when there's a lot of money raised, a lot of PR generated, and no food pros to be found," noted Jeff Grogg, Managing Director of JPG Resources. "We recognize and love the fact that most food innovation comes from people not trained as food scientists…[but] there's also something to be said for actually knowing what you are doing, especially when it comes to food safety!"
Originally a tech company itself, Soylent has long modeled itself after some of the Bay Area's top startups, including its use of "release notes" for each product. The company is open about iterating on products once they are released, just as an application developer might issue a bug fix.
And the company has had issues around product consistency and safety in the past.
In a 2013 story on Vice website Motherboard, author Brian Merchant wrote that he had received Soylent that was "packed into barely-sealed Ziploc bags." He noted "It looked like someone had mailed me a box full of some badly cut designer drug." On a trip to Soylent headquarters he found "a dusty space that was evidently an ex-garment factory in an old industrial complex."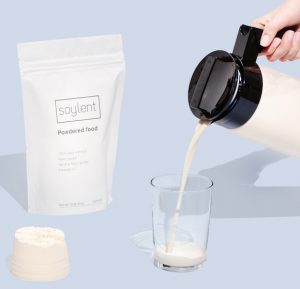 One of Merchant's first questions to Soylent Founder Rob Rhinehart? How to stop the nausea he felt after consuming the product. (The answer was that Merchant wasn't consuming enough water with the product).
Four months ago, the brand announced via blog post that it had learned of another issue and would be halting production of its bars. That time, the issue was that Vitamins A and C weren't being maintained at declared levels.
Even now, a visit to the Soylent-supported Reddit message board turns up posts such as "Anyone else sick morning after soylent nectar?" or "Reminds [sic] to always check the cap and seal of your 2.0 bottles of Soylent for mold" and "More Soylent mold problems" as well as stories of bloating and oozing bottles.
Soylent, of course, isn't the first food tech startup to struggle with product issues. In 2015, Business Insider reported that Hampton Creek had issues with product stability and spoilage in its initial batches of eggless mayo, among other problems.
But the blame game is perplexing to the Industry experts that NOSH spoke with; they were hard-pressed to find another example of such a publicly aired debate between an ingredient supplier and a brand, even more so without any proof as to the science behind the analysis.There are certainly instances where brands note issues with an ingredient, but generally the supplier has already publicly admitted to the problem. One thing experts think that's likely, though — there won't be any Soylent/TerraVia collaborations anytime soon.
"Typically we wouldn't say the name of that supplier if we're still trying to work with them and maintain a relationship," Justin Prochnow, food and beverage attorney told NOSH.