Food Force: Foraker Rallies Entrepreneurs Behind Gangsta Garden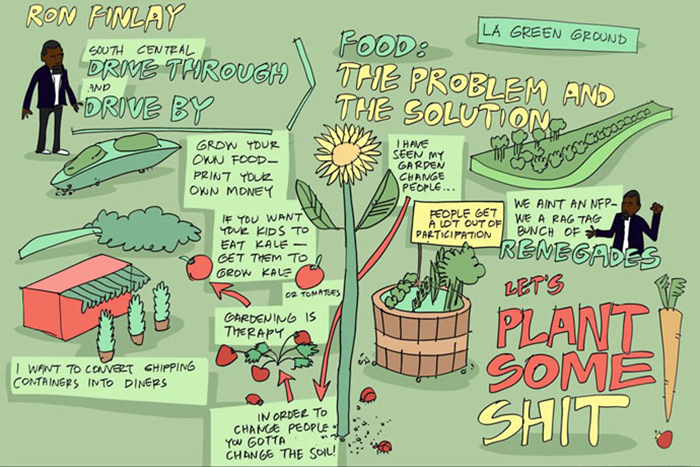 Beneath most every quinoa-loving, bone-broth sipping food entrepreneur lies the heart and soul of an activist, ready to stand up for a better cart of groceries and a better world.
On Thursday, the troops were rallied by Annie's President John Foraker, who issued a call to defend beloved food activist Ron Finley, better known as the "Gangsta Gardener." Foraker sent an email to his large list of industry contacts and posted an open letter on LinkedIn urging members of the food industry to help Finley's Los Angeles-based inner city garden avoid eviction, which he faces as a result of his previous landlord's default on the property.
"I feel like this guy stands for everything that our industry stands for historically and needs to get behind and stay with," Foraker told NOSH. "That's why I feel like we have to do this."
The community responded by opening its collective pocketbook. Industry leaders ranging from longtime CEO's to new entrepreneurs, from celebrities to CPG financiers, have donated over the past 24 hours. Over the course of the past few months, 1,835 individuals and companies have donated to the cause.
On Friday, beverage brand REBBL donated $2,000 via GoFundMe. "At REBBL, we believe in the importance of real, pure food. We support those that want to provide more access for these kinds of foods that ultimately become part of our bodies and help us to thrive." REBBL CEO Sheryl O'Loughlin said to NOSH. "If we all thrive as people, we have the energy, livelihood and creativity to better our world together.
The donations will go directly to Finley, who is facing imminent eviction. Finley started his garden in 2010 after he decided to improve his own health and the health of his community by committing to "plant some shit." Finley faced citations, warrants, and fines for his garden, but he persisted and has been featured in a movie, "Can You Dig This," delivered a TED Talk in 2013 about food deserts and healthy food choices, and has grown into something of a touchpoint for an urban agriculture movement dedicated to equal access to healthy food.
Issues with the garden only arose in the last year. The land that Finley's garden is located on was previously owned by a third party that defaulted on its mortgage. As part of the bankruptcy proceedings, real estate company Strategic Acquisitions purchased the land, and is now evicting Finley unless he purchases the land for roughly $500,000. While Strategic Acquisitions COO Tony Hershman told L.A. Weekly that the company had offered to sell the land to Finley but received no answers and now is proceeding with the eviction, Foraker and his band of industry leaders are convinced that with enough public outcry (and donations) the land can be purchased.
The GoFundMe fundraiser has hit just over $300,000 so far, and food industry leaders are hoping to raise the remaining $200,000 before Finley is evicted. Forker has pledged to donate $50,000 of his own money as well as $50,000 from Annie's. That leaves just over $100,000 left to be raised before the eviction is complete, which could be any day.
Foraker was alerted to Finley's situation before Natural Products Expo West in nearby Anaheim when the GoFundMe Campaign launched, but, he admits, he lost track of the time and urgency. At Expo West, he saw Finley (who ran a tour of the conference for children in conjunction with cereal and snack brand Back to the Roots) and learned the fundraising wasn't going well.
Foraker then teamed up with Nell Newman, a co-founder and leader of Newman's Own Organics, who had already started advocating for Finley.
Newman feels Foraker struck a nerve with the food industry and helped entrepreneurs see the similarities between their work and the Gangsta Garden. "You've got this crazy idea and you've got to make it work," Newman said. "You start by bootstrapping and it's how you make your mark. It takes a lot of hard work and nobody gives any handouts."
Foraker feels that while the substance of Finley's work resonates with the industry, today's political climate is also playing a role in the campaign's resonance. "It's a crazy time in the world right now, there's a lot of disruption and uncertainty in government and politics," he noted. "So I think that may be contributing to this too. Where people are just like 'I feel helpless and there's not a lot that I can do about a lot of things, but here's something I can do that's good.'"
If the community can stave off eviction, Foraker told NOSH that he wants to explore longer term ways that Annie's and the industry can support Finley. What's most exciting to Foraker and to Newman are the younger, bootstrapped entrepreneurs who are donating what they can to the cause.
"That next generation of entrepreneurs that's out there, they live it. And it's really gratifying to see them step up because that's what's going to move the industry forward," Foraker said. "It seems small but if you think long term like we should, and about where our world is headed and the challenges that we face and the opportunity for an educated population to be focused on better food and farming as a way to make the Earth better, there couldn't really be anything more important than that."
Finley, who was teaching a class in Florida on farming to a group of youths, could not be reached for comment.
Read more responses from industry leaders about Finley's plight, below.