Come Ready Nutrition Hopes to Score Big With Functional Snacks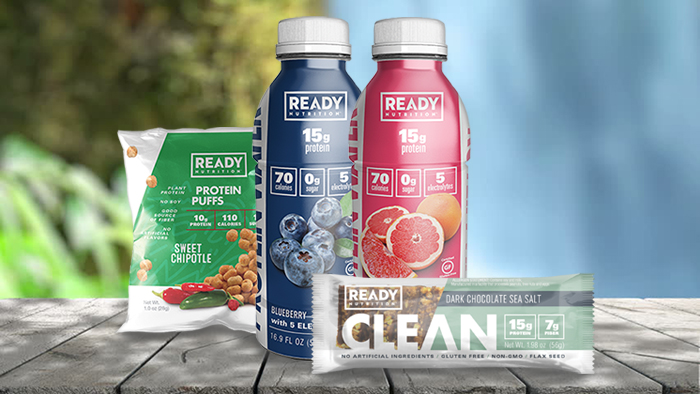 Some brands may claim they are geared toward athletes, but take an "L" when it comes to ingredients. Patrick Cavanaugh, President and founder of Come Ready Nutrition, said he thinks his company's newly expanded portfolio of functional snacks will not be one of them.
Come Ready Nutrition is hoping for a win with its newly doubled portfolio of performance-based snacks. At the Sweets and Snacks Expo in Chicago, Illinois, last month the brand rolled out protein puffs, apple slices and protein waters, all which will retail for under $3.
"Ideally for us, from the time someone wakes up in the morning until the time they go to bed at night, we have a functional solution for them that they can use," Cavanaugh said.
Cavanaugh told NOSH he hopes the new products will expand the usage occasions for the brand, as well as the day-parts in which they are consumed.
"As we all know, millennials snack [numerous] times per day. Pre-workout, post-workout, during-workout, those innovations are pretty easy," Cavanaugh told NOSH. "What's more challenging is what can you do mid-morning, early afternoon, late evening that can complement those other workout-focused eating times that someone has?"
The sports nutrition company based in Wexford, PA., first launched in 2012 with a high protein and high calorie bar with artificial ingredients and unnatural preservatives. But as consumers began to demand cleaner, simple ingredients, Come Ready made its first play into the natural market. The company created its "Clean" line with bars shortly after, and then powders in 2016. The brand is sold in over 3,000 stores including Giant Eagle and Walgreens. The newly launched lines are launching in 300 retailers and Come Ready expects to add 500 more stores before the end of year.
Come Ready is also focusing on the education market as it expands its distribution. As the official sports nutrition brand of six NCAA Division One conferences, about 30 percent of the brand's sales come from their college division, but Cavanaugh said he expects that to grow. Come Ready also currently works with over 300 K-12 schools, making up 10 percent of its sales.
While he believes the company's bars and powders are energizing enough for athletes, Cavanaugh said the new suite of products were designed for the wider health-focused consumer as well. While sales of the new products are a focus, Ready Start also plans to convert older SKUs– namely their original high protein bars– to cleaner ingredient lists.
"It's less in terms of phasing it out and more cleaning it up," Cavanaugh said. "It's kind of like a seesaw in the product development. You change one thing and something else is impacted by it. So we just want to make sure we keep that taste our athletes love."
As for the innovation pipeline, Cavanaugh said two more functional snack items will roll out this year, with another half dozen products scheduled for the first half of 2018. Four new beverage flavors are also slotted to launch in August. In particular, Cavanaugh said customers can expect to see an organic bar line, plant-based powders, and other higher calorie protein bars in the future.
"[The current line expansion is] kind of the phase 2 of our brand evolution in terms of, first and foremost, serving our core customers, which are the athletes, but also that next ring of people," Cavanaugh said. "We feel if we can continue to stay true to our brand and our messaging of helping athletes in achieving their goals, that we will have somewhat of a halo effect."