Blasting Off: Ruby's Naturals Acquires Brewla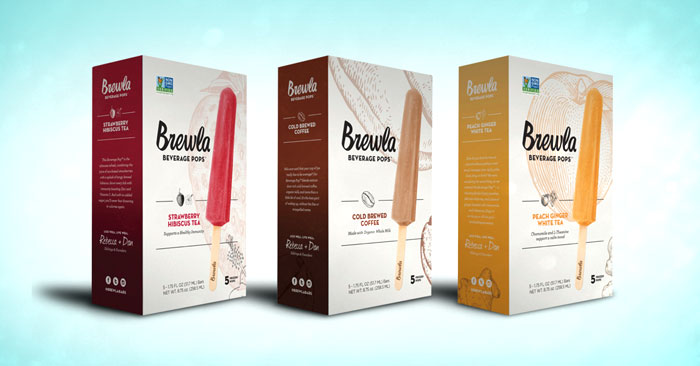 At this year's Natural Products Expo West in Anaheim, Calif., Ruby Rockets and Brewla, two frozen novelty brands, showed off their new familial bonds. Ruby's Natural's, the parent company of Ruby Rockets, officially announced its acquisition of Brewla as part of an all-stock purchase, bringing the brother and sister team of Daniel and Rebecca Dengrove into the fold as part of the deal.
Both Dengrove siblings now work out of the Ruby's Natural's New York City office, with Rebecca serving as VP of Product Development and Dan as Director of Marketing. Rebecca Dengrove told NOSH that she and Steve Davis, Ruby's President and Interim CEO, knew each other from the frozen industry and began discussing a merger last fall. The deal has benefits for both brands.
"Daniel and I were ready to grow our team and find more support and we saw a lot of synergy by working with a company that was already established in the same space," Dengrove said. "[Ruby Rockets and Brewla] really complimented each other well because we bring a lot of the technical expertise and they bring a strong sales and marketing foundation to build off of."
Davis noted that with Dengrove on board, Ruby's now has a full time food scientist on staff — and Dengrove jumped right in. Her first project was to help update formulas for some of Ruby's lines. The company previously outsourced product development to a third party consultant.
Brewla also refreshed its brand packaging and positioning to help better differentiate the line. The new Brewla concept emphasizes the beverages, soda, coffee, juice and tea, from which they have drawn inspiration.
"There was a lot of brand confusion around Brewla and what Brewla stood for. It was kind of the jack of all trades but master of nothing. Where it really needed to have one big idea to be successful behind the glass and selling off shelf," Davis noted. "So the new design is really focused on the idea that Brewla is a beverage inspired ice pop and that is it a better for you for you through additive heath, versus negative health."
Davis said the team looked to juice brands such as Suja and Daily Greens, along with cold brew coffees, to find inspiration. The new package, he said, emphasizes the functional benefit — such as energy or immunity — as well as the flavors — such as coffee and cherry pomegranate.
Brewla is currently sold in roughly 700 stores and Ruby's in 3,000, but by working together, Dengrove and Davis believe they can expand much faster and successfully. Davis said a key strength is that both brands play off of established food and beverage trends, and categories.
"At the end of the day is what we know is that bringing Ruby's and Brewla together, we've got two very unique brands that are totally differentiated in the frozen space specifically," Davis told NOSH. "We're both moving different trends from outside the freezer aisle into the freezer aisle to really work on that all elusive millennial consumer."