With bfresh, Ahold Takes on the Urban Shopper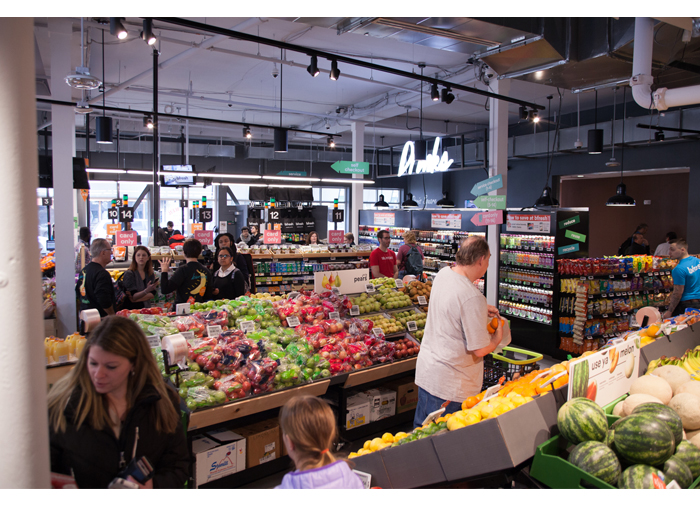 With millennial consumers taking root in cities, retailers have realized it's time to adapt and create store formats that appeal to this unique generation. While much has been reported on Whole Foods Market's new store format, 365 by Whole Foods, in the Boston metro area Ahold Delhaize has been quietly testing their own urban format: bfresh market.
The retail group currently has 2,000 stores across 23 states, which include brands such as Food Lion, Stop & Shop, Hannaford and Peapod. Ahold opened the first bfresh in Allston, Massachusetts in September 2015, a second followed in nearby Brighton roughly a year later and last week, a third store joined the chain in Somerville, Massachusetts. At 11,000 square feet it's the largest of the trio of stores.
Saskia de Jongh, VP of Marketing, Format & Store Development for Ahold Delhaize, told NOSH that for now, the bfresh project has been operating as a "startup or pilot program." Like any other young brand, de Jongh said, Ahold has learned from the previous two stores and iterated for its newest addition.
Changes in the Somerville store include a larger assortment of organic products, as well as a focus on affordability. To meet both of these often contrasting goals, bfresh opted to introduce Ahold store brand "Nature's Promise" into its newest store.
Because there are so many store options for urban consumers in the Boston market, the company knew that price would be a defining factor.
"We are proud that we are not charging the convenience factor. We feel that to the customers we want to cater to, there is no way that we can charge the premium pricing. There's no secret recipe, but what we do benefit from is that we are a large company. So we are able to use their buying and negotiating power to get better prices," de Jongh told NOSH. "We are very conscious of how we want to approach affordability, so we are pricing very aggressively."
Beyond store brands, this also means trading the "theater" of some departments (such as a full service butcher or seafood counter) in place of prepacked meats and seafood. One area where the store kept the associate and consumer interaction is in the "Little Kitchen" area of prepared foods.
De Jongh told NOSH that the store aims to offer consumers a spectrum of convenience while still emphasizing freshness. For bfresh this means having an onsite kitchen and offering consumers everything from completely pre made meals for grab and go, to hot bars where consumers can serve themselves, to their newest innovation — in store meal kits. The former is a case of eight seasonally rotating dishes, each packaged in bags with pre measured ingredients. For $12.99 the consumer grabs a bag and after 30 minutes or less of cooking, has dinner on the table.
The store offers a spectrum of brands from conventional to natural, although with slightly more focus on the former. "I think with the new generation, people want to live more healthily," de Jongh said. "We don't want to point a finger and say 'you have to do this,' so we do sell Coca-Cola, we have brands that are maybe not so healthy for you, but we want to give people options. We always want to provide a healthy alternative, but if you want to snack one day, we're not going to judge."
Bfresh has also embraced the digital era, which allows them to communicate with consumers effectively. The store has no circular or coupons but rather an app with a monthly circular and digital coupons. Using a the Selfycart option, consumers can scan products with their phone as they go, and then self checkout through an app.
Additionally, all price tags in store are digital and directly connected to the point of sale (POS) systems wirelessly. This not only saves on the labor of hanging tags but also has an environmental impact and results in essentially zero errors in pricing. The store is the first retailer in the Boston area to use exclusively digital tags, according to the bfresh team.
There's more technology that's not apparent to consumers as well. "What we learned through Allston and Brighton is that we need to have a very flexible floor plan as we learn about what the customer really wants," Jim Sylvia, Real Estate & Development Officer for Fresh Formats, told NOSH. "All of the [cold] cases are self contained refrigerated cases and not piped to a remote compressor. So we can move things around quite a bit."
When asked about expansion plans, de Jongh and Sylvia said that, for now, Ahold is keeping details under wraps. But, it looks like there's a bright future for the brand.
"We worked really really hard to get this far," de Jongh noted. "If this store performs as we expect it to, we're definitely going to roll out very aggressively and we're very excited about that."