Words: The New On-Shelf Design Cue
About the Author: Adam Spriggs is the Founder of Nucleus Maximus, a marketing agency specializing in positioning and package design work for packaged food and beverage brands. He has specialized in working with CPG brands during his entire 10-year career. His experience includes working on the Innovation Team at the Sterling Rice Group on accounts such as Hershey, Sabra, Ruiz and Tropicana. He has managed and overseen over 30 brand and package redesigns, ranging from Ciao Bella and Crystal Light to challenger brands such as Dei Fratelli and Noble Juices.
You know you have about three seconds with an uncommitted shopper browsing about in your category. So what would you say to earn three more? We wanted to know how brands would answer this pivotal question, and so, of course, we didn't interview them; instead we studied the conversations their packaging actually invited at shelf.
In the interest of keeping your attention, allow me three seconds to summarize what our study revealed – the dialogue was a bit dry, one-sided, and involved mostly surface-level conversation.
Judging by how most brands set up their packaging hierarchies, brand researchers and designers believe shoppers arrive on the shelf seeking logos, product names and product attributes. And so, the prevailing package design strategy of our time embraces flashing these elements first, second and third in order of size and priority.
A new way forward
But should this be the only packaging strategy for influencing sales at shelf? We think there's some evolution here.
Amongst the anomalies, we found an emerging set of ideas taking hold: shifts in what shoppers want and the best ways to show that a brand can fulfill those desires.
The most interesting trend? Some adventurous brands are abandoning traditional hierarchy rules in an effort to short-circuit the process by which purchase decisions are made at shelf. Above all else, they aim to deliver a simple message, boldly, with printed words, as the fastest way to appeal to the mindset and interests of a hurried shopper confronted with an ocean of logos and commodity information.
In some ways, rather than try to extend the time window to six seconds, they're trying to more efficiently and effectively convey additional information in the three that they've got.
So let's take a walk through the aisles for a closer look at how some of these rule-benders are operating.
Tumaro's cues the voice in your head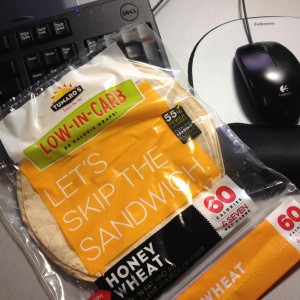 One clever little insight you can probably bank on in the bread aisle: someone's planning on making a sandwich. But a growing number of these would-be sandwich-makers are arriving at shelf with in a conundrum…"I crave a glorious sandwich, but not the guilty gut punch that comes with the bread."
These shoppers represent a big slice of Tumaro's market opportunity, and so Tumaro isn't so much interested in selling wraps to people who come to the store looking for wraps as they are in converting sandwich makers from bread to wraps.
Tumaro's packaging strategy takes direct aim toward this objective, gearing their 3-second audition to encourage shoppers to listen to the voice in their head telling them to move to healthier eating habits, to "skip the sandwich". Fortunately, with Tumaro's reminding you, you can have your sandwich, in a wrap, and love yourself too.
Hardbite harkens memories of mom
With all the new chip styles at shelf (bean, veggie, chia, lentil, taro) you might never discover all the latest greatest answers to your salty dreams of lowered cholesterol – unless, that is, your store carries Hardbite's parsnip chips – then, you've probably found that one.
How could you miss it?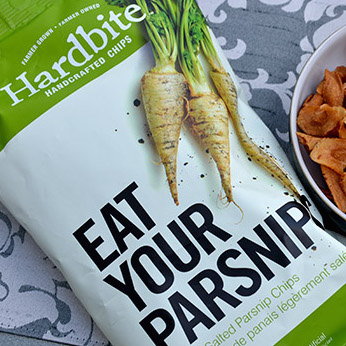 Hardbite decided that if they're going to survive amongst a never-ending assortment of chip alternatives, they'd better go big – or else risk quietly going home like so many other niche chips before them (cassava root chips anyone?). And by big I mean designing a package with the largest type that's ever appeared in the history of the salty snack aisle.
The genius of this strategy isn't just in the size of the copy, it's in the copy itself. Who has time for subtle persuasion? Hardbite instead taps into our society's collective memories, like our moms going berserk demanding, "for the last time, Adam, eat your goddamn vegetables!"
These things stay with you.
More than just big eye-catching words, there's a wink factor from the nostalgia, acknowledging, yes, that we're all grown up and eating kale chips. So we can be enticed by Hardbite for a laugh at our childhood standoffs with mom at the dinner table.
Snickers checks logo at door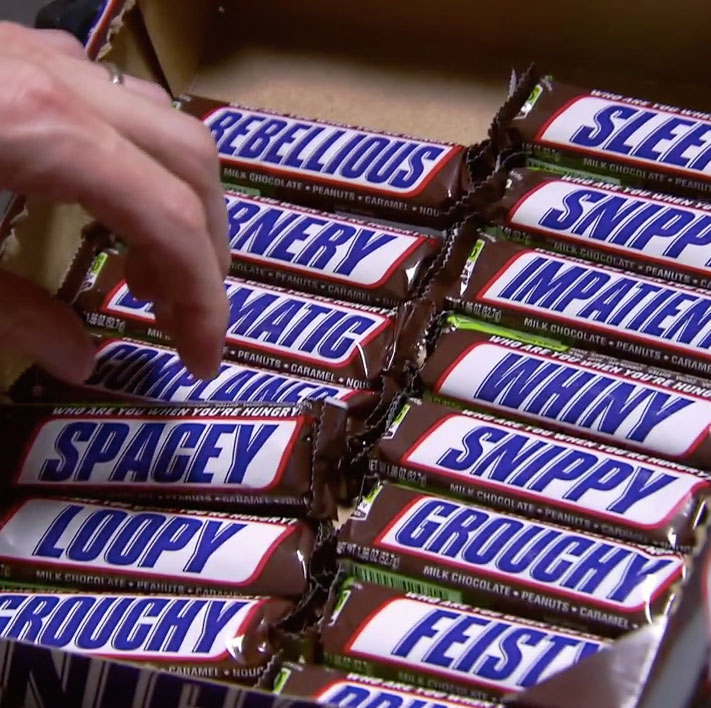 Finally, Snicker's latest ad campaign translates a simple consumer need state (hunger) into a brilliant juxtaposition we can all relate with – we're not ourselves when we're hungry.
When you have a hit campaign on your hands, you run with it. Or, in the case of Snickers, you go so far as to remove your iconic brand name from your package in favor of featuring the personas characterized in your commercials. (This does seem in vogue in other places, in slightly different ways as well, as with "Share a Coke" — maybe it's an effort to take brand names off high-calorie products?)
It's a refreshingly bold and agile move from a brand that could easily rest it's packaging laurels on good old brand familiarity to keep the sales machine churning. Instead, Snickers saw a timely opportunity to invest in breathing new life into an otherwise typical exchange at shelf. They made it personal, not only by triggering shoppers' recollections of the campaign, but by indulging our culture's desire to claim products they can tout as symbols of who we are.
When packaging can change a purchase decision from being triggered by hunger into an opportunity simply to bring a smile to our hangry, ornery husband waiting in the car, or the kids who won't eat their vegetables, or the satisfying notion that yes, you can contain your meats inside of a sandwich, you're doing it right.
At Project NOSH and BevNET we pride ourselves on having a robust network of food and beverage entrepreneurs, industry insiders and advisers. To that effect, NOSH Voices is a series of columns by respected experts to provide a spectrum of points of view from within the community. Interested in contributing as a NOSH voice? Contact the Editors.