Think Jerky, Still Lean, Plans to Go Big
This May, Think Jerky founder Ricky Hirsch headed to his first large trade show, the Sweets and Snacks Expo in Chicago. His jerky line, then less than a year old, was just in its formative stages then. Seven months later, Hirsch told NOSH, the Chicago, Ill. based brand has closed over a million dollars in sales for the year, and it still has just one employee.
It's a been a wild ride for Hirsch, who started the brand with a small amount of capital raised from a Kickstarter campaign and the sale of his financial services company.
To grow sales and build brand awareness in such a short period, Hirsch took a two-pronged approach. First, he focused on independent distribution in Chicago stores, gyms, local hotels, office buildings and crossfit fitness centers; he also tried e-commerce.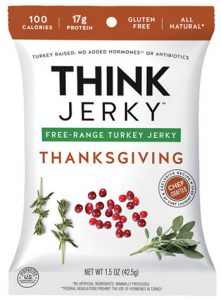 Just under half of Think's sales, roughly $400,000, come from placement in 2,000 Starbucks and 2,500 GNC stores in the latter half of the year, two retailers that give the brand high visibility in a non-traditional setting.
What's not on that list? A national grocery retailer.
Hirsch told NOSH it's a deliberate strategy to build brand awareness before going big. "The idea was really to get high level visibility," he said. "So when you finally go into Whole Foods, people already know who you are because they've seen you three times."
Another element to Think's strategy is aligning the brand with local chefs in each market it enters. For Chicago, that meant launching with Michelin-star winning Chef Laurent Gras, James Beard award winning Gale Gand and Chicago Baconfest champion Matt Troos. Hirsch focuses on finding chefs who have spent time in kitchens, not just on television screens, and gives each one equity in the brand to keep them engaged.
To distinguish from the many celebrity chef endorsed products on shelves, Think keeps the brand and ingredients as the stars of the packaging, website and marketing. Aside from a small call-out button on the front of the bag, the chef connection is relegated to the back of pack.
"Every other chef brand, the chefs are the brand and you're buying that chef," said Hirsch. Yet the relationship is slightly circuitous, he noted as, "without the chefs, we're a healthy jerky. With the chefs, we're a brand."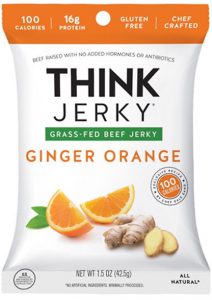 At a price point of $3.99-$4.99, Hirsch understands that, like his some of his chefs' restaurants, Think is a premium product, more Shake Shack than McDonald's.
For 2017, the focus is on launching in new markets, recruiting more chefs to participate and growing in retail. Hirsch expects sales in 2017 to be in the $5-$10 million dollar range.
To fund this growth, Hirsch is actively seeking investment from a strategic business partner and plans on growing the team.
The longer-term plan is to take the Think brand beyond jerky. The connecting thread between lines will be a focus on healthy, chef-driven, portion-controlled products.
"I'm creating a brand, and the brand is going to be Think Food. It's going to be the first healthy, delicious, chef-crafted brand," Hirsch said. "Once we establish the connection between the consumer and the brand via jerky and they trust us and know that we're the best in market…we can do whatever we want."