Hunger for Holiday Food Gifting Leads to Boom in Sales
The season of giving for consumers can turn into a season of growth to most food brands. Especially if they've got Oprah's blessing.
Packaged Facts' 2016 Food Gifting in the U.S. report found that while holiday meals monopolize a majority of food sales during the winter holiday season, food gifting also takes a big slice of that monetary pie. The right media mentions can help.
The report found that 32 percent of respondents cited "corporate gifting" as an occasion for giving food as a gift, making it the most common scenario to do so. The report also found that millennials are less likely to buy gourmet gift baskets or assortments than Baby Boomers, those aged 52-70, and members of the Silent Generation, those aged 71-91.
The report's author, David Morris, told NOSH that despite the lack of purchases by millennials, the market for food gifts continues to grow due to specialty food's universal appeal and increased product set.
"Variety and segmentation is a core source of strength in the food gifting market," he said. "These days, there really is something for everyone. If you know the recipient well enough, there is a gift that will squarely hit the target; if you don't, there is a gift that is safe enough to hit the target."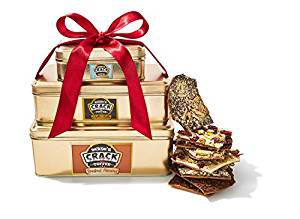 In general, Morris added, consumers prefer to give gifts that feel artisan or handmade, and that "gourmet" food options fit this need. "Consumers [are] willing to spend more for a quality gift that is unique and tells a story," he said.
But for food brands to get their stories out there, sometimes they need a little help through specialty seasonal packaging, increased marketing, or even celebrity endorsements — especially when that endorsement is from lifestyle queen Oprah Winfrey.
The media mogul works with her eponymously titled O Magazine annually to create a gift guide of her "favorite things" for the winter holiday season. This year, food brands were more prominent than ever. Winfrey's selections for 2016 included Motown Munch potato chips, Runamokmaple syrup, Salute Santé! grapeseed oils, There's the Rub spice rubs, Biggies Crack Toffee, and True Grits grits.
Brands previously featured on Winfrey's guide have seen a large boost in sales, long after the holiday season is over. There's even an industry term for the phenomenon, the "Oprah Effect."
A&B American Style's small batch pepper sauce was featured on Winfrey's 2015 list and saw their holiday sales in December that year double.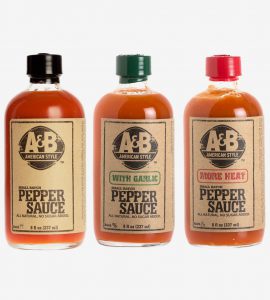 "We saw a big spike last year around the holidays, alongside a lot of other growth that was happening so [the list] really helped to propel us into the next phase of our business," Ballan told NOSH.
Verdant Kitchen's Ross Harding also told NOSH that having his ginger-based products featured on the list in 2015 helped his product grow exponentially.
"Getting into the list isn't just a piece of business," he said. "To some degree for small businesses, it's a mark of credibility. You got a major brand in O Magazine that has gone through the trouble of looking at your product and deciding it is something they would recommend."
Harding added that making the Favorite Things List can put added stress on small companies, but that he felt Verdant Kitchen was ready for the challenges associated with a rise in demand.
"It can feel like a dog catching a car," he noted."It's exciting, but you also are thinking, 'Wow, what have I done?' We had to continue to deliver high demand at a high standard, but we were able to do so."
But not all companies scouted for gift guides like Winfrey's are ready for that jump in production. During BevNet Live at the Loews Resort in Santa Monica, California, Juicero Founder Doug Evans mentioned that turning down Oprah's gift guide this year was one of the hardest business decisions he's had to make.
"This year I had to make the most difficult business decision of my life," Evans said from the stage. "My partner Maria actually pitched Oprah on Juicero. And [Oprah] goes, 'Wow! Let's put it in our gift guide for 2016.' And we had to say, 'No, no, sorry Oprah, we're not ready yet to ship national.' I wanted to do it. I swear I wanted to do it, but my management team would have mutinied. So I had to really listen to the team because it takes a lot to do that."