Global Growth is 'All Good' for Goodio
Finnish chocolate company Goodio is bringing its mission to change the world — one sweet treat at a time — to the U.S.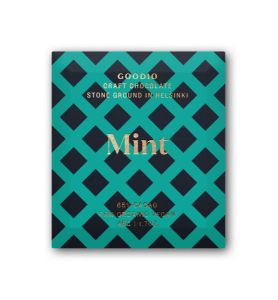 Last month, the "raw" bean-to-bar chocolate maker entered the U.S. market via Gourmet Guru, the New York City distributor recently snapped up by UNFI. Since then, the company has signed 80 independent health food stores and grocers, including the local chain Fairway. The company also plans to target the California market before the end of 2017.
"We had an interest on [the] U.S. market for several logical reasons," founder Jukka Peltola told NOSH. "First, of one of us used to work in the organic and health food sector in New York so we had already existing relationships there. Secondly, California and New York are the hotspots of health conscious consumers so there is demand for quality raw chocolate."
Previously, the line was sold in 500 stores across Sweden, Finland and the U.K.
The U.S. isn't the only newly chartered territory for Goodio. The company launched in Hong Kong in November and plans to expand to Japan, South Korea, China and Singapore in 2017, according to Jussi Salonen, the vice president of sales and marketing. Goodio financed the expansion through outside investment as well as its sales abroad.
"Our niche is quite small in our home country, Finland," he said. "We pretty much reach a ceiling pretty fast when it comes to our home market. So in this business, global is pretty much the only way."
But with any growth, there are also growing pains, including adhering to new market regulations and differentiating products from those of fellow competitors. For example, in the U.S. nutritional labels must indicate the number of servings per container, which means calories are broken down based on how many portions each bar contains, rather than a net mass.
"When it comes to our customer base, New York is the hardest market in the world pretty much," Salonen said. "In the words of Frank Sinatra, 'If you can make it over there, you can make it anywhere.'"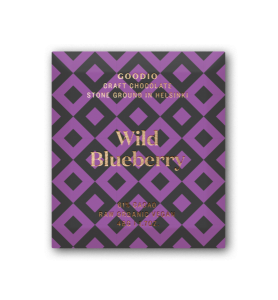 But he added that he thinks Goodio's products have several characteristics that will make their products stand out. He noted that the combination of modern packaging, unique Finnish origin story and combination of handmade, raw, organic ingredients elevate the brand over the competition's' offerings.
For the U.S launch the company released five of its 11 flavors.: coconut, chai, chili, wild blueberry and mint. Each bar is 1.7 oz. and retails for $7.99.
"All our flavors come from natural, organic ingredients and we don't use even natural essential oils or extracts, just real stuff," said Peltoa. "To truly maximize the experience we do our best to find the best possible ingredients."
Salonen added that Goodio's additional flavors could enter the U.S. market in the future once the company gains traction.
All of the bars help further Goodio's mission "to make a contribution to the world by creating healthful treats for the mind and body," while also protecting the planet. To support these goals, Goodio bars are organic, Fair Trade, vegan and packaged in biodegradable wrappers.
"'It's all good,' [is] our motto," Salonen said. "That is pretty much what we are all about."