Cabo Chips To Launch New Line & New Look
After a year spent in development and design, Los Angeles-based Cabo Chips is launching a line of fresh tortillas and a rebrand of its line of chips. It's a move that the brand hopes will help it capitalize on the rising popularity of Hispanic foods with American consumers.
Cabo Chips founder Christian Bunte knew there was demand for natural, Hispanic foods, but felt there was a sense of authenticity missing.
"I grew up in Southern California where there's a ton of great Mexican food, but also being Hispanic and growing up and going down to Mexico a lot, I just had this relationship with tortillas," Bunte said. "I remember the handmade tortillas and how great they taste and I just felt that the shelf stable tortillas didn't fill that need."
A recent report from Packaged Facts notes that "Hispanic foods and beverages have clearly become a part of the mainstream for at least a third and perhaps as much as half of the total population, and they are a familiar presence for about another third." Furthermore, the report states, in the U.S., Hispanic foods and beverage sales will increase from roughly $17.5 billion in 2015 to over $21 billion in 2020.
To capitalize on this opportunity, the brand is rolling out a line of new tortillas nationwide through the National Co+op Grocers (NCG), a business services cooperative for retail food co-ops located throughout the United States. NCG represents 200 stores in 38 states with combined annual sales of nearly $2 billion.
In addition to NCG, Whole Foods Northern California Region, Jimbo's, Mother's and Von's have all signed on to carry the line as well. The new line includes packs of flour tortillas, nopal (cactus), cilantro, jalapeno tortillas and corn tortillas. All will retail for $4.99 and are shipped frozen, then slacked out. The line is Non-GMO Project certified and uses as many local ingredients as possible.

Originally Bunte had planned to focus just on the West Coast for the rollout, but because the product is now available to retailers across the country through UNFI, all bets are off. "The tortillas have just caught people's attention even more than I could have expected," Bunte told NOSH.
Unlike most tortillas on the market, which are fully cooked, Bunte's line is only "partially cooked." This results in tortillas that resemble a homemade, fresh product without the preservatives, stabilizers and gums found in other brands.
While there are taste and textural benefits to this choice, there also are challenges. Bunte told NOSH that Cabo Chips will have to educate consumers about how to properly finish cooking the tortillas. Also refrigerated tortillas are not consistently found in the same place in every retailer, causing consumers to have to hunt for the set.
Along with the new launch, Bunte will have his hands full with a complete rebranding of his line of tortilla chips, which have officially been on the market since 2012. In a drastic new look, the line is moving away from it's current modern packaging to a clear, plastic bag.
Why the change?
Last year Bunte was asked to create an elote (grilled corn) tortilla chip for the launch of the downtown Los Angeles Whole Foods. Due to the limited nature, rather than create a whole new bag, Bunte packed the chips in a clear plastic bag with a twist tie. In 12 weeks, that one SKU, which also had a higher price point, sold more than Cabo's original flavor sold in almost 52 weeks.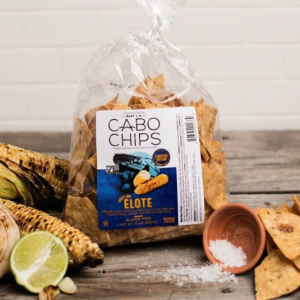 At first, Bunte told NOSH, he chalked the sales up to extra promotion and marketing. The elote flavor expanded to the rest of the Southern California region, and still the sales trend continued.
Then the buyers came calling. After seeing the chips in Whole Foods, retail buyers (including ones who had previously passed on the product) started approaching Bunte saying they'd take on the line if it was packaged in a clear bag.
"Once I started having other retailers reaching out to me, it was like, okay we're onto something here," Bunte recounted, noting that he's now being told by buyers that they expect his sales to at least quadruple in the new bag. Currently, in their top performing natural retailers, Cabo's top chip SKUs each average 8-10 units per store.
One reason the new bag is possibly resonating with consumers, is that it's a more artisanal look that harkens back to an authentic, made-in-Mexico product. "A clear bag with a sticker looks more small batch as that is what a hand batched chip would probably do," Paula Grant, CEO & founder of Flood Creative, told NOSH. "Chips from South America and fresh chips have this look."
The new bag, says Grant and her partner Renee Whitworth, also allows the consumer to know exactly what they're getting in terms of thickness, seasonings, texture, and crispness.
One thing that's not changing, however, is how Cabo Chips markets and positions the line.
"If I'm having a chip, I don't want kale in my tortilla chip. I want it to be healthy and indulgent. And I think healthy indulgent is the trend," Bunte said. "We're trying to reach the general consumer in that we're a cleaner, better, healthier alternative and we're trying to stick to ingredients that you don't have to google to figure out what they are."