Tessemae's All Natural Details Investment from Under Armour CEO
Salad dressing company Tessemae's All Natural has a little more cabbage of its own to spend now that it has received a $5 million investment from Sagamore Ventures, LLC and War Horse, LLC a pair of private equity firms owned by the brothers who built athletic clothing brand Under Armour.
Both investors have ties to the wellness industry. Sagamore Ventures the venture capital arm of Plank Industries and is owned by Under Armour CEO Kevin Plank, while War Horse is owned by Kevin's brother, Scott Plank (a former Under Armour exec) and heavily invests in the slow, local and whole animal food movement, along with real estate.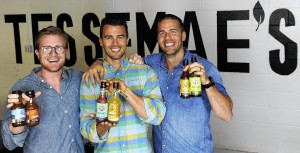 That the money comes from the family behind the wildly successful Baltimore brand to the Maryland-based marker of natural, preservative-free dressings was a compelling part of the decision to sell equity to the Planks, according to Todd Fletcher, Tessemae's EVP of Marketing. Tessemae's was drawn to the fact that the investors want to support the city's businesses and build a climate of innovation, Fletcher said.
Kevin Plank "wants an amazing return on his investment, but for him, it isn't about just about flipping a company in three years and making 'x, y, z amount,'" Fletcher told Project NOSH. "For him, what he's done for Under Armour is what he wants to do for, not just Tessemae's, but any brand he gets involved with. How can we make the next great billion-dollar brand come from Maryland and come from Baltimore specifically?"
Tessemae's has already enjoyed several other rounds of funding: an initial friends and family round, bank loans, a round of investment from the Tandem Group and another round from a produce consortium. The new funds will help the company build manufacturing while investing more in sales to foodservice companies and an increased marketing push in several key cities. The pressure to grow has been ratcheted up in the gourmet condiment sector lately: rival ketchup and mustard maker Sir Kensington's has also closed a recent round with investment fund Verlinvest for more than $8 million.
Tessemae's has come a long way since its inception in 2009. Originally only sold at a single Whole Foods Market, the concept arose from a family dressing recipe developed by the founders' mother (nicknamed Tessemae). Running the company are the three Vetter brothers: Greg (CEO), Brian (EVP of Nonretail sales) and Matt (EVP of Operations). (On LinkedIn, they list their titles as "Older Brother," "Middle Brother" and "Younger Brother.")
The dressings and condiments are now sold in Whole Foods nationwide, not to mention Safeway, Kroger, The Fresh Market and Costco. While there have been some setbacks in terms of finding the right partners, flavors and suppliers, The Baltimore Sun pegs the company's 2014 sales at about $25 million.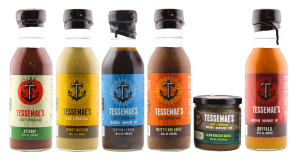 The product lineup now includes a combination dressing/marinade/dip in 13 flavors, ketchup, mustard, garlic spread, teriyaki sauce, two heat levels of buffalo sauce and two types of mayonnaise — all made with no thickening agents, refined sugars or dairy. All of the products require refrigeration and are sold in stores' produce departments.
On one hand, the association with fresh foods and the access to shoppers who just hit the perimeter of stores is a benefit over conventional dressings. At the same time, Tessemae's recognizes that it loses out on capturing traditional dressing and condiment shoppers and explaining why its dressing looks unusual (the oil base hardens due to the refrigeration) can be a learning curve. This is why the plan to use some of the investment dollars for marketing is so important to the company's success.
Fletcher also said that the product's premium better for you ingredients inspire shoppers to seek out other like purchases and, in the end, generates a bigger basket size. For example, Fletcher said, if you buy a better quality teriyaki sauce, you want a better quality chicken to go with it.
Earlier this year, Tessemae's announced their status as a "partner vendor" at the Baltimore Raven's M&T Bank Stadium. Fans attending the games can elect to use the company's local ketchup and mustard over the industry classic, Heinz (likely a great relief to fans when the Ravens' archrival Pittsburgh Steelers, who play at Heinz Field, are in town).
The company also plans to release a multipack of single serve dressing packets and possibly dipping cups. Initially the main retail channel for these will be online, but the company hopes to expand into brick and mortar stores. The packs will also be featured in Marriott's new hotel concept, Moxie, which targets a younger, more health conscious audience. Building off of the momentum with the hotel and Ravens, Tessemae's hopes to further build out food service relationships.
Tessemae's sees a natural fit between their goals and those of sports brands, Fletcher said.
"Our story, while not clearly so sports-centric, is pretty similar," he said. "Eat well, treat your body right and whatever life demands of you, however you need to perform, you'll do so on a better level, on a higher level. And Tessemae's is one of the brands that can deliver that next level for you."