Talenti Releases Talenti Gelato Layers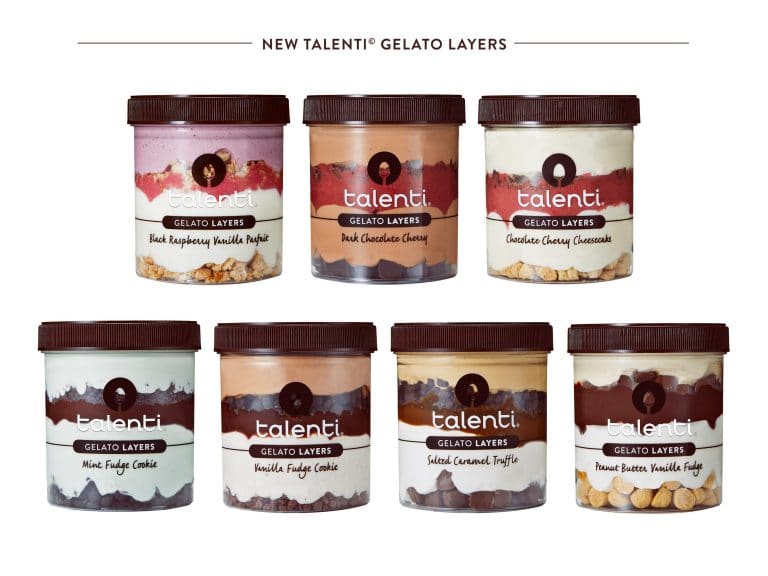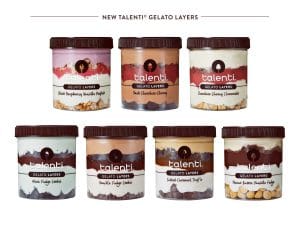 ENGLEWOOD CLIFFS, N.J.— Talenti – maker of the best-selling gelato in America – has released Talenti Gelato Layers, a new range of Talenti jars featuring indulgent, hand-crafted recipes. Each jar contains five layers made up of gelato, delicious pieces and sauces. This new range offers people the most decadent gelato experience imaginable in seven varieties:
Vanilla Fudge Cookie: Vanilla Fudge Cookie features two different types of gelato! Starting with Talenti Double Dark gelato on top, then a layer with chocolate cookie chunks, followed by a fudge sauce, Talenti Madagascan Vanilla Bean gelato and finally, a fifth layer of chocolatey covered waffle cone pieces which adds a sweet crunch.
Salted Caramel Truffle: Salted Caramel Truffle is an ode to the best-selling Talenti Sea Salt Caramel gelato. Starting with a layer of Talenti Sea Salt Caramel, then a layer of chocolatey cookies for a delicious crunch and followed by a layer with Talenti dulce de leche sauce, a layer of vanilla gelato and finally finished with a layer of chocolatey caramel truffles. Because Talenti used all the same ingredients from Talenti Sea Salt Caramel PLUS more, this Layers flavor offers the ultimate decadence and is a caramel lover's dream.
Chocolate Cherry Cheesecake: Cherry Cheesecake is a classic dessert and this Chocolate Cherry Cheesecake Layers jar is one for the books. Starting with a Cheesecake gelato that's made with real cream cheese to taste exactly like the ice cream version of cheesecake. To create an indulgent second layer, there are semi-sweet chocolate flakes which adds a decadent texture, followed with a black cherry sauce made with U.S. grown black cherries. Then there's a layer of Cheesecake gelato, and to replicate the graham crust, there's a final layer of graham cookie pieces.
Black Raspberry Vanilla Parfait: This Layers jar was inspired by a crowd favorite dessert – parfaits. It's well-balanced and has a warm and satisfying taste that fans will be obsessed with. Starting with black raspberry gelato which is crafted with black raspberry puree that comes from a family-owned farm in the Pacific Northwest. Followed by oat crisps (which are similar to a crunchy oatmeal cookie) and a layer of blueberry sauce which is made from all-American blueberries. Then a layer of vanilla gelato and a final layer of oat crisps. This Black Raspberry Vanilla Parfait is the perfect dessert!
Peanut Butter Vanilla Fudge: Peanut Butter Vanilla Fudge starts with a decadent peanut butter gelato that is made with real salted peanut butter (just ground peanuts and salt) and followed by peanut butter cups. Then a layer of fudge sauce, vanilla gelato and finished with peanut butter cookie pieces. It's the ultimate peanut butter fudge experience.
Mint Fudge Cookie: In this Layers jar, Talenti Mediterranean Mint gelato is the star of the show. Starting with Talenti Mediterranean Mint gelato which is made with fresh mint leaves, followed by chocolatey cookies for an added crunch and a third layer of hot fudge. Then more Mediterranean Mint gelato and finished with fair trade chocolate cookie pieces. This takes the Talenti Mediterranean Mint gelato to a whole new level.
Dark Chocolate Cherry: This Layers jar was inspired by a cherry cordial and features the perfect pairing of dark chocolate and black cherry. Starting with Talenti Double Dark gelato with sophisticated hints of vermouth, followed by chocolate flakes, a black cherry sauce, more Double Dark gelato and finished with a layer of fudge truffles.
"Talenti Gelato Layers truly brings our commitment to craftsmanship to life," said Josh Hochschuler, founder of Talenti. "Each Talenti Layers recipe is hand-crafted to include quality ingredients sourced from around the world. Talenti Layers promises a new eating experience for fans as they indulge in each layer."
"The Talenti Layers range is the most innovative and decadent in the Talenti portfolio," said Leslie Miller, marketing director of ice cream at Unilever. "We drew inspiration from this line to create a one-of-a-kind experience for consumers – it's a space that feels as decadent as the jars themselves. We can't wait for our fans to join us and taste Talenti in a whole new way."
The full Talenti Gelato Layers range is available in select grocery stores nationwide, at the suggested retail price of $5.49to $6.49 per jar. With these new additions, fans now have 47 total gelato and sorbetto flavors to select from the Talenti portfolio.
For more information about Talenti Gelato Layers visit TalentiGelato.com.
About Talenti Gelato & Sorbetto
Talenti began as a gelateria in 2003 and has since grown into the best-selling packaged gelato in the United States. A wholly-owned subsidiary of Unilever, Talenti is committed to using artisanal methods and uses only the finest, carefully sourced ingredients – Belgian Chocolate, select coconuts from the Philippines and dulce de leche from a classic Argentinian recipe are just a few of the many fine ingredients used to create Talenti gelatos and sorbettos.
For a full list of Talenti products and to find retail locations that sell Talenti, please visit www.TalentiGelato.com. To keep up with Talenti news, visit Talenti on Facebook, Instagram or follow us on Twitter.
About Unilever United States, Inc.
Unilever is one of the world's leading suppliers of Beauty & Personal Care, Home Care, and Foods & Refreshment products with sales in over 190 countries and reaching 2.5 billion consumers a day. In the United States, the portfolio includes brand icons such as Axe, Ben & Jerry's, Breyers, Caress, Degree, Dollar Shave Club, Dove, Good Humor, Hellmann's, Klondike, Knorr, Lever 2000, Lipton, Love Beauty and Planet, Magnum, Nexxus, Noxzema, Pond's, Popsicle, Pure Leaf, Q-tips, Schmidt's Naturals, Seventh Generation, Simple, Sir Kensington's, St. Ives, Suave, Sundial Brands, Talenti Gelato & Sorbetto, TAZO, TIGI, TONI&GUY, TRESemmé and Vaseline. All of the preceding brand names are trademarks or registered trademarks of the Unilever Group of Companies.