SmashPack Unveils New Packaging and Ingredients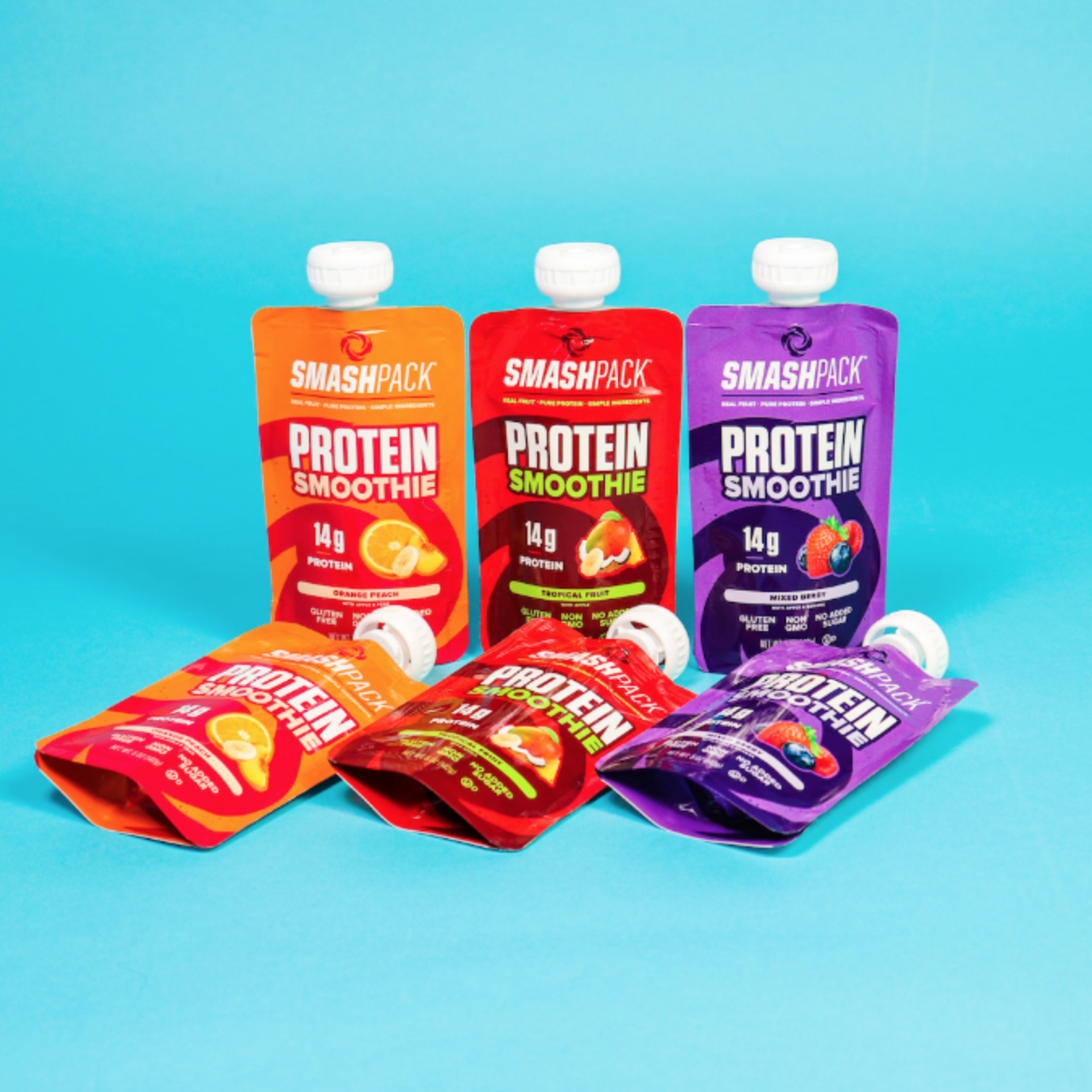 IRVINE, Calif.– Once the domain of the super athletes, high-protein foods have gained popularity with everyone from budget-conscious college students to busy moms. The adult pouch category is growing, in fact, retailers such as Wegmans and Sprouts have created adult, functional pouch merchandising locations with talk of other large retailers creating similar locations in their stores. In an effort to maximize this opportunity, SmashPack has redesigned the packaging to be more friendly and easy to understand, and have added new ingredients like MCT oil to their flagship Protein + Fruit pouch line.
Fans of SmashPack have been requesting a smoothie-like product and adding Medium-chain triglyceride (MCT) oil to the recipe. "One of the benefits we've consistently heard from our customers about our Protein Smoothies is how easy our products are on the stomach.  People love them because the high protein and healthy fat helps them feel fuller longer, and the fruit gives them a natural source of energy.  We wanted to take it one step further by switching the healthy fat to MCT oil.  We also made the product thinner, like a smoothie, to make it easier to enjoy quickly," says Kari Simpson, co-founder of SmashPack.
Medium-chain triglyceride (MCT) oils are trending as one of the hottest health and wellness ingredients for 2019.  These healthy fats are recognized as an optimum fuel source for both the brain and the body. Studies have shown that they absorb into the body faster, improve brain cognition and provide longer sustained energy.  Unlike other fats, they are used immediately instead of being stored in the body.
"We've found a great community of consumers who use our product; professional athletes, high-endurance athletes, student athletes, everyday athletes, as well as kids who play sports after school and on the weekends.  But we're growing, and we wanted to create a product that anyone can feel good about eating," says Rob Simpson, co-founder of SmashPack.
About SmashPack
SmashPack was founded in 2015 by Rob and Kari Simpson. Paleo-followers, they wanted to combat a family history of cancer and other "Western diet" woes like diabetes and heart disease. As busy parents, they knew there had to be a better way to make clean, high-protein, functional, on-the-go snacks made entirely of real, pure, simple food.  In 2015, they launched the first complete adult pouch with 14 grams of whey protein, one serving of fruit, and 5 grams of healthy fat. In April 2018, SmashPack launched the first-ever high-protein pudding line in a pouch.
SmashPack Protein pouches are available in the USA at Amazon, Lifetime Fitness, Sprouts, Wegmans, Lucky's, Jewel Osco, Harmons, Heinen's, and Lunds and Byerlys to name a few or visit https://www.smashpack.com/pages/store-locator to find a retailer or gym near you. For more information on SmashPack, please visit www.smashpack.com.