OOLALA Gourmet Potato Expands to Fine Cheeses with 'Fromages Selection' Label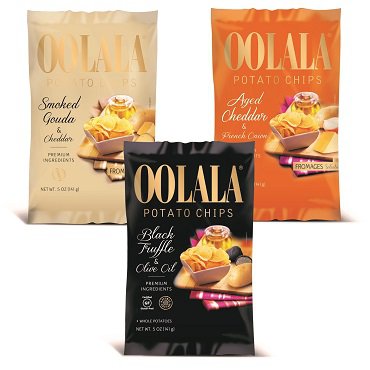 HUNTINGTON, N.Y.– Our OOLALA Gourmet Potato chips family just got a lot bigger. After creating the most delicious Black Truffle chips, Natural Nectar is now expanding its OOLALA line to fine cheeses with its all-new "FROMAGES Selection" label.
We will be sampling our all-new products at the Winter Fancy Food Show 2019 in San Francisco's Moscone Center (Booth# 3206) and we hope you will be there to try: our now famous Black Truffle & Olive Oil chips, our new Aged Cheddar & French Onionand our all-new Smoked Gouda & Cheddar… OOLALA!
About our OOLALA Gourmet Potato Chips: We start with the best spuds we can find locally in season. The French call them "Pommes de Terre," which signifies "Apples from the Earth." We treat them accordingly drizzling them with carefully infused premium ingredients, spices, herbs or simply fine sea salt crystals. If one taste is worth a thousand words and one word can capture the most delicate of taste, then you are about to find out why we call them OOLALA! Bon Appetit!
Premium Ingredients
Made with Whole Potatoes
0g Trans Fat / 0mg Cholesterol per serving
Gluten-Free Certified
Now available in small 1.5 oz Bags
About Natural Nectar
Natural Nectar was founded in the 1970s as a pioneer in the natural candy category. Later on, François Bogrand took over the company continuing the brand vision of becoming pioneers in more new product categories. Over the years, the company has earned its place as an innovation powerhouse in the natural foods industry; launching more new innovative products in more new categories than most companies its size.