HUM Nutrition Launches Skin Heroes Pre and Probiotic Supplement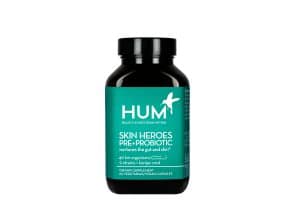 LOS ANGELES— HUM Nutrition, the leading beauty vitamin and supplement company, has announced the launch of Skin Heroes, the first pre+probiotic that specifically targets the gut-skin axis, formulated for acne-prone (non-cystic) and dry skin.
HUM Nutrition scientists have identified a proprietary combination of prebiotics and nine different probiotic strains that support the gut and promote clear, even and smooth skin. The company has recently concluded an 8-week dermatologist supervised pilot study in which the Skin Heroes formula has shown to visibly reduce breakouts, decrease redness, improve skin hydration and balance the digestion.
Skin Heroes, the latest in HUM Nutrition's line of supplements, specifically targets the gut-skin axis by balancing and nurturing the body's microbiome. To demonstrate the benefits of Skin Heroes, the company commissioned an 8 week consumer trial with 27 participants (23 completed) that was supervised by a dermatologist and a Registered Dietitian. At the end of the trial, 88 percent of the 23 participants that completed the study reported a decrease in the severity of their breakouts and 81 percent showed a more balanced digestion. Furthermore, skin hydration also improved.
HUM is known for its tongue in cheek product naming and decided to honor the super power of its pre+probiotic formula by calling it Skin Heroes. More information on the formula:
A proprietary blend of prebiotics and 9 strains of probiotic bacteria totaling 40 billion Colony Forming Units (CFUs)
The product does not require refrigeration, making it suitable for retail
Overview of the 8 week pilot study:

Visibly reduces breakouts
Improves skin hydration and texture
Decreases redness
Strengthens the skin barrier function
Balances the gut

Benefits of strains were verified via peer-reviewed, double-blind, placebo-controlled studies
Contains a patented probiotic strain
Contains Konjac Root, a prebiotic that feeds the body's good bacteria
Available from March 29, 2019 at Sephora and HUMNUTRITION.COM
Price is $40 for a 30-day supply (60 capsules)
Skin Heroes is vegan, vegetarian, non-GMO, gluten free and sustainably sourced
About HUM Nutrition
HUM Nutrition, the leading beauty supplement company, revolutionized an entire industry by successfully merging beauty and wellness. By completing the beauty routine from within, HUM initiated a movement that has inspired over half a million people to lead healthier lifestyles and retailers to create a new category. HUM has reinvented every touch point of the vitamin experience starting with a proprietary online quiz that pairs consumers with curated product recommendations and a personal Registered Dietitian. HUM's innovative range addresses ultra-specific beauty concerns. Every formulation is rooted in clinical research, and ingredients are carefully sourced and triple tested by independent labs for quality and purity. HUM's appealing brand resonates like no other with today's consumers and its distinct color-coded packaging and friendly tone has successfully removed the often-intimidating barrier to vitamins and supplements. For more information, visit HumNutrition.com and follow @HumNutrition