Gourmet Treats Launches Vegan Breakfast Cookie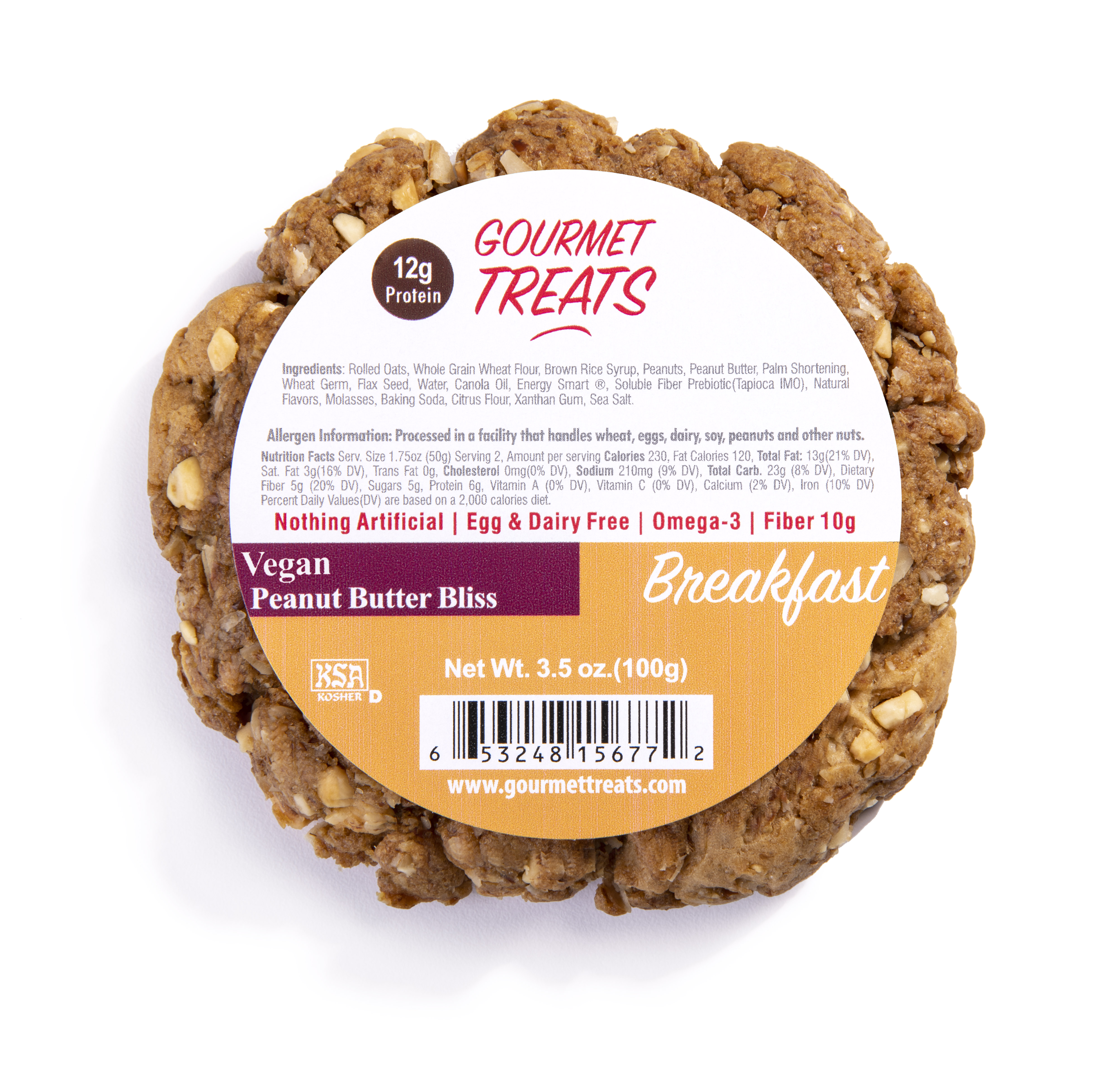 TORRANCE, Calif.— Gourmet Treats is pleased to formally launch its Vegan Breakfast Cookie, currently available in three varieties. As the commuter and snack culture increases, consumers are constantly looking for beneficial ways to get a sustainable source of energy in between meals. This cookie is specifically designed for people who live a lifestyle where their schedule is often unpredictable, and is dictated by multiple priorities.
Like all of Gourmet Treats' baked goods, these cookies are egg and dairy free (vegan), and are made with 100 percent whole grain wheat flour, nothing artificial, and non-GMO ingredients.
The unique characteristics of these cookies include:
3.50 oz each, 12 per box, 120 day ambient shelf life, MSRP $2.25
Made with 100 percent whole grain wheat flour, oats, and flax seeds, all rich in vitamins and Omega-3
No cane sugar, sweetened with brown rice syrup and grape juice
Has 12 g of protein from natural food sources (no added powder or supplement), and 10 g of fiber
Uses Energy Smart, a source of sustainable energy, with an optimized ratio of slowly digestible carbohydrates and grain dextrin
There are currently three flavors in this line of cookies: Cranberry Almond, Banana Date Coconut and Peanut Butter Cocoa Nib.
About Gourmet Treats
Gourmet Treats is a family-owned baking company in Los Angeles, California. We make delicious, craveable vegan cookies and brownies using non-GMO ingredients like 100 percent whole grain flour, fruits, seeds and nuts. Our products include cookies and brownies in classically delicious flavors, soft and chewy protein cookies made with a mix of pea and rice protein and breakfast cookies packed full of energy and nutrition.