Clif Family Napa Valley Unveils New Collection of Sustainably-Sourced Chocolate Bars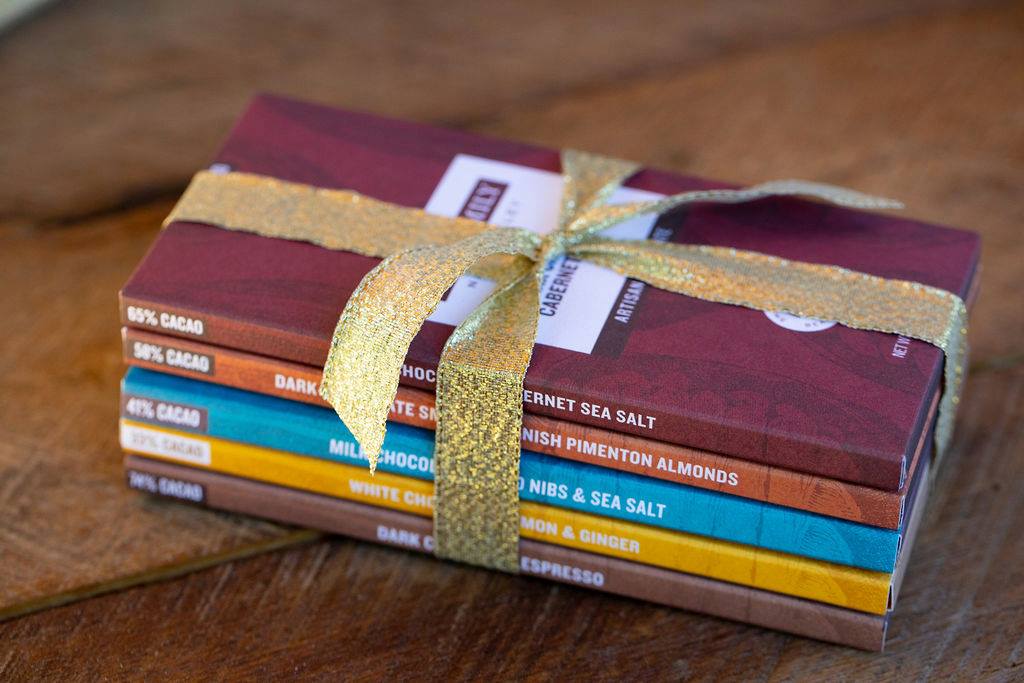 ST. HELENA, Calif. – Clif Family Napa Valley has announced the launch of its new line of bean-to-bar chocolate bars. Crafted using the highest quality and sustainably farmed cacao beans from around the world, Clif Family's executive chef and head winemaker worked together to mix unique ingredient combinations with high quality chocolate, all designed to pair with Clif Family's small production wines.
The bars are available in five unique flavors, including: White Chocolate Lemon & Ginger, Milk Chocolate Cacao Nibs & Sea Salt, Dark Chocolate Smoked Spanish Pimenton Almonds, Dark Chocolate Cabernet Sea Salt and Dark Chocolate Espresso. The cacao beans used to make Clif Family Napa Valley chocolate bars come from two sources – Finca Elvesia in the Dominican Republic and Kokoa Kamili in Tanzania. Both of these sources have a focus on ethically and sustainably sourced cacao beans.
"We have long sought to add a line of high quality, bean-to-bar chocolates to our Clif Family Napa Valley specialty food line," says Linzi Gay, General Manager of Clif Family Napa Valley. "Our goal is to bring to life flavors that enhance our wines and highlight ingredients representative of our home in Napa Valley."
Founded by Gary Erickson and Kit Crawford, the founders and co-owners of Clif Bar & Company, Clif Family Napa Valley products are created for entertaining, cooking and gift giving. The unique products can be enjoyed on their own or added to other simple, seasonal ingredients to create delicious new dishes. Clif Family Napa Valley is inspired by the foods and flavors of Napa Valley, including its own CCOF Certified Organic Farm and orchards on Howell Mountain. In addition to the new line of chocolate bars, Clif Family Napa Valley crafts savory nut mixes, spice blends, preserves, olive oil, hot sauces and dark chocolate covered items, as well as a variety of small-production wines.
The new Clif Family Napa Valley chocolate bars retail for $10 each. They are available in the Clif Family tasting room, at select specialty food stores nationwide and online at www.cliffamily.com. To learn more, please visit the Clif Family website, or on Facebook and Instagram using the handle @cliffamily.
About Clif Family
Clif Family was started in 2004. The first wines were released in limited distribution in October 2006. Gary Erickson and Kit Crawford, the founders and co-owners of Clif Bar & Company founded Clif Family as a way to bring together their passion for wine, food and adventure. The Clif Family Napa Valley artisan food products are inspired by the foods and flavors of their wine country home, including their own farm and orchards. The Clif Family Farm is committed to organic and sustainable farming. The farm is CCOF certified organic and Food Alliance certified. Clif Family Winery is focused on making high-quality wines that strive to achieve balance, structure, varietal character and beauty in an environmentally friendly manner. All Clif Family products are available online at www.cliffamilywinery.com and at the winery tasting room, a Napa Valley wine, food and cycling destination.
Winter 2019 Fancy Food Show Booth
Savor California, Booth 5101