Vital Farms Launches Pasture-Raised Hard Boiled Eggs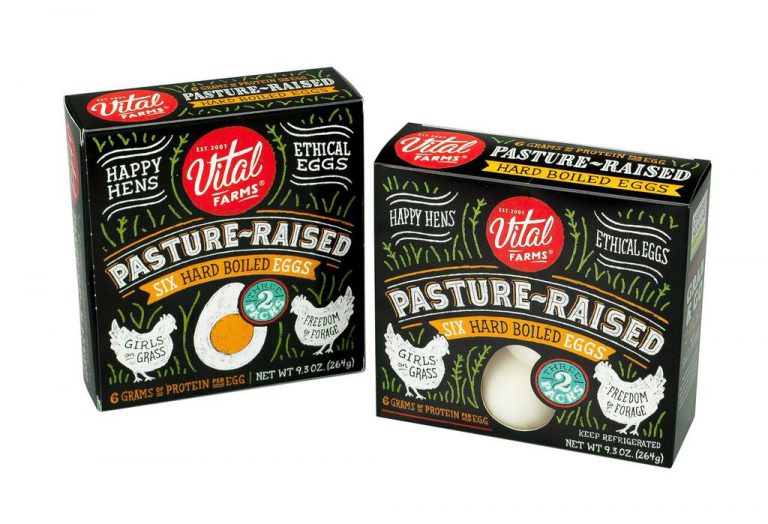 AUSTIN, Texas — Pasture-raised pioneer Vital Farms has done it again! This month, the very first pasture-raised egg in the hard-boiled category will hit shelves. Vital Farms Pasture-Raised Hard Boiled Eggs will come in a 6-count box ($5.99 SRP) containing three (3) "Grab & Go 2-Packs" – perfect for on-the-go healthy snacking. Each 2-pack comes with its own salt and pepper packet and delivers 12 grams of protein.
At Vital Farms, pasture-raising is all they do, and their Pasture-Raised Hard Boiled Eggs are no different. All Vital Farms eggs come from Certified Humane Pasture-Raised hens, the gold standard for laying hens, which are given at least 108 square feet each of outdoor space to roam, forage, take dust baths, and do regular chicken things.
"The Vital Farms crew is excited to give consumers another egg product they can feel good about," said Dan Brooks, Vital Farms' Director of Brand Communications. "Vital Farms Hard Boiled Eggs are not only a convenient and good-for-you snack, but as the only hard-boiled egg product from pasture-raised hens, they're ethical and humane as well.
Vital Farms started in 2007 with a single flock of 20 hens on a small farm in Austin, Texas. More than 10 years later, they now work with more than 120 small family chicken farms across the country. Their hens all enjoy fresh pastures free of herbicides and pesticides with all the goodness that nature provides. Vital Farms promotes the highest welfare standard for laying hens in the U.S. and recently released a video series highlighting how their "Bullsh*t-Free Egg" standards contrast to those of cage-free eggs. Those eggs come from birds that live their whole lives indoors in cramped warehouses yet supply many of America's "specialty" eggs. Consumers are beginning to realize that they have long been duped.
Vital Farms' new Pasture-Raised Hard Boiled Eggs will launch during the Natural Products Expo West® March 9th-11th at the Anaheim Convention Center in Anaheim, CA. They will become available at a variety of grocery and natural foods stores beginning in March 2018. Visit booth 5723 to try a sample of this new product, learn about the entire Vital Farms product line-up, and even take a bird's eye virtual tour of their pastures.
About Vital Farms
Vital Farms, a Certified B Corp, offers ethically produced foods to consumers, raising the standards for animal welfare at scale. Started in Austin, Texas in 2007 with 20 hens, Vital Farms now works with more than 120 independent, family-owned egg and dairy farms in 11 states across the United States. It is the leading supplier of pasture-raised eggs in the country, and in 2015 added pasture-raised, grass-fed American-made butter to its product line. It is now the first brand to offer pasture-raised hard-boiled eggs. Vital Farms continues to raise the standards for taste and nutrition while also promoting the welfare of happy, healthy hens and contented cows. Vital Farms eggs and butter are sold in grocery stores nationwide. For more information on Vital Farms, please visit https://vitalfarms.com/.
Like what you're reading?
Subscribe to BevNET+NOSH Today
Subscribe today and get access to the leading industry resources in the food &amp beverage industries. News, trends, industry data, expert analysis and much more.
Access all of these benefits:
Unlimited access to all content on BevNET.com and NOSH.com
Exclusive access to hundreds of educational videos
Watch subscriber-only live programs such as Office Hours