MetaBall Nutrition Rebrands and Relaunches Energy Bites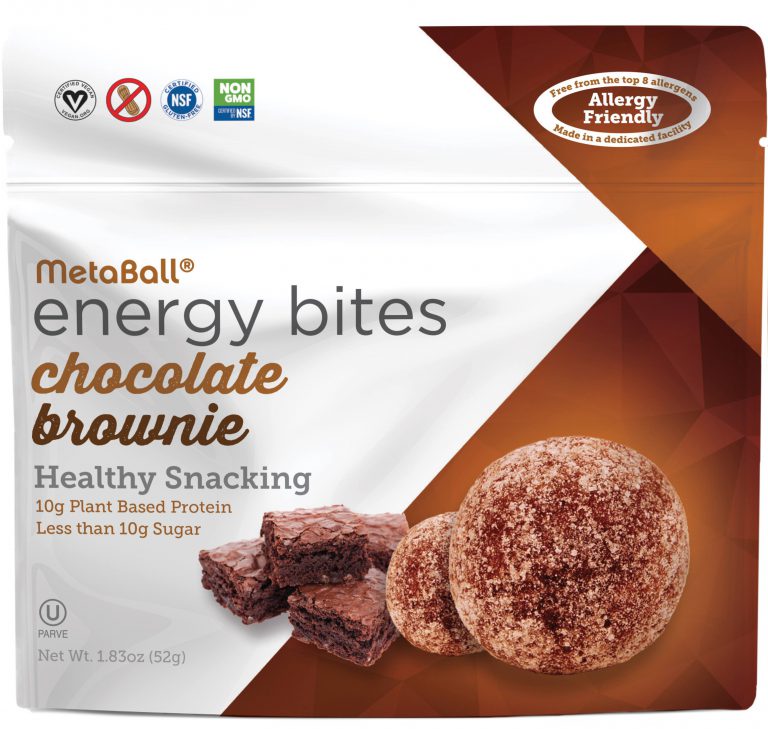 CHESTER, N.J. — MetaBall Nutrition, bite-sized and nutritionally balanced snacks free from the eight major allergens, is proud to announce its rebrand and re-launch as MetaBall Energy Bites for June of 2018. With a new look, updated taste and new flavors, the brand will continue to cater to consumers' needs, boasting a Vegan Certification, a non-GMO Certification from NSF, 10 grams of plant based protein and less than 10 grams of sugar. New flavors include Chocolate Brownie, Cinnamon Apple Crisp, Chocolate Mint and Berry Cobbler Crunch at an SRP of $2.79 for each 1.76 oz. bag.
MetaBall Energy Bites provide an allergen-friendly twist on the increasingly popular nutrition bars and snacks that have inundated the market today. Creator, Dr. Susie Abrahamson, used her background in Biochemistry to develop a satisfying energy bite that features 10 grams of plant based protein and less than 10 grams of sugar. The rebrand reflects what consumers and retailers have asked for, new packaging, new flavors and a perfected recipe with the same nutrient dense ingredients and great taste.
"We continue to be very excited about MetaBall Energy Bites. Today's families with allergy needs are just as passionate as we are about balanced nutrition, and don't want to sacrifice taste and texture," says Doon Wintz, President of Wholly Wholesome Foods. "For consumers seeking plant based balanced nutrition, high protein and less sugar in their energy snacks, MetaBall provides on-the-go convenience and great taste for all, plus peace of mind for allergy sufferers."
Food Allergy Research and Education (FARE), the leading nonprofit organization working on behalf of Americans with food allergies, reports that 15 million people have food allergies in the United States, affecting 1 in every 13 children under the age of 18.  This often-underserved health concern limits those with food restrictions. Offering a solution to the problem, MetaBall is not only free of the top eight allergens, but is also produced in a dedicated facility free from these allergens and sesame. Whole grain oats provide complex carbohydrates supplying a steady stream of energy to the body and the 3:1 carb to protein ratio ideal for muscle development and repair. Sunflower seeds add healthy fat for sustained energy and satiation.  All ingredients are certified gluten-free, Non-GMO, vegan and Kosher, truly providing the nutritious snack everyone can enjoy.
About MetaBall Nutrition
Dr. Susan Abramson's career took her down a path of helping others through a creative mind, the miracles of science, and a belief that better solutions are possible. This couldn't have been proven more true than when she started her own family and was confronted with the challenges of having children who were extremely active in athletics and one who had an "off the chart" allergy to tree nuts and peanuts. Essentially no solutions were available that met the requirements of allergy safety, nutritional balance, low sugar, and great taste. A better solution had to be just around the corner. The universal appeal of MetaBall was exciting, and Dr. Abramson saw an opportunity to help even more people with varied dietary challenges. The mission was then to create a nutritionally balanced product that was free from the 8 major allergens, gluten, and also suitable for Vegans.