Way Better Snacks Introduced New Chipotle Barbeque And Thin & Crispy Style Tortilla Chips
MINNEAPOLIS – Way Better Snacks, the company that brought you Nacho Cheese (named the #4 top new product of 2016 by Phil Lempert, Supermarket Guru) introduced three new delicious snacks. The new item lineup from Way Better Snacks includes a delicious, new flavor of sprouted tortilla chip, Chipotle Barbeque, as well as a new tortilla chip style, Thin & Crispy, which comes in two new flavors: Sea Salt with a Hint of Cracked Pepper and Black Bean with a Hint of Roasted Garlic.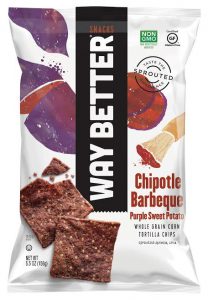 The new Chipotle Barbeque tortilla chip variety was created to celebrate the sweet and tangy taste of summer barbeques all year long. The recipe balances smoky chipotle peppers and the natural sweetness of purple sweet potatoes. Not only are purple sweet potatoes delicious and vibrant, they are loaded with antioxidants, dietary fiber, calcium and iron while low in fat and sodium. Purple foods also happen to be named one of the top 10 food trends for 2017. The combination of sweet and smoky grilled flavors adds a bold taste to this innovative twist on a classic flavor.
Way Better Snacks will also be introducing a new line of Thin & Crispy tortilla chips in two delicious flavors – Sea Salt with a Hint of Cracked Pepper and Black Bean with a Hint of Roasted Garlic. This new chip style was created for consumers who want to enjoy authentic restaurant-style chips with the added benefits of wholesome, sprouted whole grains and flavors that are perfect for dipping. "We want to make sure consumers have all their chip needs met in our offerings," added Breen. "Way Better Snacks was founded on the belief that people don't have to eat boring to eat well."
The three new varieties will join nine other Way Better Snacks tortilla chip flavors, including acclaimed Nacho Cheese, introduced in January 2016, and fan favorites like award-winning Sweet Chili and Sweet Potato. Like all other Way Better Snacks tortilla chips, Chipotle Barbeque and Thin & Crispy are Certified Gluten-Free, Non-GMO and 100% whole grain, bursting with sprouted chia seeds and quinoa. The Chipotle Barbeque variety comes in a 5.5 oz bag with an SRP of $3.49. Thin & Crispy varieties come in a 10 oz. bag with an SRP of $4.29.
About Live Better Brands, LLC
A pioneer in the natural food industry, Live Better Brands produces all-natural snacks under the Way Better Snacks brand. It is guided by a simple premise and steadfast promise: to make delicious products that people can feel good about eating and sharing with others. This is done by sourcing high quality ingredients and sprouting as many of them as possible. Today, Way Better Snacks are available at fine retailers throughout the U.S. and Canada. For more information, visit www.gowaybetter.com.